Fuller's Packers Report Card - Week 6: The Refs... Helped Us? This Feels Weird.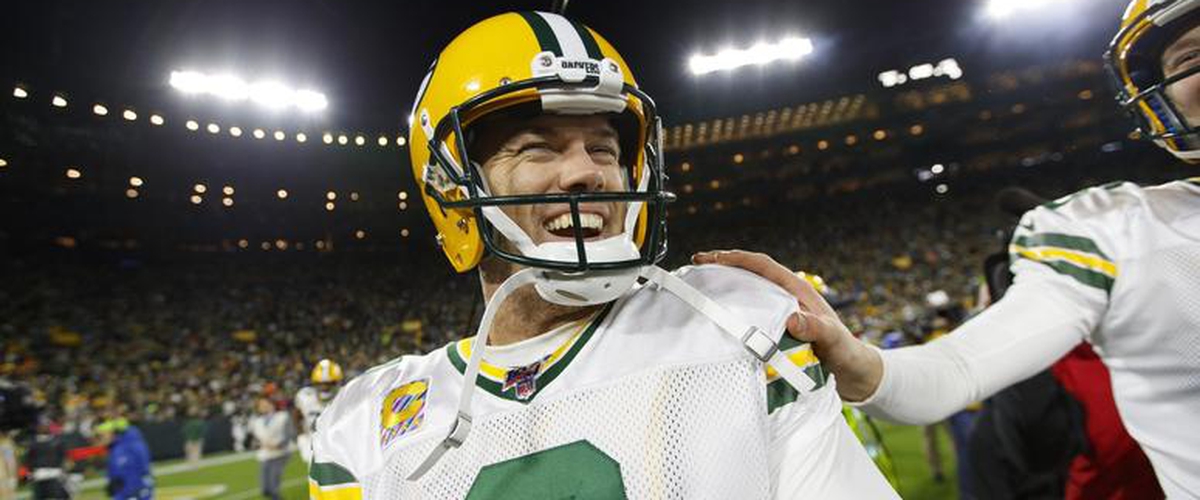 Fail Mary. Blown Clay Matthews Roughing the Passer calls. For years, officiating has led to heartbreak after heartbreak for Packers fans.
BUT NOT LAST NIGHT!
Honestly, I felt bad for Lions fans after the game. Not because of what happened, as referees blowing game-altering calls is sadly a common occurrence in today's NFL, but because I (and all Packers fans) have been exactly where they're at. Then again, I don't really care how we win if it means jumping to 3-0 in the toughest division in the league.
To set the record straight for those who didn't catch the officiating atrocities, below are eye test-approved blown calls that SHOULD (but won't) deliver pink slips to the dazzle of zebras on the field last night:
- Detroit RB Kerryon Johnson ran in what they called a Touchdown, even though one official called him down, one official raised his hands for the score and not a single camera angle proved the ball crossed the plain.
- Detroit S Tracy Walker was flagged for Unnecessary Roughness on Geronimo Allison when there was really nothing he could do. Somewhat justifiable given Allison's helmet contact and him leaving the game with a concussion, but questionable nonetheless.
- Detroit DE Trey Flowers got flagged for Illegal Use of Hands, even though he never made contact with Packers LT David Bakhtiari's facemask. This turned a 4th-and-21 into an automatic first down, which led to a Green Bay touchdown three plays later.
- Green Bay S Will Redmond blatantly interfered with Detroit WR Marvin Jones Jr., and while a Defensive Pass Interference should have led to over 30 yards of field position for the Lions, the lack of a call led to a punt two plays later - the last time Detroit had the ball all game.
Finally, last and most egregious...
- Trey Flowers gets called AGAIN for an Illegal Use of Hands, and yes, you already know he never actually touched Bakhtiari's facemask. This automatic first down penalty effectively ended the game, as the Packers ran out the clock until Crosby netted a short-range field goal to walk it off for the Green & Gold. Cue a good photoshop job: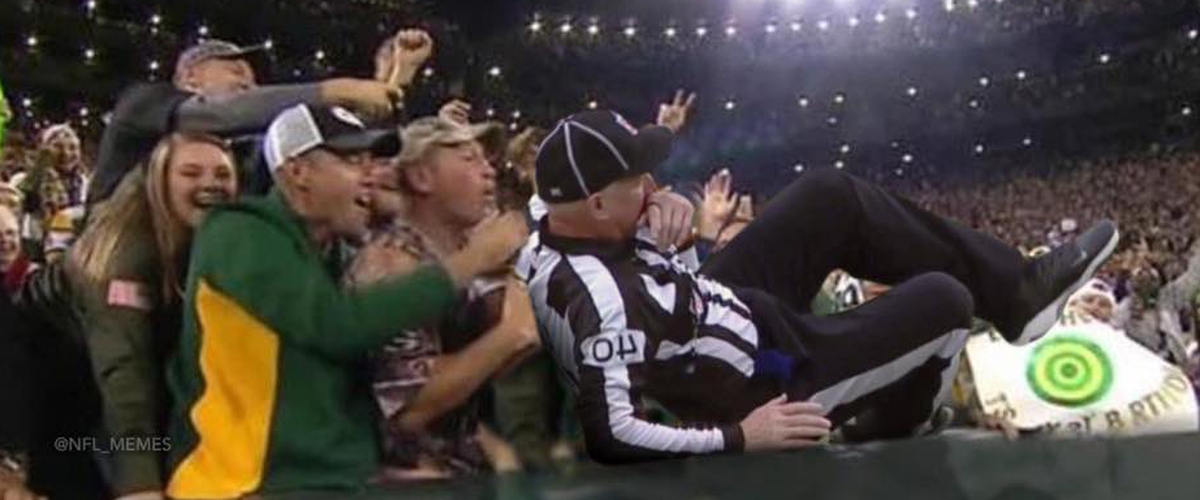 It was a well-fought battle between two talented NFC North squads, and Green Bay certainly has areas of improvement after last night. Bench player Darrius Shepherd was solely responsible for two awful turnovers, so he might be seeing the pink slip this week. Aaron Jones fumbled badly and dropped a wide-open Touchdown reception, and if Jamaal Williams didn't step up and tally 136 Yards from Scrimmage and a Touchdown, #33 would be facing a LOT more scrutiny this week. Kevin King and Will Redmond played their worst games of the season, giving up big downfield receptions far too easily. Defensive stars Blake Martinez and Kenny Clark were complete non-factors, and Jimmy Graham dropped yet another Touchdown reception, continuing to prove how much of a free agency bust he is.
This being said, I'm not ending the summary part of this article on a negative note. This is a 5-1 Green Bay Packers team with heart, charisma, and a vital 3-0 division advantage. Allen Lazard was a damn hero out there, running over cornerbacks and pulling in an ever-important Touchdown reception. With Davante Adams and Geronimo Allison out at this point (plus a playing-through-injury Valdes-Scantling), Lazard's clutch gene kicking in was borderline divine intervention. Jaire Alexander shut down whoever he was facing, and the Smiths (Preston and Za'Darius) combined for 2.5 Sacks. JK Scott averaged over 50 yards a punt, Corey Linsley played a damn-near perfect game at Center, and our silver-haired hero Mason Crosby came through once again in Titletown.
If we can squeeze out a win against a tough division rival despite stupid turnovers and a depleted receiving corps, there's no reason we shouldn't feel confident in taking out the Oakland Raiders at home on Sunday.
OVERALL: C+
Offense: C+ QB/RB: B- WR/TE: C OL: B
Defense: C DL: C- LB: B- DB: C+ Special Teams: B
BEST GRADE: A+: K Mason Crosby
In a game that was decided by the men in black and white stripes, Mason Crosby could not have done any better. He made all three field goal attempts, the longest from 48 yards, and both extra points. If he missed even one of his field goal tries, the Packers lose this game. The walk-off field goal combined with an assisted-yet-successful Lambeau Leap was the icing on the cake for Mr. Reliable Monday night.
WORST GRADE: F: WR Darrius Shepherd
Few statistics are more important than the turnover margin, and undrafted rookie bench receiver Darrius Shepherd committed TWO bad turnovers in the handful of plays he saw on the field. He awkwardly caught a punt like a receiver and fumbled, giving the Lions incredible field position. Later in the game, Rodgers threw a good pass to Shepherd just a couple yards shy of the end zone and what does #10 do? He lets it bounce off his facemask and Detroit slot corner Justin Coleman picks it off, giving Rodgers an undeserved Interception in the red zone. I wouldn't be surprised (nor disappointed) if Shepherd gets the pink slip this week.
MVP Watch: Sack leader Preston Smith (3.53 GPA) extended his first-place MVP race lead over the still-injured Davante Adams (3.46 GPA). Mason Crosby's "A+" performances boosts him to third (3.31 GPA), and young studs Jaire Alexander and JK Scott hang around tied for fourth (3.28 GPA).
STATS OVERVIEW:
Passing - Rodgers: B+ (24/39, 283 Yds, 2 TD, 1 INT, 90 Passer Rating; 3 Rush, 10 Yds)
Rushing - J. Williams: A (14 Rush, 104 Yds; 4 Rec, 32 Yds, 1 TD); A. Jones: D (11 Rush, Fumble; 4 Rec, 13 Yds)
Receiving - Allison: C (3 Rec, 40 Yds); Valdez-Scantling: B- (2 Rec, 48 Yds; 1 Rush, 9 Yds); Lazard: A- (4 Rec, 65 Yds, 1 TD); M. Lewis: B (2 Rec, 50 Yds); Graham: C- (2 Rec, 17 Yds)
Defense - No Interceptions and 3 Sacks (P. Smith 1.5, Z. Smith, Fackrell 0.5)
Questions? Comments? Concerns? General Feedback? Is this 5-1 Packers team the team to beat in the NFC? Let me know!
Thank you and God Bless,
Samuel R. Fuller