Fuller's Packers Report Card - Week 7: An "A++" for Aaron Rodgers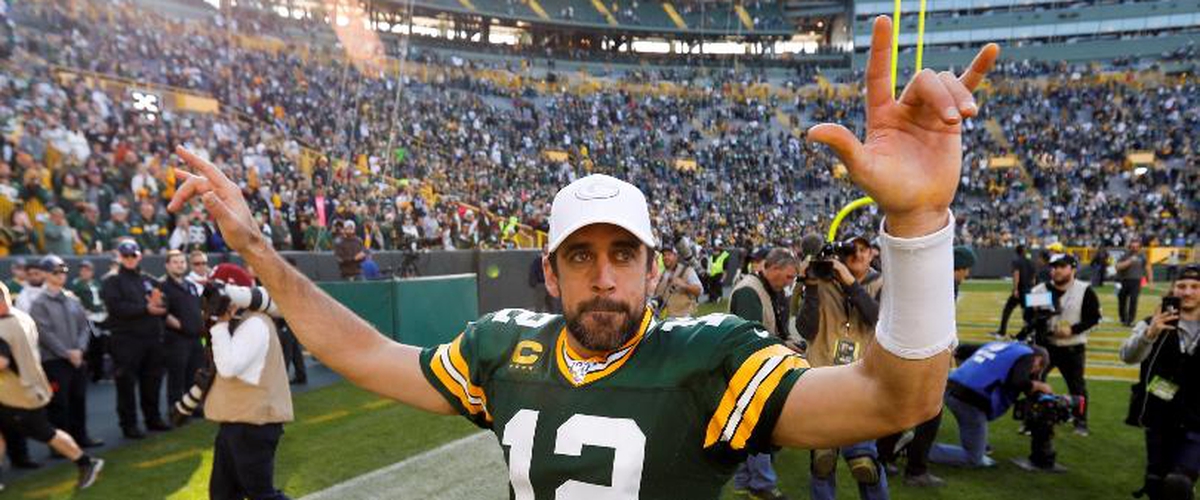 Aaron Rodgers was technically the first "perfect" Packers Quarterback in franchise history.

His 6 total touchdowns and 435 Yards are incredible stats from yesterday's home victory, but one statistic stands out above the rest: 158.3 Passer Rating. That's literally a perfect passer rating in the NFL, making him the first green & gold gunslinger to achieve such a feat. Essentially the equivalent of throwing a no-hitter, Aaron Rodgers put the team on his back from beginning to end, securing a dub over a streaky Raiders team who beat Chicago.

Neither Aaron Jones (A-) nor Jamaal Williams (B-) got much going in the running game, but they still combined for 114 total yards and a receiving touchdown apiece, marking the first time in 15 years that two Green Bay running backs caught a touchdown pass in the same game. Marquez Valdes-Scantling (A-) was Questionable to play, but he tallied 133 Yards and a Touchdown on only three targets. Jimmy Graham (A-) and Jake Kumerow (B+) both had impressive Touchdown catches, and the entire offensive line held their own, especially Bryan Bulaga (A).

The defense certainly could've performed better, failing to tally a single sack despite playing two top pass rushers in Preston Smith (C) and Za'Darius Smith (C). Jaire Alexander (C-) had the worst game of his career, and Kevin King (A-) with his interception was the only defensive back that performed better than a C+. Similarly, Kenny Clark (C+) was the only D-Lineman with a grade better than average, and he didn't perform too well either. Still, they held their own in the red zone for most of the game and even forced a turnover on downs within a few yards of their own goal line. Mason Crosby (B+) made all six extra-point attempts, and JK Scott (A-) average over 55 yards on three punts, one of which was out of his own end zone. Overall, Green Bay never turned the ball over, didn't make any special teams mistakes, forced two takeaways and handed the offense keys to an MVP-caliber Quarterback.

That sounds like a recipe for success to me!

OVERALL: C+
Offense: B+ QB/RB: A WR/TE: B OL: B
Defense: C- DL: D+ LB: C DB: C Special Teams: B+

BEST GRADE: A++: QB Aaron Rodgers
Rodgers became the fourth Quarterback in NFL history to throw for over 400 yards, throw 5 Touchdowns and run in another in the same game. Need I say more? Hopefully, a performance like this will shut up the weekly questions along the lines of "What's the relationship between Matt LaFleur and Aaron Rodgers?" I'm not expecting #12 to replicate stats like these on a weekly basis, but he definitely demonstrated his ability to put the team on his back in 2019.

WORST GRADE: D: CB Josh Jackson
Jackson had his struggles as a fourth-string, zone package-only rookie last year, and he hasn't played much better in his sophomore campaign. For the limited reps he saw on the field, he gave up one big play and allowed a touchdown on another right after. If he wants to become anything more than a special teamer, he needs to step it up, especially if the corners above him pick up any injuries moving forward.

MVP Watch: Without playing, Davante Adams (3.46 GPA) regains first place in the MVP race. Another weak of clutch punting boosts JK Scott (3.33 GPA) to second place. Fellow special teamer Mason Crosby and defensive leader Preston Smith sit tied for third with a 3.31 GPA.

STATS OVERVIEW:
Passing - Rodgers: A++ (25/31, 429 Yds, 5 TD, 0 INT, a PERFECT 158.3 Passer Rating; 2 Rush, 6 Yds; 1 TD)

Rushing - A. Jones: A- (12 Rush, 50 Yds; 4 Rec, 33 Yds, 1 TD); J. Williams: B- (3 Rush, 5 Yds; 4 Rec, 26 Yds, 1 TD)

Receiving - Valdez-Scantling: A (2 Rec, 133 Yds, 1 TD); Graham: A- (4 Rec, 65 Yds, 1 TD); Kumerow: B+ (2 Rec, 54 Yds, 1 TD); Vitale: B (2 Rec, 43 Yds); Lazard: B- (3 Rec, 43 Yds); Allison: B- (4 Rec, 33 Yds)

Defense - 1 Interceptions (King) and no Sacks

Questions? Comments? Concerns? General Feedback? Can any other NFC team beat this Packers squad with a healthy Davante Adams? Let me know!

Thank you and God Bless,

Samuel R. Fuller
---