Fuller's Packers Report Card - Week 8: Two Aarons Make an NFC Contender?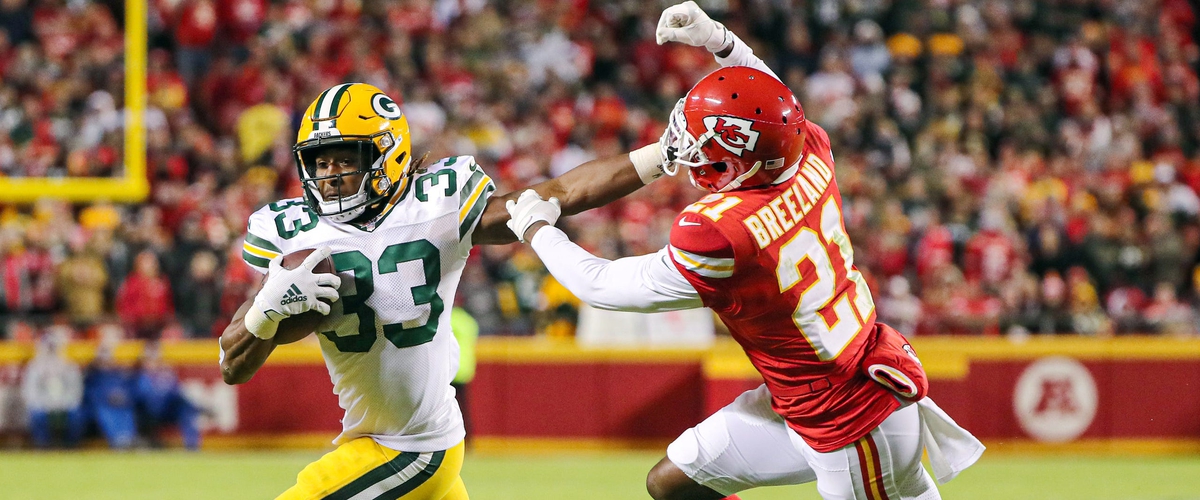 Winning week after week is fun to watch, and us Cheeseheads should get used to it if our two Aaron's keep playing in sync like this.
Aaron Rodgers (A-) goes off and throws for over 300 Yards, 3 Touchdowns and posts an impeccable 129 Passer Rating. Right behind him stood Aaron Jones (A), who won NFC Offensive Player of the Week with 226 Totaly Yards and a pair of scores. Fellow Running Back Jamaal Williams (A-) was the only other offensive player with a grade in the "A's", as none of the other receivers reached 50 yards individually and the O-Line had a relatively inconsistent performance protecting #12.
On defense, Za'Darius Smith (A-) was credited with both of the team's only two sacks, although both involved more than just #55. Stud corner Jaire Alexander (B+) was the only other defender with a grade above a 3.0, as the secondary was spotty and Blake Martinez (C-) had his worst performance of the season leading the linebackers. The D-Line was once again a non-factor, aside from Tyler Lancaster (B) and his fumble recovery. No interceptions and only two sacks was good enough to edge out a Mahomes-less Chiefs Offense by a Touchdown, but they can't skate by with a performance like that against tougher squads - especially in the playoffs. Mason Crosby (B+) and JK Scott (B-) have been reliable pieces on special teams, but we still need a better returner than bench corner Chandon Sullivan (C) or the recently-cut Darrius Shepherd (1.61 season GPA).
All things included, this Packers team is 7-1 with a solid division lead and a few easy wins on paper in the second half of the season. The NFC North title seems more than manageable, but can any other team hang with Green Bay in the playoffs if they're finding a way to win game after game? Only the 49ers have a better record in the NFC, and our November 24th matchup against San Francisco could very well be an NFC Championship preview.
It's not the hottest take, but this Packers squad could very well make the Super Bowl for the first time in nine seasons. Time to try and get the older Aaron a second ring, and the younger Aaron his first.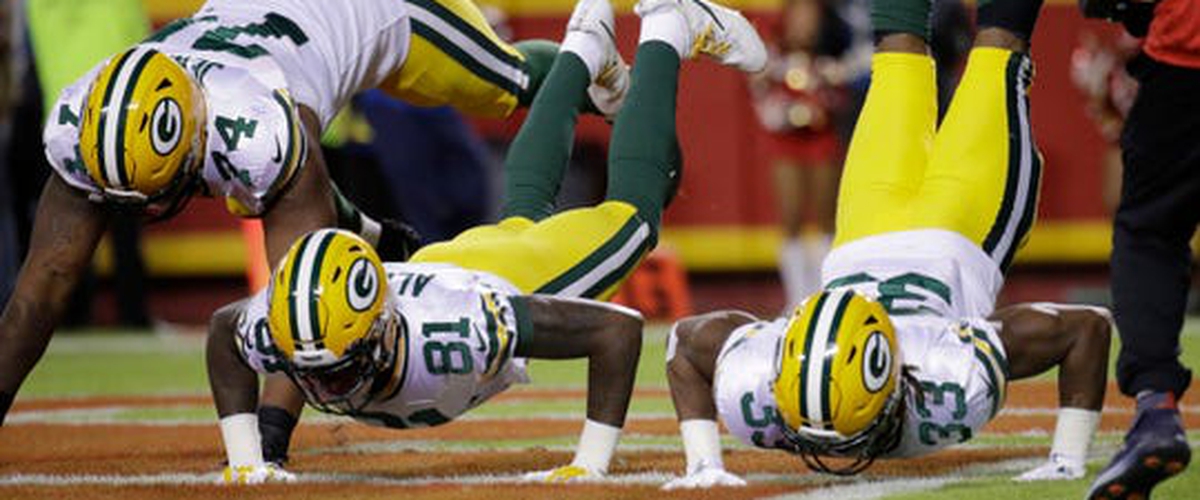 OVERALL: C+
Offense: B QB/RB: A WR/TE: C+ OL: B-
Defense: C- DL: C LB: C DB: C- Special Teams: B-
BEST GRADE: A+: RB Aaron Jones
If it isn't Aaron Rodgers getting A-pluses, his running back is. Aaron Jones had 13 carries and 7 receptions for 226 Total Yards and 2 Receiving Touchdowns, both of the latter stats being career highs. The former fifth-rounder was already named NFC Offensive Player of the Week, and it's already his third performance with an "A" or higher. Jones is quickly becoming one of the most dangerous running backs in the league, which is exactly what an aging Aaron Rodgers needs in high Super-Bowl-hopeful offense.
WORST GRADE: D-: S Darnell Savage
I was excited to see our first-round rookie starter Darnell Savage return to the lineup, as our secondary looked extremely exposed against Dallas and Oakland without him. Enter a less-than-100% Savage, who gave up FAR too much space to Travis Kelce, Tyreek Hill, Mecole Hardman and even Sammy Watkins and LeSean McCoy. Perennial backup Matt Moore balled out against Savage, and even when Adrian Amos was on his A-game, the miscommunication among the secondary proved to still be a problem. I expect Savage to bounce back, especially given more experience (It was only his sixth NFL game), but Defensive Coordinator Mike Pettine better figure out a way to get our D-Backs on the same page when facing future Hall of Famer Phillip Rivers on Sunday.
MVP Watch: Davante Adams (3.46 GPA) still sits in first place for the MVP race, but an MVP must play in at least half of the games, so if Adams misses next week, we'll automatically have a new leader heading into November. Sitting in pole position to take the top spot is Mr. Clutch Mason Crosby (3.31 GPA), closely followed by fellow special teamer JK Scott and our former NFL MVP Aaron Rodgers (3.25 GPA). I wouldn't count out Preston Smith or Aaron Jones (3.23 GPA) yet either.
STATS OVERVIEW:
Passing - Rodgers: A- (23/33, 305 Yds, 3 TD, 0 INT, 129 Passer Rating; 6 Rush, 29 Yds)
Rushing - A. Jones: A (13 Rush, 67 Yds; 7 Rec, 159 Yds, 2 TD); J. Williams: A- (7 Rush, 22 Yds, 1 TD; 3 Rec, 14 Yds, 1 TD)
Receiving - Valdez-Scantling: C (1 Rec, 4 Yds); Allison: C (1 Rec, 7 Yds); Lazard: B (5 Rec, 42 Yds); Kumerow: B- (2 Rec, 48 Yds); Graham: C+ (3 Rec, 20 Yds)
Defense - No Interceptions, 1 Fumble Recovery (Lancaster), and 2 Sacks (Z. Smith 2x)
Questions? Comments? Concerns? General Feedback? Are we as good as the undefeated Patriots and 49ers? Let me know!

Thank you and God Bless,

Samuel R. Fuller