Green Bay Packers' 2019 Report Card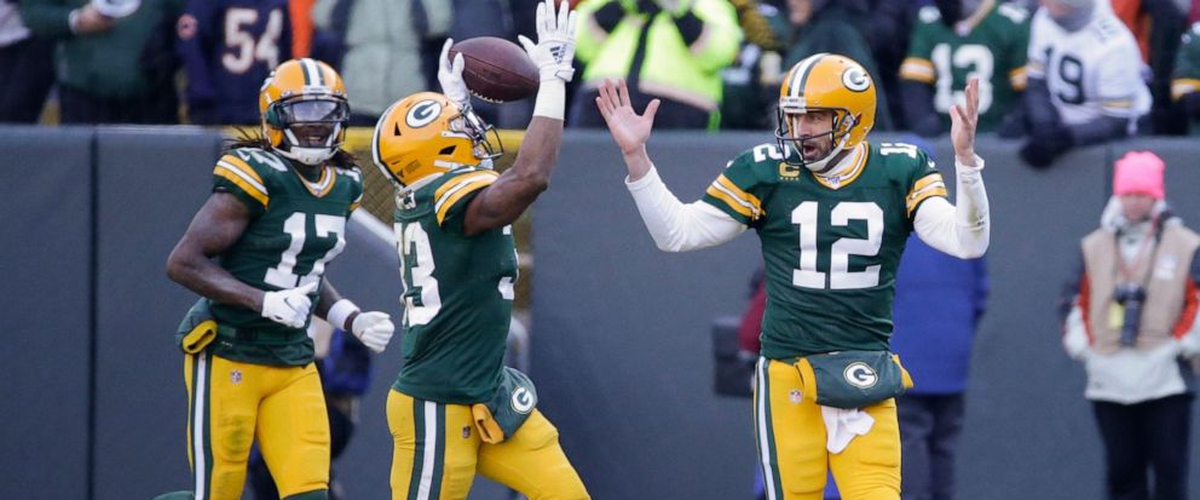 So close, yet still so far.
I'd consider a season going 13-3 and making the NFC Championship with a first-year coach a successful one, but it wasn't without its concerns. Aaron Rodgers (B+) is definitely aging, but he showed he still has what it takes to close out games and come up big in the clutch - exactly what we're paying him a TON of money to do. Aaron Jones' (A) 1,700+ total yards and 23 total touchdowns were well above expectations, and the All-Pro talent is heading into the final year of his rookie deal on a high. Jamaal Williams (B-) proved his worth as a receiving-friendly backup running back, and Danny Vitale (C+) had an improved second year as the team's full-time fullback. In the receiving corps, Davante Adams (A) earned Packers Valedictorian once again with a 100-catch/1,295-yard/7-TD receiving line. Behind Adams was a SERIOUS drop-off, with practice-squad-promotee Allen Lazard (B-) standing as the only positive surprise among the wideouts. Marquez Valdes-Scantling (C) underperformed, Geronimo Allison (C-) flat-out disappointed and Jake Kumerow (C+) had a predictable campaign off the bench, with camp standout Darrius Shepherd (D) earning a demotion to the practice squad for how poorly he played. Jimmy Graham (C+) finished with a slightly-above-average season again, which is disappointing given his history and how much money we're wasting on the aging Tight End. Marcedes Lewis (C+) and Robert Tonyan (C) didn't play much better, and rookie Jace Sternberger (C+) only impressed in the season finale. David Bakhtiari (B) blocked well but committed a career-high 12 penalties, yet still made the Pro Bowl and All-Pro Second Team on reputation alone. Bryan Bulaga (B) didn't absolutely wow on the right side, but this was by far his best pass blocking campaign since I started grading and the unrestricted free agent did enough to warrant a potential re-signing for his starting spot. Billy Turner (C+) had a great start to 2019 as the new Right Guard but really struggled against the pass rush down the stretch, and Lane Taylor's (C-) season-ending injury led to rookie Elgton Jenkins' (B) rise to the starting Left Guard spot, and after playing 964 snaps without surrendering a sack, it's now his job to lose. Corey Linsley (B) earned the same grade for the third-straight season for doing what he does best: not wow-ing, but rarely disappointing while handling as many reps as possible.
On the defensive side of the ball, Kenny Clark (B+) was the only lineman who proved he deserves a starting role outright moving forward. Dean Lowry (C) was mediocre as a starter, failing to register a single sack, and Tyler Lancaster (C+) finished with an above-average season handling 37% of snaps as the third D-Lineman. Montravious Adams (C) and Kingsley Keke (C) failed to show anything deserving of being in the conversation to start next season. Za'Darius Smith (A) proved to be everything his contract deserves and more, finishing with 15.5 Sacks and leading the NFL with 41 QB hits. Preston Smith (A-) quietly had nearly as good of a campaign, tallying 14 sacks and coming up just as clutch while rushing off the edge. Rashan Gary (C+) showed flashes near the end of the season of why he was taken 12th overall last spring, and Kyler Fackrell (C+) proved to be a productive option after moving further down the bench. Blake Martinez (B+) finished second in the league in tackles (155) in what was likely his last season as a Packer. Nobody stepped up as a possible successor behind Martinez, as B.J. Goodson (C) and Oren Burks (C) provided average-at-best seasons as second and third-string inside linebacker options. Jaire Alexander (B) had positive moments as the top cornerback but didn't really out-perform last year's impressive rookie campaign. Kevin King (B) finally put together a near-full-health season, pulling in a team-high 5 Interceptions while doing so. Tramon Williams (C) had moments of solid nickel corner coverage, but that's about all that was above average for the aging veteran. Chandon Sullivan (C+) showed why he might be deserving of more reps, Josh Jackson (C-) and Ka'dar Hollman (C-) did the exact opposite, both being frequent healthy scratches, and Tony Brown (C) and Tremon Smith (D+) couldn't even last a full season without being cut. Adrian Amos (B) was a consistently solid starter as the deep Safety, and despite some rookie growing pains, Darnell Savage (B-) had a decent first campaign overall. Will Redmond (C) was complacent while covering reps at Safety, corner and special teams, and Raven Greene (C+) looked like he was on his way towards a breakout campaign before a season-ending injury after only two appearances. Mason Crosby (B+) proved to be a worthy veteran with a campaign featuring walk-off field goals to begin and end the regular season. JK Scott (C+) finished fifth-worst in the league in punt average (44.0) but somehow looked above-average while doing it.
Overall, I believe the Packers have a lot of the right pieces in place to make another deep run in the playoffs. Adding more receiving targets, a reliable new inside linebacker and bolstering depth across a few key positions are three major ways Green Bay can get even closer to nabbing another ring for Mr. Rodgers.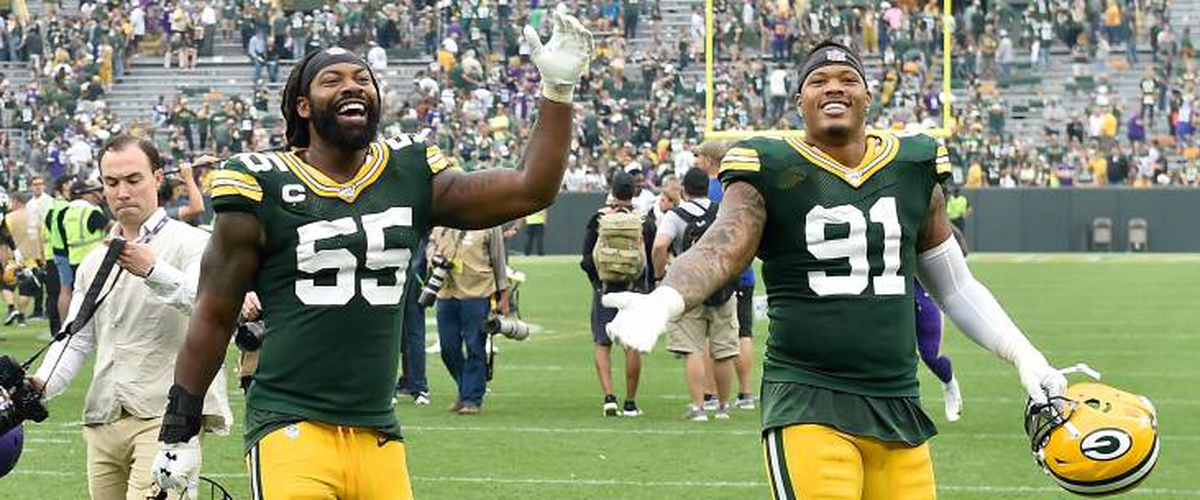 Also, you already know I'm working on my offseason article...
QUARTERBACKS
Aaron Rodgers, #12: B+ (2018: A-; 2017: B; 2016: A+)
In last year's grading article, I pointed out that Rodgers may simply be declining at 35, despite being the highest-paid player in the league. He didn't do much to shake off the aging concerns for me in 2019. Across 18 games, he tallied 4,571 yards, 30 Touchdowns, 6 Interceptions, and a 97.2 Passer Rating - not a bad stat line whatsoever. The issue isn't his stats; it's how he's performing game-in, game-out compared to what we know his All-Pro talent level is capable of. He was a hero against Oakland, picked apart the Giants' defense and didn't post a grade below a "B-" until the Chargers. After that, he earned a D+ at San Francisco, a D+ at Minnesota and had two mediocre "C" performances against Detroit and the 49'ers again - this time to be eliminated from the playoffs. One statistic that concerns me: SEVEN fumbles. Turnover margin often leads to victory, and that's something to watch moving forward. He has a clutch gene, and that hasn't gone anywhere. Through ugly victory after ugly victory, he manages the game excellently down the stretch. It should also be noted that one of the biggest weaknesses on this entire Packers roster is the lack of receiving depth behind Davante Adams. I think as Packers fans, we need to admit that Aaron is becoming a late-30's, aging Quarterback. Where Aaron Rodgers found consistent passing success is check-downs and short Running Back routes - much like Tom Brady. Rodgers probably won't ever throw for 5,000 yards again, and that's okay - we have one of the best running backs in the league in Aaron Jones. Moving forward, Green Bay needs to fully transition the offense into a run-balanced, play action-happy scheme that benefits both an aging Rodgers and an emerging Jones. Oh, and Brian Gutekunst - let's give #12 a few more consistent weapons this spring.
Tim Boyle, #8: C (2018: n/a)
Boyle flashed some potential in the preseason, and he didn't look bad in the few reps he took. However, that's exactly the biggest draw with Boyle - he's inexperienced. This year was the first year he saw live, regular-season action, and he took a total of 21 snaps. He had more kneel-downs (5) than pass attempts (4) if that says anything. Aaron Rodgers is 36, and Brian Gutekunst will be using these next few years to find a worthy Quarterback prospect to succeed #12. Sure, Boyle could be the next guy to have a shot, but there's nothing preventing the front office from going out and getting a new QB prospect or two as early as this offseason, putting Boyle's job on the line. Plus, cutting him is $660K off the books with only a $2K dead cap penalty. If I'm Boyle, I better show Gutekunst & company every reason why I should be Rodgers' backup with him one year closer to retirement.
RUNNING BACKS
Aaron Jones, #33: A (2018: B+; 2017: B-)
God, I am so happy Jones took off. Last year, I predicted Jones would rush well over 1,000 yards if he can stay healthy for a full regular season, but I had no idea he'd go off for 1,707 total yards and 23 total touchdowns. He might also go down as the biggest Pro Bowl snub ever - I mean, how does a guy who scores 23 total touchdowns miss out on the Pro Bowl? He managed a 269-rush workload successfully, and having Jamaal Williams as a reliable second back keeps Jones from overloading and ending up far more susceptible to injuries. A healthy Jones will be one of the best Running Backs in the NFL come 2020, and the biggest question mark is his future in Green Bay after next year: it's the last year of his rookie deal and he's in line to get PAID. Green Bay should have a good amount of money to work with this offseason, and a solid chunk of it should be spent keeping #33 wearing the Green & Gold for the rest of Rodgers' career.
Jamaal Williams, #30: B- (2018: C+; 2017: B)
Williams played in 16 of Green Bay's 18 games in 2019, racking up 722 total yards and 6 touchdowns, 5 of which were receiving. His usage in the passing game really evolved, as 42 receptions is a ton for a backup running back. His experience in both pass blocking and catching makes him a viable, solid #2 back in 2020. His rookie deal expires after next season, and with Aaron Jones' contract also ending, the running back corps is a major question mark after next year.
Tyler Ervin, #32: C+ (First season in Green Bay)
"Swervin' Ervin" was a special teamer in Jacksonville before they waived him, and Green Bay needed someone to come in and return after the Darrius Shepherd returning experiment failed. In his first game in Green Bay, Ervin had four punt returns - three of which were the longest the Packers had all season. He flashed killer speed and elusiveness on a handful of offensive reps too, something the Packers could definitely use more of across the board in 2020. Ervin's a free agent and the returning job is wide open entering the offseason, but Ervin should at least be a name to consider bringing back to compete for the job come August.
Tra Carson, #32: C (First season in Green Bay)
Carson had a decent game handling backup running back reps against Dallas, handled special teams reps against Detroit and then was cut two days later. Ironically, Detroit picked him up the next day, he played one game as their RB2, wound up on injured reserve and the Lions already gave him a reserve/future contract for 2020. Not much else to say.
Dexter Williams, #22: C- (Rookie)
Williams was deemed one of the biggest sleepers in the 2019 NFL Draft after falling to the sixth round, but the preseason showed fumbling issues and hr wound up inactive for 14 of Green Bay's 18 total games, including both playoff matchups. His final stat line of 5 rushes for 11 yards on 10 total offensive snaps doesn't help his cause. Maybe the front office sees something I don't, but he's a replaceable RB3 at best heading into 2020 if you ask me.
FULLBACKS
Danny Vitale, #45: C+ (2018: C-)
Vitale seemed a bit out of place in 2018, and I said I didn't see him as an improvement over Aaron Ripkowski at all. He found his role as a receiver, blocker and special teamer in 2019, and if the Packers plan on using a fullback next year, Vitale's name should be at the front of the list. This being said, Vitale's a free agent and he could easily end up on a good number of teams that might want to implement a Fullback in their offense - especially after seeing how the 49'ers used Kyle Juszczek in the Super Bowl.
WIDE RECEIVERS
Davante Adams, #17: A (2018: A; 2017: A-; 2016: A-)
Adams had yet another All-Pro season in 2019, pulling in 100 Receptions for 1,295 yards and 7 touchdowns in just 14 games. In about half of the games this year, Adams appeared to be the only dependable receiving option and he STILL found ways to get open against double coverages and facing every team's top cornerback. I know most people would argue with me that Aaron Jones was the team's Most Valuable Player, but could you imagine what Aaron Rodgers would be left working with if Davante Adams missed more than just four games this year? Adams has already earned his extension, and for both his and Rodgers' sake, Green Bay better start adding more receiving weapons ASAP.
Marquez Valdes-Scantling, #83: C (2018: B-)
Last year, I said I had "zero doubt that Valdes-Scantling can be a productive WR3 in his sophomore campaign next year." MVS proved me wrong in 2019, and not in a good way. He had a couple awful drops, didn't find ways to get open and ended the season with fewer receptions (38 to 26), fewer receiving yards (581 to 452) and the same amount of touchdowns (2) despite playing roughly the same percentage of offensive snaps. He still has two more years on his deal and I think he could still evolve into a productive WR3 next year, but he's a boom-or-bust WR4 with room to grow moving forward. I think LaFleur should give him a shot in the returning game come August, as he's flashed second-level speed on routes since arriving in Green Bay.
Geronimo Allison, #81: C- (2018: B-; 2017: C+; 2016: C+)
Allison played in all 18 games this year, but if you blinked during most of them, you may have missed him. His offensive snap count rose from 22% to 59%, yet he had fewer yards in 16 regular-season games (287) than in the five he played in last year (306). His 8.3 receiving average is horrible, he couldn't find separation and he dropped a handful of easy catches. Allison certainly wasn't worth his $2.8 million cap hit in 2019, and given his unrestricted free agency status, I'd be VERY surprised if he returns to Green Bay. I sure as hell wouldn't bring him back.
Allen Lazard, #13: B- (2018: n/a)
This receiving corps didn't have too many positive surprises in 2019, but Lazard was certainly one of them. After being promoted off the practice squad for Week 1, he finished second among receivers in Receptions (38), Yards (513) and Touchdowns (3), despite only playing 44% of offensive snaps. If you're thinking it's sad that the second-most-productive wideout posted just over 500 yards, less than 40 receptions, and only three touchdowns, I AGREE. Lazard is an Exclusive Rights Free Agent, meaning the Packers can bring him back for cheap in 2020, and given his vertical abilities and downfield blocking, I don't see any reason why Gutekunst wouldn't bring him back. He has serious WR3 potential for 2020, and I feel more confident in saying so about him for 2020 than I did for Marquez Valdes-Scantling last year for 2019.
Jake Kumerow, #16: C+ (2018: C+)
Kumerow posted decent stats for a depth receiver: 13 receptions for 242 yards and a touchdown across 15 games off the bench. He also flashed improved downfield blocking ability, and I'm still wondering why they didn't use him more than the 30% of offensive snaps he saw this year. However, you could look at that negatively by pointing out his snap count rose from 13% to 30% and he didn't increase his average production rate at all. He's an ERFA, meaning Green Bay has the option to bring him back for cheap, but he's also 27 and it looks like we know exactly what we're going to get out of Kumerow. Depending on how the Wide Receiver corps looks after free agency and the draft, Kumerow may or may not have a chance at earning another depth spot in 2020.
Darrius Shepherd, #10: D (Rookie)
Shepherd was an undrafted free agent out of North Dakota State who had a really impressive preseason and earned a roster spot over Allen Lazard due to it. In six games, he had just two receptions for one single yard and fumbled. He was also kept around to be a returning option, and after totaling -9 yards in punt returns, Green Bay cut him on October 30th. They brought him back on the practice squad the next day, and he looks set to compete for a depth spot again in 2020. Assuming the front office pays the necessary level of attention on the receiving corps, I don't think his odds are too good at making the active roster, nor should they be after his 2019 campaign.
Trevor Davis, #11: C (2018: n/a; 2017: C+; 2016: C-)
Davis only played two games in Green Bay, sharing returning reps and playing a handful of offensive snaps before being traded to Oakland on September 18th for a 6th rounder in this year's draft. Honestly, his roster spot was worth a sixth-rounder, and he ended up being cut by Oakland, claimed by Miami and finishing his year in South Beach. He's a free agent now who will have to claw for a bench spot somewhere in the league.
Ryan Grant, #11: n/a (First season in Green Bay)
After pulling in just four catches across the first few games of the season, Oakland cut Grant on September 25th. Less than a month later, Green Bay signed the veteran to a rest-of-season contract worth $520K and change. He was inactive for all twelve weeks of football he spent in Green Bay, so I don't know if the Packers just brought him in for competition in practice or just to have an emergency veteran under contract if need be. Regardless, the unrestricted free agent will likely have his Packers career end before ever seeing a single snap.
Equanimeous St. Brown, #19: n/a (2018: C+)
St. Brown had a solid rookie year off the bench in 2018, especially for a sixth-round pick. He injured his ankle in Week 3 of the preseason, landed on injured reserve and never saw the field in 2019. Hopefully St. Brown doesn't have any additional injury hang-ups heading into 2020; he'll need to be as healthy as possible to compete for a bench receiver spot come training camp.
TIGHT ENDS
Jimmy Graham, #80: C+ (2018: C+)
After having a disappointing year in 2018 given his salary and assumed talent, Graham didn't fare much better in 2019. In fact, he had 10 fewer receptions and almost 100 fewer yards in roughly the same amount of snaps. His cryptic Instagram post after the season finale has many people wondering if he's ready to hang 'em up, and honestly, he should: he'll still be remembered as a great Tight End and another year, whether with Green Bay or not, would only further damage his career rapport. Graham had a good career, just not in Green Bay. I'm not sure who's going to start at Tight End in 2020, but the Packers would save $8 million by cutting a 33-year-old fading Graham. It doesn't seem like a difficult decision to make.
Marcedes Lewis, #89: C+ (2018: C-)
I was surprised to see Green Bay bring back Marcedes Lewis on another 1-year, $2.1 million deal after the worst statistical season of his career. In his year-35 season, Lewis quintupled his receptions (3 to 15) and quadrupled his yardage (39 to 156), all while increasing his snap percentage from 18% to 45%. I'm not sure if a 36-year-old backup has a shot at yet another one-year deal, especially with Robert Tonyan and Jace Sternberger developing behind him, but Green Bay could give him another shot on a cheaper one-year, non-guaranteed deal to at least bring him back for camp.
Robert Tonyan, #85: C (2018: C)
Tonyan raked in 10 catches for 100 yards and a touchdown, which is pretty on-par for a third-string tight end. I'm not sure I saw anything this year that I didn't see from him last year, meaning we may be reaching Tonyan's potential as a forever backup. Sternberger will undoubtedly see more reps than him next year, and depending on the Jimmy Graham situation and other offseason needs, Tonyan's roster spot may be in jeopardy. He's an ERFA, so there's a very high chance the team brings him back for 2020. Will he make the 53-man come September? That's another question.
Jace Sternberger, #87: C+ (Rookie)
Sternberger didn't see the first NFL action of his career until November, and he didn't pull in his first career reception until the playoffs, but he sure showed potential in blocking and route-running once he stepped on the field. My biggest concern with the 2019 third-round pick was his ability to block at the NFL level, as he didn't do much blocking in his one year at Texas A&M. If anything, his blocking is what gave him extra reps after being activated off of injured reserve. His hands, routes, blocking and overall attitude give him a really good shot at breaking out in 2020. With all the Tight End reps essentially up for grabs next year, Sternberger has a real shot to enter next year as a full-time TE2 with the ceiling of a starter by the end of the year. Please don't let me down, Jace.
Evan Baylis, #49: n/a
Baylis missed the cut to start the year but was brought back to the practice squad, activated after injuries, played in 5 games without posting any stats, got cut to make space for other acquisitions, was re-signed to the practice squad and spent the rest of the season there. He's definitely a depth/injury option at best, but he's clearly made friends in the Green Bay front office given they already gave him a reserve/future contract to bring him back for 2020. He'll need an outstanding camp to have a shot at making the roster; otherwise, he'll have to bounce around the league to find a spot.
TACKLES
David Bakhtiari, #69: B (2018: B+; 2017: B; 2016: A)
Bakhtiari was the only member of the Packers that made an All-Pro team (which is an absolute joke), but this definitely wasn't his best year in Green Bay. Sure, he held his own against some excellent pass rushers, but he also got bullied by both Bosa brothers, made some obvious mistakes in pass sets and committed a career-high 12 penalties. I don't see the penalties becoming a growing issue into 2020, but it is his contract season and Left Tackles cost a pretty penny. I'm sure Bakhtiari and the front office are already discussing an extension, but there's still a realistic chance next year could be his last as a Packer.
Bryan Bulaga: #75: B (2018: D+; 2017: C 2016: C+)
Bulaga's best stat in 2019: 83%. That was his offensive snap percentage, the highest it's been since 2016. Bulaga's always been a good run blocker with shotty pass blocking and a poor injury record, but he stayed mostly healthy and his pass blocking was the best I've seen since I started grading. It's also the first time his final GPA was better than David Bakhtiari's, and he committed half as many penalties (6) as the All-Pro Left Tackle. I never thought I'd say this, but I really hope they bring Bulaga back. We've seen Jason Spriggs, Alex Light, Kyle Murphy, Jared Veldheer and others try to fill Bulaga's void during injuries, and none of them have been able to produce at his level. Unless there's another Right Tackle the front office is super high on in free agency or early in the draft, I don't see why anyone other than Bulaga should start at Right Tackle for the Packers in 2020.
Alex Light, #70: D (2018: D+)
Light's versatility in playing both Tackle spots helped fill the void Jason Spriggs left, but he didn't play any better than our old second-rounder. It seemed whenever Light would step in for Bulaga or Bakhtiari, Rodgers would end up scrambling or even worse, hitting the ground hard. A 36-year-old, highly expensive Quarterback needs to be protected at all costs, and although he's under contract for 2020, I don't trust him handling all of Green Bay's third tackle reps again next year.
Jared Veldheer, #69: C+ (First season in Green Bay)
Veldheer was at Green Bay's opener against Chicago - just in the stands as a semi-retired fan. He came out of retirement, the Patriots waved him and the Packers picked him up as cover for Bryan Bulaga at Right Tackle. He played four games for Green Bay, two of which he saw offensive snaps, and he actually did a pretty good job replacing Bulaga. He's still only 32, so there's a chance he wants to play again and Green Bay offers him a shot at making the team again in camp, but there's plenty of variables in between now and when he'd return that make another season wearing green & gold more unlikely than not.
Yosh Nijman, #73: n/a (Rookie)
Nijman was an undrafted free agent that made the practice squad, got promoted to the active roster before the Giants game, was inactive for three weeks and then spent the rest of the season on Injured Reserve with a hip injury. He's under contract for 2020, but a shot at the active roster still looks unlikely and his practice squad spot could easily be filled by another tackle. Nijman, you better hope you have a healthy and impressive training camp.
John Leglue, #79: n/a (Rookie)
Leglue was an undrafted free agent out of Tulane in 2018 who missed the Broncos' cut that season, made the Saints' practice squad in 2019 and was signed to Green Bay's active roster on December 22nd. He basically came in to fill Yosh Nijman's spot after he landed on Injured Reserve, and Leglue spent his four weeks with the Packers as inactive for every game. He's under contract for 2020, but like Nijman, him making the active roster is a long shot and his practice squad-level spot could easily be taken by newcomers in camp.
GUARDS
Billy Turner, #77: C+ (First season in Green Bay)
When Turner signed a 4-year, $28 million deal last offseason, I figured we found our new starting Right Guard for the future. We definitely could have, but he struggled when it mattered most, posting two "D+" grades in the playoffs. He simply missed blocks he should have made, and while he held his own in pass protection and dominated in run blocking for most of the regular season, protecting Aaron Rodgers is priority numero uno for these linemen. The Right Guard job is undoubtedly his in 2020, with three more years left on the 28-year-old's deal.
Elgton Jenkins, #74: B (Rookie)
Jenkins was a surprise pick for many when Green Bay took him in the second round last spring, but he proved his worth by filling in wonderfully after Lane Taylor landed on injured reserve. He played 964 snaps and gave up ZERO sacks - absolutely stunning for a rookie. Jenkins was the highest-graded rookie O-Lineman by Pro Football Focus for a reason, and Green Bay found their Left Guard of both the present & future in the most valuable rookie of their 2019 draft class.
Lane Taylor, #65: C- (2018: C; 2017: B; 2016: B+)
Taylor made two mediocre games at Left Guard before tearing his bicep and missing the rest of the season. Elgton Jenkins absolutely took off in his absence, and Green Bay would save over $4.6 million by cutting Taylor. I'd expect the Packers to cut Taylor pretty early this offseason, and he'll have a shot at winning a starting spot on another roster in 2020.
Adam Pankey, #67: n/a (2018: n/a)
Pankey missed the cut and signed to Tennessee's practice squad, but twenty days later Green Bay signed him back to their active roster. He was inactive for eleven weeks, then was waived on December 9th and Miami claimed him a day later. He's under contract with Miami for 2020, so hopefully another former Packer makes another active roster and makes our front office look a bit smarter. Never hurts, right?
CENTERS
Corey Linsley, #63: B (2018: B; 2017: B- 2016: B)
After back to back years of never missing a single offensive snap, Linsley's snap percentage dropped to 88% - still very good for an NFL lineman. I can still see that botched snap leading to a fumble against San Francisco in my sleep, which led to a "D" rating and his worst performance of the season. There weren't too many moments where he really stood out, but he still held his own in both pass and run blocking, and the ironman has one year left on his contract. I'm not sure if Green Bay is looking to newly extended Lucas Patrick or rookie Elgton Jenkins as potential replacements for Linsley in 2021, because if not, I don't see why Gutekunst wouldn't be writing up extension papers right now to keep Linsley as a career Packer.
Lucas Patrick, #62: C+ (2018: C; 2017: D+)
Patrick played in 14 games, three of which he saw more than a couple snaps on offense. His most notable appearance was stepping in for Corey Linsley during the regular-season finale in Detroit, where he held his own at Center despite primarily practicing at Guard and Right Tackle coming into this season. Clearly the front office likes what they see, as they were quick to hand him a two-year, $3.6 million extension before the end of December. Maybe he's a potential replacement for Corey Linsley in 2021? Even if he isn't, it's nice to have a lineman on the roster who's comfortable stepping in at Center - something the 2018 roster failed to bear.
Cole Madison, #61: n/a (2018: n/a)
Madison was drafted in the fourth round of the 2018 Draft as a versatile plug-and-play bench option across the entire O-line. Well, he missed all of 2018 due to personal reasons, was inactive for the first 10 weeks of the season, then injured his knee in practice and missed the rest of the season on injured reserve. He still has two more years left on his rookie deal, but he's done absolutely nothing in his Packers tenure for me to feel confident in him winning an active roster spot against decent competition in camp next year.
DEFENSIVE LINE
Kenny Clark, #97: B+ (2018: B+; 2017: B; 2016: C)
First off, let's remember Kenny Clark is only TWENTY-FOUR. Also, this was the first season he's ever played and started in all 16 regular-season games, posting his highest snap percentage (84%) yet. Across all 18 total games, Clark posted career highs in Tackles (67), Tackles for Loss (10), and Sacks (7), all while carrying two less-performing starters on the line in Dean Lowry and Tyler Lancaster. Four years ago, I was begging Ted Thompson to give Mike Daniels help on the line. A couple months later, Clark was Green Bay's first-round selection in the 2016 NFL Draft. Four years later, it's Clark who needs upgrades or significant developments in whoever will start alongside him in 2020.
Dean Lowry, #94: C (2018: B-; 2017: B-; 2016: C+)
As a defensive end, one of your primary responsibilities is getting after the Quarterback. In his first campaign as a full-time starter, he had ZERO sacks. Not a single one. He tallied 3 Sacks and 5 QB Hits last year, whereas this year he failed to sack a single Quarterback and only hit one twice. His Tackles for Loss dropped from 5 to 2, and while he had more of a run support role in Mike Pettine's 2019 schemes, I don't see how someone could see his stats, watch his production and consider this year even above-average for a starting D-Lineman. He's under contract until 2022, so I don't think Lowry's going anywhere unless they unexpectedly trade him. Assuming he stays in Green Bay long-term, he's gotta step it up if this D-Line (and the defense as a whole) wants to help Rodgers get back to a Super Bowl. No pressure.
Tyler Lancaster, #95: C+ (2018: C+)
Lancaster was the sole positive surprise on the D-Line last year, and I predicted he'd be the team's best backup lineman heading into 2020. Well, Green Bay didn't add any more talent so Lancaster walked right into a significant role: playing in 18 games, starting in 12 and handling 37% of all defensive snaps - not bad for a second-year run-stopper in a hybrid defensive scheme. Lancaster tallied 1.5 Sacks (more than Lowry's zero) and was usually in every pile at the line against the run. His job is to eat holes in interior gaps, and overall he did an above-average job at that in his first year seeing solid playing time. I could see Lancaster bearing an impressive offseason and improving even more as a run-stopping specialist. If he doesn't, his reps on the D-Line are subject to incoming talent, something he's probably thinking a LOT about entering the next few months.
Montravious Adams, #90: C (2018: C; 2017: C-)
I had Adams' floor as a depth option and his ceiling as a starter by the end of the season, but he didn't show anything that would warrant more reps than the 18% of defensive snaps he played. He tallied just 11 Tackles, a Fumble Recovery, one single QB hit, and no sacks. Adams still has a year left on his rookie deal, and while the former third-round pick should still be a decent bench option in 2020, there's no guarantee that he'll make the roster if new competition arrives, let alone earning an extension beyond next year. I'm not saying I called him being a bust... well yes, I currently am saying that.
Kingsley Keke, #96: C (Rookie)
Keke was a fifth-round rookie who was inactive for the first two weeks of the season, had a handful of games with double-digit reps off the bench, had the best performance of the season in garbage time against the 49ers in the NFC Championship and ended the season with a better GPA than Dean Lowry and Montravious Adams. In fact, Keke played half (9%) the number of reps Adams did (18%), but finished with two more tackles and the same amount of Tackles for Loss and QB Hits. I'm not saying Keke should take ALL of Adams' reps off the bench, but he definitely has the potential to supplant defensive snaps from Lowry, Adams, and Tyler Lancaster by the end of next year.
Fadol Brown, #98: n/a (2018: C)
Brown somehow made the final cut, played 17 defensive snaps and 21 special teams snaps across the first four games of the year with absolutely zero production, then wound up getting cut. The Bears brought him on to their practice squad for the second half of the year, and they let his deal expire without offering him a reserve/future contract, meaning his time in Chicago is done as well. I'm not sure what Brown's future is in the NFL, as he honestly has shown more of a CFL talent level. He could prove me wrong, but I think him making an active roster in 2020 is highly unlikely.
OUTSIDE LINEBACKERS
Za'Darius Smith, #55: A (First season in Green Bay)
I never thought an edge rusher who earned a 4-year, $66 million deal could significantly exceed my expectations, but Za'Darius Smith did exactly that in his first year as a Packer. Including the two playoff games, Smith's 41 QB hits led the entire league. In just regular-season stats, he finished fourth in Tackles for Loss (17) and sixth in Sacks (13.5), which is incredible considering he's never started more than half of an entire season before. Whether it was off the edge or in literally any of the interior gaps, Za'Darius Smith consistently found ways to disrupt the backfield and keep the Quarterback on his toes literally every game he played. 2019 was a Clay-Matthews-in-his-prime season for Za'Darius, and his "Snubbed" t-shirt flashed after sacking Russell Wilson in the Divisional Round was the icing on the cake for me becoming a full-fledged fan. I'm excited to see what he'll do across the next three years of his contract, considering both Clay Matthews and Nick Perry trailed off near the end of their big-money deals in Green Bay. Something tells me Smith may be made from a different cloth than those two though...
Preston Smith, #91: A- (First season in Green Bay)
While Za'darius was the best defensive player and the "Smith Brother" with more media attention, Preston certainly had a hell of a season himself. After three years as a full-time starter in Washington, Smith signed a 4-year, $52 million deal to team up with Za'Darius as a new pair of starting edge rushers. Across 18 starts, Preston racked up 14 Sacks, 12 Tackles for Loss and 27 QB Hits - all second on the team behind Za'Darius. He's definitely earned his money in year one, and if both he and "Z" can stay healthy and continue to be productive over the next few years, Aaron Rodgers getting another ring is looking a lot more likely.
Rashan Gary, #52: C+ (Rookie)
I was honestly surprised when Green Bay took Rashan Gary with the #12 overall pick in the 2019 Draft. He wasn't filling a need, as we already signed Za'Darius and Preston Smith by that point, and there were both better players and better need fits still on the board. I'm still not convinced Gutekunst made the right decision, but Gary flashed some pass-rushing potential in the later portions of the season. He finished with 23 Tackles and a couple Sacks in 24% of the defensive snaps, which is an above-average stat line for a rookie coming off the bench. I still think he's better-suited rushing along the D-Line like he did at Michigan, and with the depth of both Smiths and Kyler Fackrell available, a move to the D-Line full-time may be his best bet for more reps in this defense. This being said, Football Reference has him marked positionally as "DL" and he looks more effective disrupting inside, so that's probably how Mike Pettine is lining him up more often in 2020. Rashan, you have three years left to prove to me you're not a bust. Tick-tock!
Kyler Fackrell, #51: C+ (2018: B-; 2017: C+; 2016: C)
Despite being arguably the fourth-best edge rusher in Green Bay, Fackrell quietly played in 40% of the defensive snaps, resulting in 21 Tackles, a couple Sacks and 11 QB hits. He still flashes good burst off the edge, but after his first four years in the league, I believe we're pretty close to - if not already watching - Fackrell's ceiling as a solid bench player. Depending on how much money he and his agent are asking for, as well as how much playing time he thinks he can get on the open market as an unrestricted free agent, there's a very good chance we've seen the end of Kyler "Sackrell" as a Green Bay Packer. However, if he's cool with never being higher than third on the edge rusher depth chart, I'd be more than happy to bring him back on a relatively cheap, backup-rate deal.
Tim Williams, #53: n/a (First season in Green Bay)
Tim Williams is an interesting piece on the Packers roster moving forward. He was a third-round pick by Baltimore in 2017, played 15 games off the end of the bench in his first two seasons, played the first four games of 2019 as one of the first Ravens defenders off the bench, then they cut him before Week 5. Green Bay claimed him off waivers two days later, he played two special teams snaps against Detroit in Week 6, was inactive for another three weeks, got cut by Green Bay and then they brought him back on the practice squad. He's already accepted a reserve/future contract from Green Bay, so he'll be an interesting camp competitor who could very well take a good amount of Kyler Fackrell's reps, assuming he leaves in free agency and some of those reps automatically going to a developing Rashan Gary. Despite only playing two special teams downs, I think Tim Williams has a real shot of making the cut to begin the 2020 season.
Greg Roberts, #57: n/a (Rookie)
Roberts is another interesting piece for Green Bay's 2020 roster puzzle, as the undrafted rookie impressed in camp but spent the whole season on the Physically Unable to Perform (PUP) list with an abdomen issue. He began practicing a few weeks ago, and at 6'5" and 258 pounds, he's an interesting backup option across the Linebacker and Defensive Line depth charts come training camp.
MIDDLE LINEBACKERS
Blake Martinez, #50: B+ (2018: A-; 2017: A-; 2016: C+)
For being the only Middle Linebacker who can produce, Martinez held his own again in 2019. Only Seattle's Bobby Wagner had more tackles (159) than Blake Martinez (155) this year, and both Pro Bowlers had a single pick and one Forced Fumble. There were definitely times this season where it looked like he was letting the Running Backs come to him rather than pressing towards the line of scrimmage and preventing yardage, and he was caught missing crossing routes and coverage gaps more than I remember last year or the year before, explaining his drop from an "A-" to a "B+". Martinez's rookie deal is up, and he'll make a lot more money on the open market than if he re-signed with Green Bay. The NFL is a business, and if you watch how emotional Blake Martinez got in his end-of-season interview, it's safe to assume he knows he's probably played his last down as a Packer. His shoes are big ones to fill, and I expect Green Bay to either hit on Middle Linebacker early in the draft or be willing to spend good money in free agency.
B.J. Goodson, #93: C (First season in Green Bay)
Goodson was acquired from the Giants on September 2nd in what was a money dump deal on New York's end. He played in 17 games, saw significant action in 15 and I credited him with 10 starts, all to accomplish a mere 41 Tackles and one single Tackle for Loss. That's it. He only saw 24% of all defensive snaps, but he didn't do anything on the field to deserve any more playing time than that. He's a free agent, and I highly doubt he'll suit up in the green & gold again.
Oren Burks, #42: C (2018: C)
Burks played in 14 games, saw notable reps in 11, and posted just 11 tackles. That's it. No other statistics. After two underperforming seasons, the 2018 third-rounder needs a seriously impressive offseason and training camp to even be considered for more than just end-of-the-bench reps in 2020. For me, Burks is honestly closer to being on the bubble and missing the cut than becoming a starter in this defense, despite having two years left on his rookie deal. He also may go down as a bust, and with me being critical of Thompson originally selecting him, I may be right again.
Ty Summers, #44: C- (Rookie)
Summers was strictly a special teams player, handling 72% of all special teams snaps but never playing a single down on defense in his rookie campaign. The 2019 seventh-rounder also didn't do anything on special teams to deserve a shot in this defense, and special teamers are a dime a dozen in training camp. I'd be worried about making the cut in 2020 if I were Summers, although he'd make a solid practice squad candidate.
CORNERBACKS
Jaire Alexander, #23: B (2018: B)
Alexander played on a whopping 99% of defensive snaps in 2019, starting all 18 games and finishing with 70 Tackles, 2 Interceptions, and 17 regular season passes defended - fourth in the NFL. Alexander has all the talent in the world, he just makes dumb mistakes and can be beaten a bit too easily by talented, shifty receivers. Amari Cooper destroyed him in Dallas and he was one of the worst performers against the Chargers with a "D-". It should also be noted that while most of his performances were in the "B" range, he never finished above a "B+" in a single game. He's playing at a quality starter level, but if the 2018 first-rounder wants to take the next step in being a shutdown corner and a borderline All-Pro (or even to simply secure the CB1 spot from Kevin King), he still has some work to do. Fortunately for Green Bay, he still has two years left on his rookie deal to figure it out before finances become a factor.
Kevin King, #20: B (2018: C; 2017: C)
The biggest thing holding Kevin King back from evolving into a quality shutdown corner was his health, and out of 18 possible games, playing in 17 and starting in 16 of them was exactly what King needed to get a solid season under his belt. His snap percentage rose from 29% to 77%, and his 5 Interceptions led the team and was tied for the fourth-most in the league. His ball skills finally appeared, despite dropping a few easy Interceptions, and while he may not have the "island corner" skillset that Jaire Alexander does, his size and coverage ability at all three levels make him a bonafide CB2 who could really challenge Jaire Alexander for his CB1 reps in 2020. As long as he stays healthy for a second straight season, I expect big things from King in his contract year, as he'll be wanting to ball out for some big money in 2021.
Tramon Williams, #38: C (2018: D+)
After the Tramon-at-Safety experiment failed last year, Williams transitioned into essentially being a full-time nickel Cornerback, which makes sense given his zone coverage skills. Across all 18 games, he had 41 Tackles, 2 Interceptions and 8 Pass Deflections on 73% of all defensive snaps - pretty average numbers for a nickel corner. Entering his age-37 season, Tramon's a free agent and while he could either retire or give it one more shot in training camp for cheap, there's also an equally good chance another team gives the veteran a one-year deal with a bit more money and playing time in 2020.
Chandon Sullivan, #39: C+ (First season in Green Bay)
Sullivan saw limited time in five games as an undrafted free agent in Philly last year, but came off the bench in all 18 games this season for Green Bay in 2019, posting 29 Tackles, an Interception and a Forced Fumble in 34% of defensive snaps. With the inconsistencies of Josh Jackson and Tony Brown, Sullivan stepped into a CB4 role that he has a very good chance of retaining next year. He's an ERFA, so I'd expect Green Bay to bring him back on the cheap and have Sullivan back as a favorable depth option with CB3 potential, as someone will have to take Tramon's reps eventually.
Josh Jackson, #37: C- (2018: D+)
Jackson cut back on the penalties this season, but he still hasn't shown any ball skills (one of the biggest reasons we took him in the second round of the 2018 Draft) and his snap percentage dropped from 68% to an abysmal 10% for a reason. He was a healthy scratch in more than a couple games this year, which is not a good sign for a second-year player that saw more than half of the defensive snaps the year before. I'm not ready to call Jackson a bust JUST yet, as he flashed some good zone coverage in the last few regular-season games, but his development for a second-rounder is definitely behind schedule. He'll probably be kept around as a bench option for at least one more season, but his spot on the roster is definitely not guaranteed after a rough start to his NFL career.
Tony Brown, #28: C (2018: C)
Brown saw nine games of action for Green Bay and was a healthy scratch for the other six, handling mostly special teams reps. Feeling confident in the other depth options at Cornerback, the Packers cut him on December 28th and Cincinnati picked him up two days later. He's still under contract with the Bengals for 2020, where he'll have a decent shot at earning a role on their bench.
Tremon Smith, #27: D+ (First season in Green Bay)
Green Bay claimed Tremon Smith off waivers from Kansas City with the intent of finding a returning option for the rest of the year. In seven games, Smith had ZERO total yards in punt returns, a mediocre kick return average and then fumbled against the Giants, ultimately resulting in Smith receiving a pink slip. Maybe he could hold onto that?
Ka'Dar Hollman, #29: C- (Rookie)
Hollman saw very limited time on special teams and only four snaps on defense all season. Honestly, the sixth-round rookie didn't do much to earn any additional reps, failing to record a single tackle. Maybe Green Bay is playing the long game with Hollman, and while he'll be back in camp for a shot at an improved sophomore campaign, there's probably just as good of a chance he'll get demoted to the practice squad as there is of him making the active roster again.
SAFETIES
Adrian Amos, #31: B (First season in Green Bay)
Amos started all eighteen games in 2019, playing every single snap on defense in all but two. He posted a career-high in Tackles (90), pulled in a couple Interceptions and was consistently one of the highest-graded Packers in Pro Football Focus' weekly ratings. Amos didn't shine too often as the deep safety, but he never really had any bad games either, never posting below a "C" all year. His cap hit of $9.4 million next year is more than affordable for a consistent, reliable Safety, and I expect his role in this defense to expand even further, possibly into more of a leader.
Darnell Savage, #26: B- (Rookie)
Savage had some really bright moments in his rookie campaign, but he also looked horribly exposed and out of place against San Francisco in the playoffs, posting a "D" grade. In fact, he had three games where he reached an "A-" and another three at a "D+", summing up his 2019 campaign. Savage will grow into a better in-the-box safety with time and reps in Mike Pettine's hybrid defense, and with a reliable Safety partner in Adrian Amos playing next to him, he has all the tools to become an impactful full-time starter for years to come. Now it's on him to put those tools to use.
Will Redmond, #25: C (2018: D+)
Across fifteen games, Redmond saw 26% of the defensive snaps and 43% of the reps on special teams, resulting in 29 Tackles and a pass defended. Redmond can hit hard and flashes intensity, but also ends up exposed frequently in the secondary and can miss tackles a bit too often when going after returners. He's an ERFA this offseason, and the Packers could very well bring him back for training camp on the cheap, but he didn't do enough for me this year to feel confident in him winning a backup Safety spot outright next year.
Ibraheim Campbell, #35: C (2018: C+)
Campbell posted 15 Tackles and a Forced Fumble in the nine games he played off the bench in 2019, a fairly average stat line for a backup Strong Safety. He looked a little more impressive last season, and given his unrestricted free agency status this offseason, it's a lot more likely that he competes for a backup Safety role in another team's training cramp than in Green Bay.
Raven Greene, #24: C+ (2018: C)
Greene had an astounding training camp and looked really impressive in the first two games of the season, then missed the rest of the season with an ankle injury. He's landed on Injured Reserve in both of his first two seasons, so durability is certainly a concern heading into 2020, but the potential he's flashed has me hopeful that a healthy Greene should be an impactful backup Safety in 2020.
SPECIAL TEAMS
Mason Crosby, #2: B+ (2018: B; 2017: B-; 2016: B+)
Thank God Crosby rebounded from his god-awful kicking fiasco in Detroit last year. He made 22 of 24 Field Goal Attempts, only missed a single extra point, and kicked two walk-off, game-winning Field Goals in 2019. Any season where you make as many game-winning field goals as you missed all year is a good season in my eyes, and while he's an unrestricted free agent this offseason, I'd be surprised if he doesn't suit up in the green & gold again next year. I expect Green Bay to keep him around as a career player, but at 35, I'm sure retirement is on the back of his mind. I'm feeling at LEAST one more year, but the Packers definitely need to do their scouting on kickers - as soon as this offseason.
J.K. Scott, #6: C+ (2018: C+)
Scott was deemed to be a "special teams weapon" heading into this season, and while he began the year with some really clutch punts, the rest of his campaign didn't fare as well and his Punt Average in 2019 (44.0) was less than last year (44.7). Finishing fifth-worst in punting average doesn't deserve too good of a grade, but a good amount of his punting was situational and he did provide some clutch hang time moments to prevent more yardage heading the other way. He should still be the sole punting option moving forward, especially with two years left on his rookie contract.
Where should the Packers invest their time, money, and energy this offseason? I'll be telling you in my next article, stay tuned!