Milwaukee Bucks Draft Grade: A-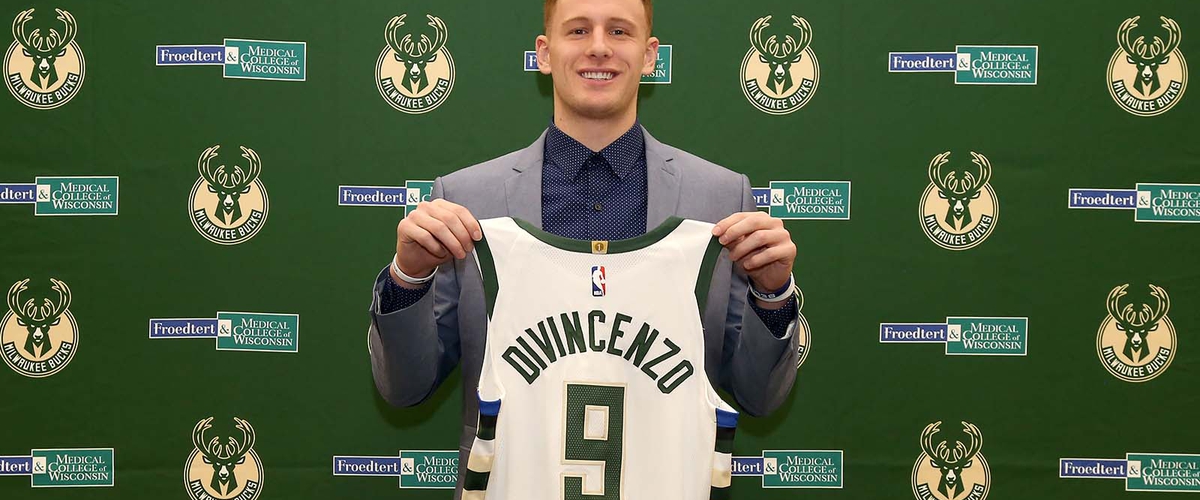 Before we get into this year's draft, let's remember how disappointed I was in 2017. We needed rebounding help and/or bench scoring, and new GM Jon Horst took Michigan's D.J. Wilson at #17, a player I gave an early-2nd-round grade. He played in 22 games, scored 22 points total and averaged a mere 3.2 minutes a game. Yes, he was a garbage time player. I personally advocated for John Collins or Jarrett Allen, two players that were still available at #17. How did their numbers compared to D.J. Wilson?
John Collins, #19 pick, Atlanta: 74 Games, 26 Starts, 24.1 Minutes/Game, 10.5 Points/Game, 7.3 Rebounds/Game, 1.3 Blocks/Game, 71.5% Free Throw %.
Jarrett Allen, #22 pick, Brooklyn: 72 Games, 31 Starts, 20 Minutes/Game, 8.2 Points/Game, 5.4 Rebounds/Game, 1.2 Blocks/Game, 77.6 Free Throw %
D.J. Wilson, #17 pick, Milwaukee: 22 Games, 0 Starts, 3.2 Minutes/Game, 1 Point/Game, 0.5 Rebounds/Game, 0 Blocks, 50% Free Throw %
As you can see, GM Jon Horst should have been giving me a call before dialing D.J. Wilson's number. I'm not saying I should be in the Bucks draft room.... Oh wait, yes I am. That's absolutely what I'm saying.
However, it looks like Jon Horst & Co. may have nailed it this year. The Bucks still need rebounding and bench scoring (that's what happens when you blow an offseason; your problems don't go away). Giannis, John Henson, Thon Maker, Tyler Zeller and D.J. Wilson are all securely under contract and not going anywhere else for at least a year, so adding another Power Forward or Center doesn't necessarily make sense (especially if they're actually trying to bring Jabari back). That leaves three positions: Point Guard, Shooting Guard and Small Forward. Eric Bledsoe and Malcolm Brogdon soak up most of the PG minutes, and since they're retaining Brandon Jennings and Matthew Dellavedova, there's no room for another. Khris Middleton, Tony Snell and Giannis all take up minutes at the 2 and the 3, although all three players are sized more like Small Forwards.
Put all of this together and you have a specific target: a true Shooting Guard who can score off the bench. Who did the Bucks draft? Donte DiVincenzo, a true Shooting Guard who literally came off the bench to score 31 points for Villanova in the National Championship. Yes, this looks absolutely perfect on paper.
However, you can't place a "perfect" grade on a draft class without a quick game of "woulda, shoulda, coulda". While Donte DiVincenzo seems like the perfect fit, there were definitely other talented Shooting Guards available at #17. In fact, the player taken immediately after Milwaukee's pick was Lonnie Walker, IV, a long, physical Shooting Guard who carried lottery buzz. I'm okay with the Bucks passing on Walker, as he didn't quite find a consistent shot during his sole season in Miami. The last thing I want is another wing unable to find a shot while growing into his role (I'm looking at you, Tony Snell). However, his defense is impeccable and my pro comparison for him was Victor Oladipo, so there is a chance Milwaukee missed out on a steal in Lonnie Walker.
Josh Okogie, a Shooting Guard from Georgia Tech, had an impeccable combine. On my pre-draft rankings, I had him ranked higher than Donte DiVincenzo, and with Minnesota taking him at #20, there's a very small chance the Bucks missed out on a better Shooting Guard. Anfernee Simons is a combo guard straight out of high school (it's a long story), and while there's a good chance it takes him a long time to prove his worthiness of being selected #24 by Portland, he's shown flashes of greatness and some scouts give him incredibly high praise. I don't think he'll pan out into a star, but his unpredictability and hype at least gives him a place on the "woulda-shoulda-coulda" radar. I know I said earlier that taking a big man doesn't make too much sense, but Robert Williams was a potential lottery-pick big man who fell all the way to Boston at #27. There's a good chance he could be the steal of this draft, and given his natural shot-blocking, rim-protecting prowess, Milwaukee could have moved a big man or two to clear a path for Williams to solve Cream City's 2017/18 Achilles Heal.
I jumped out of my seat when I heard Donte DiVincenzo's name fly out of Commissioner Silver's mouth, and right now, it looks like that reaction was warranted. Sure, part of my reaction was rooted in the fact that I saw my Marquette Golden Eagles take down him and #1 Villanova at the Bradley Center. Sure, I was a mere ten yards away from him when my peers and I rushed the court. This being said, Milwaukee filled their biggest need with the seemingly best-fitting puzzle piece that goes by the nickname "The Big Ragu."
Now, let's get started taking advantage of this weak Eastern Conference right away..
---