Fuller's 2019 NBA Mock Draft 2.0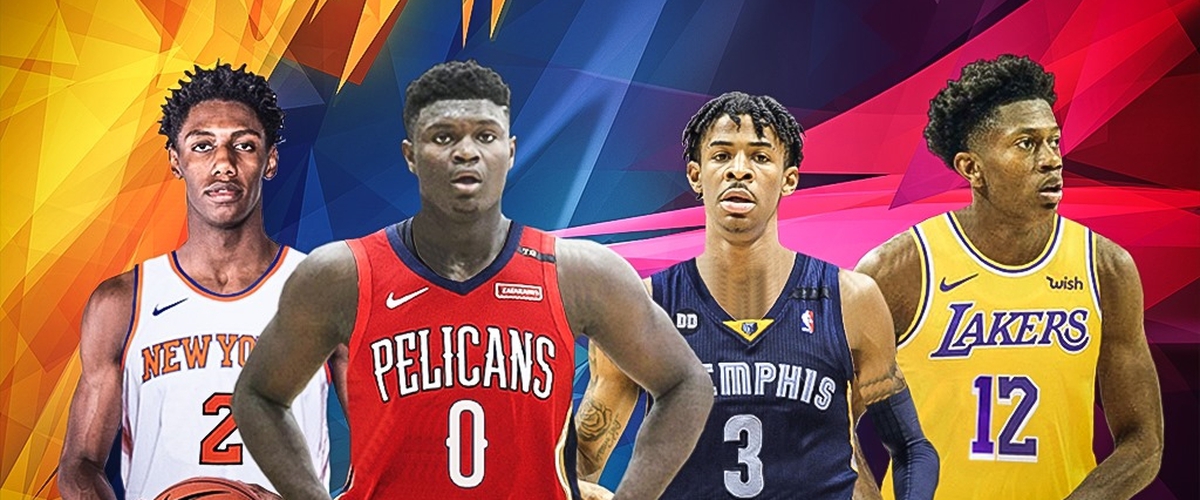 The NBA Combine has come and gone, meaning all 30 NBA teams got a good look at this year's draft class. The rumor mill is already circling around New York (Pick #3) and Phoenix (#6), and other top prospects like Ja Morant and Cam Reddish have underwent minor surgeries to get back to 100% health by training camp. The draft is still at least a couple weeks away, and the drama will rise significantly following the conclusions of this year's Warriors / Raptors battle. In the meantime, here's an updated NBA mock draft, incorporating results and overall impressions from the Combine (not to mention the experts who watched).
1. New Orleans Pelicans: Zion Williamson, PF, Duke ( same )
Might as well pencil in this pick now. Zion's done nothing to bump himself down from the top spot, so #1 he remains.
2. Memphis Grizzlies: Ja Morant, PG, Murray State ( same )
Morant remains #2 behind Zion, and his minor knee surgery isn't changing his stock whatsoever.
3. New York Knicks: R.J. Barrett, SF, Duke ( same )
If New York keeps this pick, it's damn near impossible to see them selecting anyone else other than R.J. Barrett. He's the most proven scorer in the class and undoubtedly the best prospect available. I'm very confident about my Top 3.
4. Los Angeles Lakers: Jarrett Culver, SG, Texas Tech ( same )
The fourth pick will come down to choosing between Jarrett Culver, Darius Garland or De'Andre Hunter. I still see Shooting Guard as their weakest spot, so Culver remains the pick - for now.
5. Cleveland Cavaliers: De'Andre Hunter, SF, Virginia ( same )
Darius Garland and De'Andre Hunter are undoubtedly the two best prospects remaining, and Collin Sexton isn't getting replaced at Point Guard any time soon. Hunter keeps his spot at 5th.
6. Phoenix Suns: Darius Garland, PG, Vanderbilt ( same )
Phoenix is reportedly shopping this pick for a veteran Point Guard to help lead a young corps of Devin Booker, DeAndre Ayton, Josh Jackson and Kelly Oubre Jr. (not to mention T.J. Warren is still only 25). Until they pull the trigger, taking the best player available who also just happens to be a Point Guard is an absolute no-brainer.
7. Chicago Bulls: Coby White, PG, North Carolina ( same )
White is the top player remaining on my board, and out of the 15 mock drafts I trust the most, only two didn't have Coby White landing at #7 to Chicago. This may become one of the safest picks of the lottery.
8. Atlanta Hawks: Cameron Reddish, SF, Duke ( +1 )
Washington has the 9th pick and all signs indicate they're not going with Texas C Jaxson Hayes, so Atlanta can afford to pass on the big man here and take the most talented player available at #8. Reddish's minor surgery shouldn't affect his stock here on out.
9. Washington Wizards: Sekou Doumbouya, SF/PF, France ( +3 )
Cam Reddish is gone, but Sekou Doumbouya is the next best thing and unlike Reddish can play the 3 and the four, which is especially important with Jabari Parker and Bobby Portis possibly departing this summer.
10. Atlanta Hawks: Jaxson Hayes, C, Texas ( -2 )
NOW Atlanta can take a new big man option in Jaxson Hayes, who's undoubtedly the best prospect on the board here at #10.
11. Minnesota Timberwolves: Brandon Clarke, PF, Gonzaga ( +8 )
Brandon Clarke is the best player available on my board, and Minnesota could use another 4 with Taj Gibson, Luol Deng and Anthony Tolliver all free to leave. Clarke's college teammate Rui Hachimura could easily go here as well.
12. Charlotte Hornets: Rui Hachimura, PF, Gonzaga ( +2 )
Charlotte is the biggest wildcard of the lottery picks, and out of the top five players left on my board, only Rui Hachimura was mocked to Charlotte more than once. Romeo Langford, Nassir Little, Kevin Porter Jr. and P.J. Washington should all receive serious consideration if still around at #12.
13. Miami Heat: Romeo Langford, SG, Indiana ( -3 )
Miami needs wings with Dwyane Wade, Tyler Johnson and Rodney McGruder all leaving. Romeo Langford, Kevin Porter Jr. and Nassir Little all deserve to land as high as #13, and out of those three, Langford has the highest stock (and is typically seen with having the most potential) out of the rest of the class.
14. Boston Celtics: P.J. Washington, PF/C, Kentucky ( +3 )
While I love the fit of Goga Bitadze to Boston, #14 is still too early for the Georgian big man to be considered. The front-court depth still needs to be addressed, and with plenty of wings, taking P.J. Washington over Nassir Little and Kevin Porter Jr. makes sense.
15. Detroit Pistons: Nassir Little, SF, North Carolina ( same )
I had Nassir Little to Detroit in my first mock draft, and while Kevin Porter Jr. is a more popular pick here at #15, I see a true Small Forward (which Detroit has none of) as much more valuable than adding another Shooting Guard.
16. Orlando Magic: Kevin Porter Jr., SG, USC ( -3 )
Evan Fournier is still the only significant contributor out of Orlando's wings, so nabbing the best player available in Kevin Porter Jr. is a no-brainer. This may actually be a steal, as Porter could eat up a lot of Terrence Ross' old minutes.
17. Brooklyn Nets: Bol Bol, PF/C, Oregon ( -6 )
Out of all remaining prospects, no one has been mocked more to Brooklyn than Bol Bol, and I completely get why: Jarrett Allen needs help here and the high-potential big man has slid far enough. If he's off the board, players like Goga Bitadze, Grant Williams and Mfiondu Kabengele may garner a good amount of attention.
18. Indiana Pacers: Nickeil Alexander-Walker, PG/SG, Virginia Tech ( same )
Point Guard and wing depth are the two biggest potential holes with all of Indiana's unrestricted free agents, and Nickel Alexander-Walker has one major asset that Tyler Herro and Goga Bitadze (the only two prospects higher on my board) do not: he can contribute at both. This pick could easily change, but the Virginia Tech combo guard makes the most sense out of anyone left.
19. San Antonio Spurs: Goga Bitadze, C, Republic of Georgia ( +1 )
While I still see Small Forward as a bigger need than the front-court, I actually like the way Goga Bitadze would compliment Jakob Poeltl and LaMarcus Aldridge. Keldon Johnson and Tyler Herro both should gain plenty of attention too if they're still around at #19.
20. Boston Celtics: Tyler Herro, SG, Kentucky ( +2 )
Boston missed out on Goga Bitadze, but now they can add another talented 3-point shooter off the bench in Tyler Herro. His college teammate Keldon Johnson would make plenty of sense here too, and those two are my two best remaining prospects.
21. Oklahoma City Thunder: Keldon Johnson, SG/SF, Kentucky ( -5 )
Small Forward seems to be the direction OKC will go, and Keldon Johnson is the best player available and can eat minutes at the 2 and the 3.
22. Boston Celtics: Cameron Johnson, SF, North Carolina ( +2 )
Assuming Boston keeps this pick, Small Forward is the direction after taking P.J. Washington and Tyler Herro earlier. While those two are young, potential-filled Kentucky players, Cameron Johnson is the top prospect remaining on my board and bears more winning experience than other players in this range. If they're shooting for an all-potential class, Washington's Matisse Thybulle would make a ton of sense here.
23. Utah Jazz: Grant Williams, PF, Tennessee ( same )
Utah is still crazy deep, and out of the remaining talent, no one has been mocked more to Utah than Grant Williams. I had him here in my first mock, and while Matisse Thybulle and Mfiondu Kabengele have risen above Williams on my board, adding a young backup behind Derrick Favors at the 4 is the most sensible draft strategy.
24. Philadelphia 76ers: Matisse Thybulle, SF, Washington ( +3 )
This is the first pick of many for Philly, and they can afford to simply take the best player available in Matisse Thybulle. He also works here because a young Small Forward may be just what they need, with Jimmy Butler, Tobias Harris and JJ Reddick all possibly departing.
25. Portland Trailblazers: Luka Samanic, PF, Croatia ( +16 )
I had a combo Guard here in the first mock, but adding a Power Forward makes more sense with Al-Farouq Aminu and Enes Kanter both free to leave. Luka Samanic isn't among my top four remaining prospects, but he does make the most sense for Portland's system. His stock will only continue to rise after measuring in at 6'11" and putting together a solid all-around combine. KZ Okpala and Bruno Fernando would both be solid options here as well.
26. Cleveland Cavaliers: Talen Horton-Tucker, SG/SF, Iowa State ( same )
Cleveland's shallowest depth is at the two wing spots, and Talen Horton-Tucker can step in right away and eat minutes at both. While I think the front-court is already too crowded with Kevin Love, Tristan Thompson, Ante Zizic, John Henson and Larry Nance Jr. all under contract, other experts are predicting Cleveland will nab a big man like Mfiondu Kabengele here at #26.
27. Brooklyn Nets: Chuma Okeke, F, Auburn ( +8 )
Brooklyn took Bol Bol earlier, so adding Mfiondu Kabengele doesn't make a ton of sense. Instead, adding a combo forward like Chuma Okeke will boost their overall shooting, as well as eat the minutes DeMarre Carroll, Ed Davis and Jared Dudley are leaving behind. KZ Okpala would be an excellent fit here too.
28. Golden State Warriors: KZ Okpala, SF/PF, Stanford ( same )
No one left at #28 is going to start in Golden State's 2019/20 line-up, even with all their unrestricted free agents. However, adding a player like KZ Okpala who can eat minutes on the wing and in the paint makes as much sense as taking any other prospect here. Bruno Fernando and Luguentz Dort are fine alternatives.
29. San Antonio Spurs: Luguentz Dort, SG/PG, Arizona State ( -4 )
Goga Bitadze fills the front-court concerns, and out of the handful of remaining prospects to consider taking near the end of the first round, Luguentz Dort simply makes the most sense. Knowing San Antonio, I could also see them reach for a developmental forward like Nic Claxton or Darius Bazler here.
30. Milwaukee Bucks: Mfiondu Kabengele, C, Florida State
Despite boosting his stock with a solid combine, Mfiondu Kabengele actually falls a spot to #30. He's not dropping past Milwaukee though, as they can afford to take on a raw big man to provide depth behind Giannis, Ersan Ilyasova and whoever else joins the Pau Gasol-less front-court (Brook Lopez is a big question mark to return).
SECOND ROUND:
31. Brooklyn Nets: Carsen Edwards, PG, Purdue ( same )
32. Phoenix Suns: Bruno Fernando, PF/C, Maryland ( -11 )
33. Philadelphia 76ers: Ty Jerome, PG, Virginia ( same )
34. Philadelphia 76ers: Dylan Windler, SF, Belmont ( +6 )
35. Atlanta Hawks: Nic Claxton, PF/C, Georgia ( +10 )
36. Charlotte Hornets: Louis King, SF, Oregon ( +3 )
37. Dallas Mavericks: Daniel Gafford, C, Arkansas ( -7 )
38. Chicago Bulls: Isaiah Roby, SF/PF, Nebraska ( same )
39. New Orleans Pelicans: Admiral Schofield, SF, Tennessee ( +10 )
40. Sacramento Kings: Darius Bazley, SF/PF, Princeton High School ( +10 )
41. Atlanta Hawks: Jalen Lecque, SG/PF, Brewster Academy ( +31 )
42. Philadelphia 76ers: Nazreon Reid, PF/C, LSU ( same )
43. Minnesota Timberwolves: Shamorie Ponds, PG, St. John's ( same )
44. Atlanta Hawks: Deividas Sirvydas, SG/SF, Lithuania ( +9 )
45. Detroit Pistons: Jontay Porter, C, Missouri ( -11 )
46. Orlando Magic: Eric Paschall, PF, Villanova ( -14 )
47. Sacramento Kings: Charles Bassey, C, Western Kentucky ( -10 )
48. Los Angeles Clippers: Ignas Brazdeikis, PF/SF, Michigan ( -4 )
49. San Antonio Spurs: Jalen McDaniels, PF, San Diego State ( -13 )
50. Indiana Pacers: Miye Oni, SF, Yale ( +9 )
51. Boston Celtics: Joshua Obiese, PG/SG, Germany ( +3 )
52. Charlotte Hornets: Terance Mann, SG, Florida State ( +21 )
53. Utah Jazz: Terence Davis, SG, Ole Miss ( +21 )
54. Philadelphia 76ers: Jaylen Hoard, PF, Wake Forest ( +1 )
55. New York Knicks: Sagaba Konate, PF/C, West Virginia ( -7 )
56. Los Angeles Clippers: Jordan Bone, PG, Tennessee ( +18 )
57. New Orleans Pelicans: Tremont Waters, PG, LSU ( +4 )
58. Golden State Warriors: Jordan Poole, SG, Michigan ( same )
59. Toronto Raptors: Jaylen Nowell, SG/PG, Washington ( -7 )
60. Sacramento Kings: Zach Norvell, SG, Gonzaga ( -3 )
Other Draftable Prospects: ; Charles Matthews, SG, Michigan; Tacko Fall, C, UCF; DaQuan Jeffries, SG, Tulsa; Jordan Nwora, SF/PF, Louisville; Kris Wilkes, SF, Michigan; Brian Bowen, SF, Sydney Kings (USA); Ky Bowman, PG, Boston College; Yovel Zoosman, SG/SF, Israel; Tyler Cook, SF/PF, Iowa; Adam Mokoka, SG, France; Dedric Lawson, SF/PF, Kansas; Kyle Guy, SG, Virginia; Simi Shittu, PF, Vanderbilt; Quinndary Weatherspoon, SG/PG, Mississippi State; Aric Holman, PF, Missouri State; Justin Robinson, PG, Virginia Tech; Jaylen Hands, PG, UCLA; Paul Eboua, SF, Italy; Zylna Cheatham, PF, Arizona State; Ethan Happ, PF, Wisconsin; Kerwin Roach, SG/PG, Texas; Josh Reaves, SG, Penn State; C.J. Massinburg, SG, Buffalo
---