What We Learned from the Brewers' Opening Day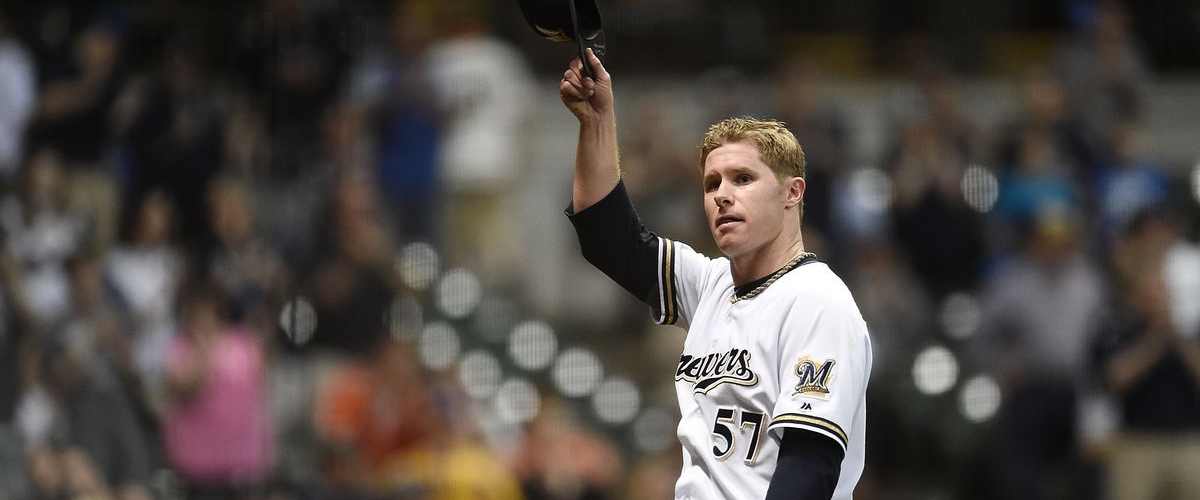 There are still 161 games left to go in Major League Baseball's regular season, but after the first game, the Brewers are atop the NL Central. Sure, they're tied with the Cubs who also won their opener, but there were still key points to take away from the extra-innings affair. From now on, every trend will either be continues or broken, for better or worse. These are the key takeaways from the season opener:
Chase Anderson is going to be a damn good pitcher again in 2018
In a six-inning effort, Chase Anderson threw 97 pitches, only gave up one hit, and ended his night with a shutout. He obviously won't bear a 0.00 ERA all season, but he had solid command of all five pitches. Anderson cut his Home Runs Allowed total in half last season, and with the way he pitched around power threats like Eric Hosmer, Wil Myers and Jose Pirela, he's destined to keep that number low again. As long as he can stay healthy, look for him to post 15+ Wins with ERA and Strikeout totals in the ballpark of a 3.00 ERA and 200 K's, certainly placing him in the upper echelon of starters.
Josh Hader and Matt Albers may have already found their perfect roles
There was plenty of speculation that the Brewers may move Hader to the starting rotation. He rose through the minors as a starting arm, and with the Brewers passing up on signing a big-name Ace, the odds of Hader seeing rotation time increased. However, they elected to keep him in his reliever-after-the-starter role, and he looked as good and as comfortable as ever. Matt Albers has a 1.62 ERA in 63 Games with the Nationals, and the movement on his sinker was absolutely filthy (in a good way) in the 8th inning yesterday. Milwaukee has other late-game set-up options in Jacob Barnes and Jeremy Jeffress, but if Hader and Albers continue to pick up where they left off last season and through spring training, we may already be looking at the top two used relievers before Corey Knebel enters a game.
Jacob Barnes and Jeremy Jeffress round out a very talented bullpen
Jeffress dug himself into a nasty hole in extra innings, loading the bases with only one out. However, he remained calm, collected, and forced a double play to end the inning and eventually end the game as the winning pitcher. Speaking of calm and collected, Jacob Barnes entered in the 12th inning to close out a game and struck out the side, with the help of his scorching-hot slider hitting 93 MPH. Josh Hader, Matt Albers, Jeffress and Barnes all proved to be reliable relieves in Game One, and while Corey Knebel wasn't his best, he's still a reigning NL All-Star. If the starting pitching can keep it together, this bullpen will have no problem maintaining leads.
Corey Knebel needs to work on his off-speed stuff - ASAP
Knebel led all relievers in Strikeouts and Games Pitched last season, while also notching 39 Saves and a 1.78 ERA in his first All-Star campaign. He certainly didn't look like an All-Star yesterday. He left a terrible off-speed pitch (maybe it was a curveball?) right over the middle of the plate for Freddy Galvis to knock in the game-tying hit. He also gave up far too many hits on bad off-speed pitches in spring training. He's still a very talented Closer, but if this off-speed pitch issue is going to be a consistent problem, he may not keep the closing role for long.
Manny Pina is as good of a defensive catcher as anyone in the league
This is the first year that Pina will be the uncontested starting Catcher, and he certainly showed how he earned the job. Two major throws caught runners, good base runners I may add, in the act of stealing. Teams are going to think twice now before sending their runners on a steal attempt against Manny Pina.
Ryan Braun looked DAMN good fielding at First Base
All spring training, one of the biggest stories was Ryan Braun and the self-proclaimed discomfort at his new position. He looked like he'd been playing First Base all his life in the opener. Whether it was reaching for balls of fielding hoppers off the ground, Braun made plays that any routine starting First Baseman would have to work for. I'm not saying he's going to win a Gold Glove, but I'll say his defense at First Base should be much less of a stressor moving forward.
Braun also looked DAMN bad at the plate
Throughout Braun's career, he's been one of the most clutch batters on the Brewers. For whatever reason, he lost that clutch gene last season and left an abnormally high number of teammates on base when he stepped up to the plate. Far too many times, Braun would ground into a double play or strike out with runners on. What happened on Thursday? He goes 0-4 with a strikeout and leaves three base runners stranded. The worst play was Braun grounding into a double play when he had two base runners on and only one out. This is a bad trend that really needs to dissipate if the Brewers want production out of the former MVP. If he can't get it together at the plate, the presence of Eric Thames, Jesus Aguilar and Ji-Man Choi all available to his AND play First Base really put a threat to Braun's playing time. Ryan Braun is also 34, so this is not a convenient time in a career to go through a major rut at the plate.
Jonathan Villar may not be the answer at Second Base
In 2016, Villar hit 2.85 with 38 Doubles, 19 Home Runs and a league-leading 62 Stolen Bases. With Scooter Gennett's hitting troubles that year, the Brewers finally felt confident in a long-term Second Baseman. Then 2017 happened, and Villar hit for just .241 with 18 Doubles, 11 Home Runs and 23 Stolen Bases, all while making ridiculously stupid base running and fielding mistakes. His erratic play resulted in Milwaukee trading for Neil Walker and giving significant playing time to Eric Sogard. Now with Neil Walker gone and Sogard's role reserved to a bench spot, the hope was Villar could play his way back into being the everyday starting Second Baseman in 2018. Well, it's not off to a good start. Villar went 0-3 with two strikeouts and got replaced by Eric Sogard two-thirds of the way into the game. Milwaukee may still need to look elsewhere for the answer at Second Base, because after spring training and opening day, Villar doesn't look like it.
Orlando Arcia and Travis Shaw will continue to produce on offense and defense in 2018
While the right side of the infield will look ever-changing in 2018, the left side looks identical to last season. That's for a good reason. Travis Shaw was the team MVP last year with a .271/31/101 hitting line and a defensive game to match, and Orlando Arcia showed everyone why he's been one of the most exciting Brewers prospects in the 21st century. Both Shaw and Arcia made big throwing plays on defense in the opener, and Shaw ripped a solid double while Arcia knocked in the game-winning run in the 12th. Both will be key everyday pieces again in 2018.
Lorenzo Cain and Christian Yelich batting 1st and 2nd is EXACTLY what the Brewers need this year
Brewers fans got to see their two big-name additions right away in 2018, with Lorenzo Cain leading off and Christian Yelich hitting right behind him. Cain had 3 Hits and a Stolen Base in his debut, and Christian Yelich knocked in the first run of the ball game. Both players look poised to make a difference at the plate, on the base paths and in the outfield.
Domingo Santana has earned his right to take At Bats from Ryan Braun and Eric Thames
After Milwaukee acquired two big time Outfielders, the playing time became much harder to come by. Ryan Braun was pushed out of where he's started for almost a decade and into a platoon role at First Base with slugger Eric Thames. Jesus Aguilar and Ji-Man Choi had good enough spring training tape to bump Keon Broxton and Brett Phillips down to AAA. With how popular Ryan Braun and Eric Thames are to fans, many thought Domingo Santana would be the odd man out and traded for Starting Pitching this offseason. Nope. They stuck with their .278/30/85 hitter, and in his season debut, he raked in two hits. He did bobble a play defensively, but he immediately made up for it with a bullet of a throw right to Manny Pina at home plate. If a player ends up on the trading block for pitching this season, it looks less and less likely that it would be Santana's bags to pack.
Overall Impressions?
The Milwaukee Brewers absolutely look like a playoff-bound team
However, it's just one game....
---