Why On Earth Would The Bucks Sign Derrick Rose?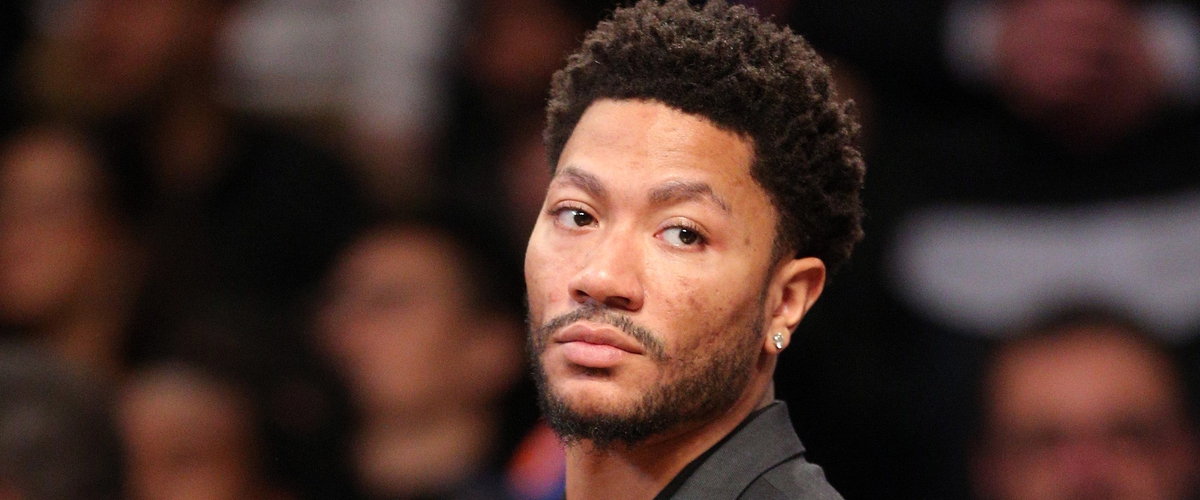 Derrick Rose is a washed-up, horrid 3-Point-shooting, selfish, arrogant distraction of a Point Guard who wants way more money than the Bucks could offer to join a roster with absolutely no place for a point guard coming off of his fourth major knee injury.
Sounds harsh? That's reality. Keep reading.
In the past week, there has been growing "mutual interest" between Derrick Rose and the Milwaukee Bucks. That interest has been validated by the multiple meetings between the two parties and Head Coach Jason Kidd straight up saying both parties want it to happen (a paraphrase of clips from questions reporters asked Kidd at a charity golf tournament this past weekend). I could probably think of a more eloquent way to put this, but I won't waste my time: this is downright stupid. Here's exactly why:
Derrick Rose isn't good
The first argument is that the playing ability just isn't there. Sure, the natural talent may be deep down inside D-Rose, but his starting-minutes statistics tell the real story. If someone's argument is that Rose has averaged over 15 points per game over the past four seasons, that isn't good enough. In the three seasons of the four which he spent with the Bulls, Jimmy Butler was the only other trusted scorer. SOMEONE had to try and score for those Bulls squads. In his sole Knicks campaign, his 18 PPG was better than any of the previous four, and so was his Field Goal percentage (47.1%). That looks great, but the Bucks already have two players scoring more (Giannis and Jabari), and when healthy, both Khris Middleton and current PG Malcolm Brogdon can hit about that 18-point clip as well. Field Goal percentage-wise, Giannis, Jabari, Greg Monroe and John Henson all had higher numbers, and once again, Middleton and Brogdon would have had similar numbers if fully healthy. He also had the worst 3-point percentage of his career (21.7%) last season, and we already have one Point Guard who misses too many three's *cough Delly cough*
Derrick Rose has no place in the lineup
Even if Derrick Rose had the promise of a comeback year, he has no place on the Bucks roster. Malcolm Brogdon is the reigning Rookie of the Year, and Matthew Dellavedova is entering year two of a four-year big-money contract. When those two aren't fighting over starting minutes, Giannis Antetokounpo is also played as a point-forward type hybrid. Even Sportrac.com classifies Giannis as a Point Guard. Gary Payton II is a two-way player behind the bunch as a reserve in case someone gets injured. Simply put, Derrick Rose would have zero minutes to take.
Derrick Rose is more likely to make the team worse than better
As the Most Improved Player at the NBA Awards and the first Bucks All-Star since Michael Redd, Giannis Antetokounpo is the face of the franchise. Jabari Parker's injury makes this situation even more evident. With Jabari out for potentially the whole season, Giannis does need scoring help. While points could come from Derrick Rose, a lot more damage could come with him as well. The main role of any point guard is to be a distributor. As a starting point guard for more than 30 minutes a game, Derrick Rose has had under 5 Assists per Game each of the last six seasons. Acquiring Rose would come with the price of taking shots away from Giannis and Khris "Money" Middleton. Rose's god-awful 3-Point percentage (21.7%) doesn't help his cause either. If the argument is that he provides defense as a point guard, the Bucks already have that in Delly, and they're playing him nearly $10M a year to do exactly that. Even with Jabari's scoring out of the equation, the Bucks will still have double-digit scorers this season in Giannis, Khris, Brogdon, Monroe, and potentially Tony Snell, Thon Maker and Delly (if they find their shooting strokes). Rookies D.J. Wilson and Sterling Brown are deep threats that could add some firepower to the offense as well. Heck, even Rashad Vaughn is a wild card with his Summer League breakout (I still doubt it, though. Vaughn won't be back next year). This is a young, growing team, and Derrick Rose would add many more "cons" than "pros".
BONUS ROUND: Money, Attitude, and Injuries
Oh, did you think I was done bashing Derrick Rose? I still have a few more key witnesses in this trial:
Let's start with Money. His 2016-17 Salary was $21M-plus-change, and to use a benchmark for this offseason's money, the mediocre Kentavious Caldwell-Pope just got paid $18 Million for one year with the Lakers. Rose is going to want money. Cap space is a very confusing topic with NBA teams, with the Bucks have -$22 Million in "Practical Cap Space." Their Total cap is $119.2 Million and they must stay under the Luxury Tax Apron of $125,266,000. This is a perplexing, accounting-suited way to say the Bucks have no money to spend in free agency. Why do you think they let Jason Terry and Michael Beasley walk without signing any new free agents? The Bucks simply don't have even half the money they'd probably need to sign Derrick Rose.
Another factor is his Attitude. Working for the Bucks, I know their mindset very well. This is a young, focused, driven team wanting to get better day-in and day-out. Jabari Parker's article on Milwaukee he wrote for the Player's Tribune is the perfect example of the team's mentality:
https://www.theplayerstribune.com/jabari-parker-milwaukee-bucks-playoffs/
This team already has the right attitude and mindset, as well as a surprisingly-high maturity level for such a young team. Why would the Bucks go and sign a big ego player like Derrick Rose? Let's not forget that this past January, Derrick Rose skipped a game for no reason at all. I don't know how I haven't mentioned this yet, but Derrick Rose would be Brandon Jennings 2.0. Think about it: Brandon Jennings was a ball-hogging, poor decision-making arrogant point guard who divided the locker room. Add knee problems into the batter and you just baked yourself a Derrick Rose cake that no one in the organization or fan base wants to eat.
Derrick Rose by the Injuries:
2012: Torn ACL in Left Knee
2013: Torn Meniscus in Right Knee
2015: Torn Meniscus in Right Knee (again)
2017: Torn Meniscus in Left Knee
Yes, Derrick Rose has had four surgery-deserving knee injuries in a five-year span. I personally had three in a three-year span, so I can somewhat relate. You're never the same player afterward, physically or mentally. Let's note that the last injury of the four ended Rose's last season back in April. This injury history is about as injury-prone as it gets, and it's not worth whatever amount of money he's asking.
Once again, I can sum up all of the reasons why Derrick Rose shouldn't be on the Milwaukee Bucks roster in one sentence:
Derrick Rose is a washed-up, horrid 3-Point-shooting, selfish, arrogant distraction of a Point Guard who wants way more money than the Bucks could offer to join a roster with absolutely no place for a point guard coming off of his fourth major knee injury.
Your move, Jon Horst.