World Cup Group H Preview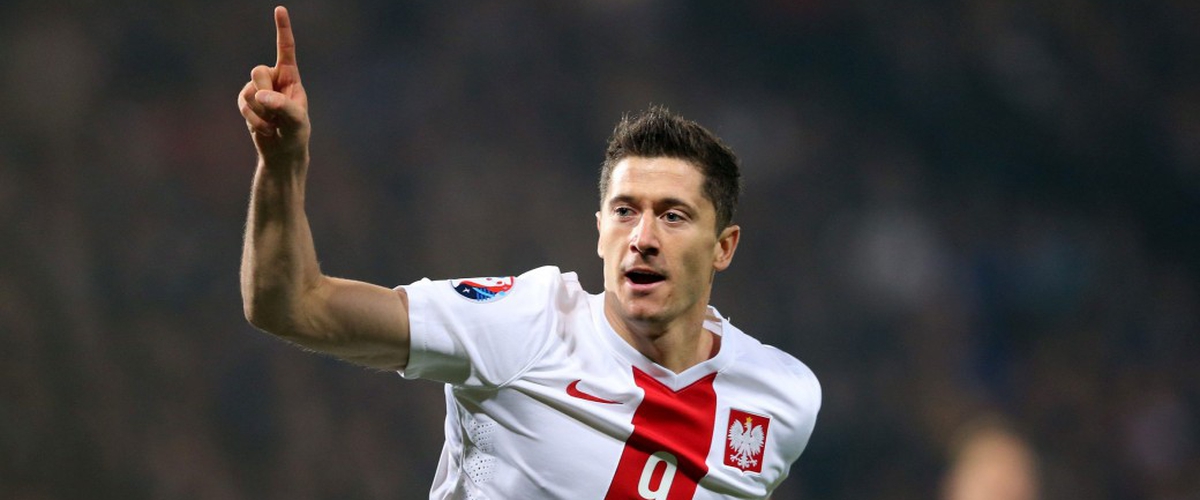 COLOMBIA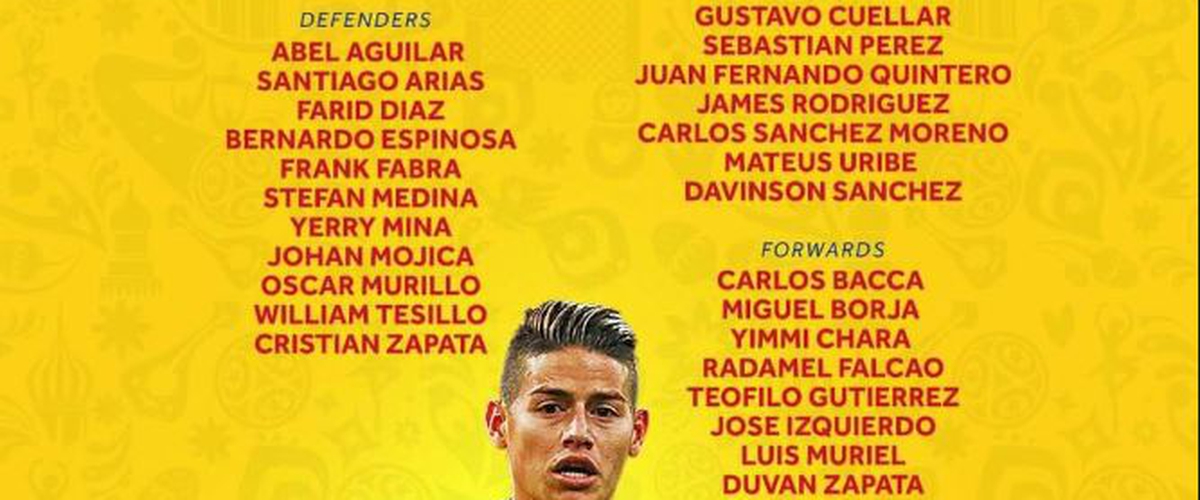 Best XI:
GK: David Ospina, 29, Arsenal (England)
LB: Frank Fabra, 27, Boca Juniors (Argentina)
LCB: Davinson Sanchez, 21, Tottenham (England)
RCB: Yerry Mina, 23, Barcelona (Spain)
RB: Santaigo Arias, 26, PSV (Holland)
LCM: Carlos Sanchez, 32, Fiorentina (Italy)
RCM: Mateus Uribe, 27, Club America (Mexico)
CAM: James Rodriguez, 26, Real Madrid (Spain)
LW: Jose Izquierdo, 25, Brighton (England)
ST: Radamel Falcao, 32, Monaco (France)
RW: Juan Cuadrado, 30, Juventus (Italy)
Analysis: After missing out on the 2014 World Cup due to injury, Radamel Falcao finally gets his chance to star for Columbia on the big stage. James Rodriguez is one of the best attacking midfielders in the world, earning starting spots at both Real Madrid and Bayern Munich. Juan Cuadrado will provide consistent pressure on the wing, and while defense has always been Colombia's Achilles heel, they have two rising starts at Center Back in Davinson Sanchez and Yerry Mina. If everyone plays up to their individual talents, Colombia should win Group H easily, and might just serve as an anti-hero, giant-killing dark horse in the knockout rounds.
JAPAN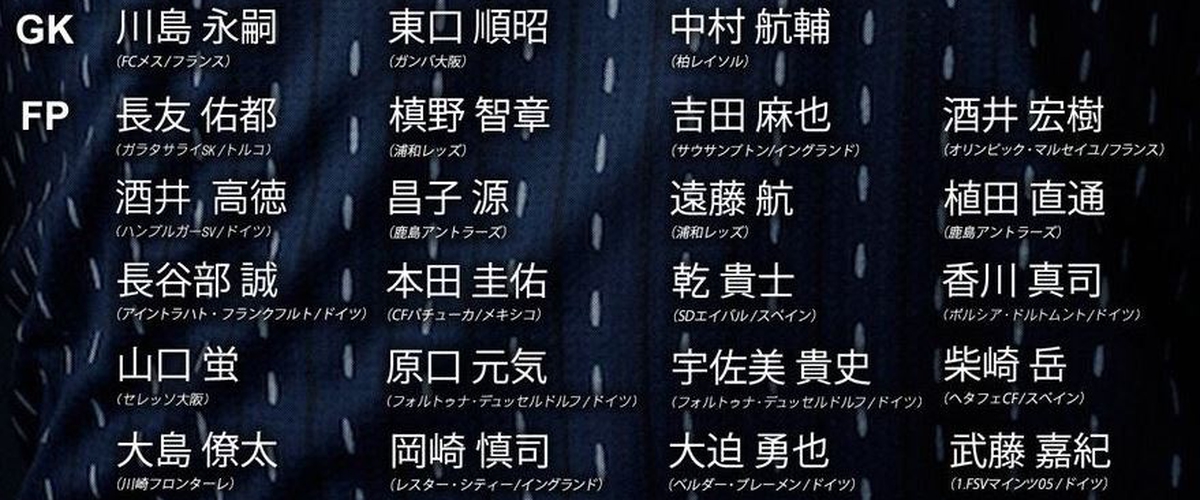 Best XI:
GK: Eiji Kawashima, 35, Metz (France)
LB: Yuto Nagatomo, 31, Inter (Italy)
LCB: Maya Yoshida, 29, Southampton (England)
RCB: Makoto Hasebe, 34, Eintracht Frankfurt (Germany)
RB: Hiroki Sakai, 28, Marseille (France)
LCM: Gaku Shibasaki, 26, Getafe (Spain)
RCM: Hotaru Yamaguchi, 27, Cerezo Osaka (Japan)
CAM: Shinji Kagawa, 29, Borussia Dortmund (Germany)
LW: Takashi Inui, 30, Eibar (Spain)
ST: Shinji Okazaki, 32, Leicester City (England)
RW: Keisuke Honda, 31, Pachuca (Mexico)
Analysis: Shinji Kagawa leads Japan again in 2018, with reliable wingers Takashi Inui and Keisuke Honda on his sides. Shinji Okazaki is a decent striker, and if he's not converting chances, Yuya Osako and Yoshinori Muto are dependable fill-ins. Japan isn't a bad team by any means, nor do they have any glaring holes, but a team who's only star is Shinji Kagawa probably doesn't have a fantastic chance at advancing. They'll need to give 110% against Poland and Colombia if they have any chance at advancing past the group stage.
POLAND
Best XI:
GK: Wojciech Szczesny, 28, Juventus (Italy)
LB: Maciej Rybus, 28, Lokomotiv Moskow (Russia)
LCB: Kamil Glik, 30, Monaco (France)
RCB: Michal Pazdan, 30, Legia Warszawa (Poland)
RB: Lukasz Piszczek, 33, Borussia Dortmund (Germany)
LM: Kamil Grosicki, 29, Hull City (England)
LCM: Grzegorz Krychowiak, 28, Paris SG (France)
RCM: Karol Linetty, 23, Sampdoria (Italy)
RM: Piotr Zielinski, 24, Napoli (Italy)
LS: Robert Lewandowski, 29, Bayern Munich (Germany)
RS: Arkadiusz Milik, 24, Napoli (Italy)
Analysis: It's hard to bet against a team with the best true striker in the world, and Poland has exactly that in Robert Lewandowski. He's an early favorite for the Golden Boot award, and after not qualifying for the 2014 World Cup, the Bayern Munich big man is surrounded by a quality supporting cast of both veterans (Wojciech Szczesny, Kamil Glik and Lukasz Piszczek) and rising stars (Karol Linetty, Piotr Zielinski and Arkadiusz Milik). Glik is recovering from a shoulder injury, and Poland definitely want their best defender at full health. Robert Lewandowski isn't only the best player on Poland; he's the best player in Group H. Poland is talented enough to advance past the group stage with confidence, but it's on Lewandowski as to how far Poland can go.
SENEGAL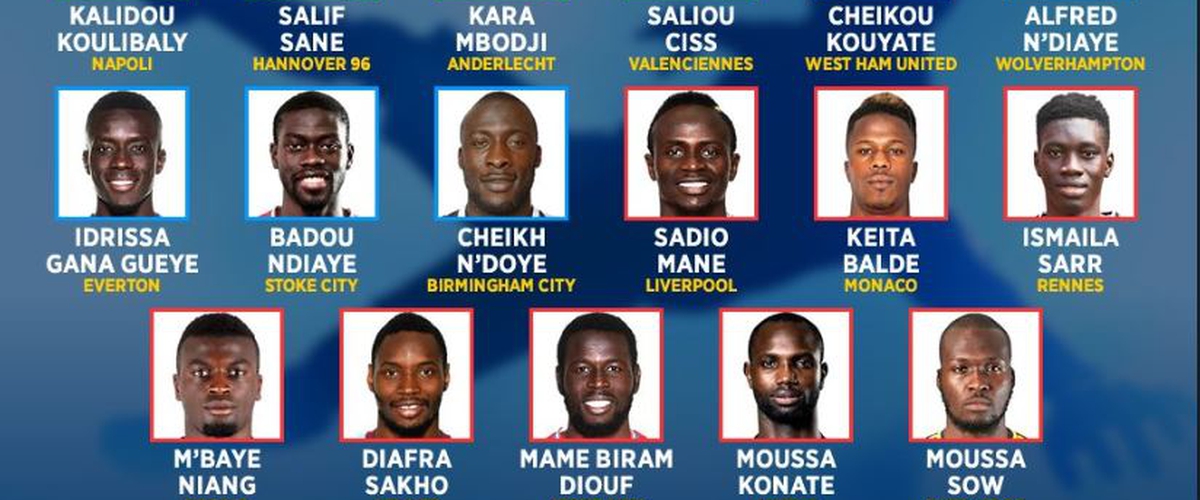 Best XI:
GK: Abdoulaye Diallo, 26, Stade Rennais (France)
LB: Saliou Ciss, 28, Valenciennes (France)
LCB: Kalidou Koulibali, 26, Napoli (Italy)
RCB: Salif Sane, 27, Hannover (Germany)
RB: Youssouf Sabaly, 25 Bordeaux (France)
LCM: Cheikou Kouyate, 28, West Ham (England)
CM: Idrissa Gueye, 28, Everton (England)
RCM: Badou Ndiaye, 27, Stoke (England)
LW: Sadio Mane, 26, Liverpool (England)
ST: Moussa Sow, 32, Bursaspor (Turkey)
RW: Keita Balde, 23, Monaco (France)
Analysis: Senegal could very well be the biggest dark horse in this tournament. As usual, Senegal is led by their attack, with star winger Sadio Mane leading the way. If Keita Balde is healthy, he can wreck havoc along the right side. Moussa Sow is a decent winger, and they have M'Baye Niang and Mame Diouf as other solid forward options. Kalidou Koulibaly is one of the best young Center Backs in the world, and Salif Sane holds his own in the Bundesliga. Left Back and Goalkeeper are major weak spots, and both Poland and Colombia will likely put as much attacking pressure as they can on Saliou Ciss to exploit that weakness. Still, with midfield starters Cheikou Kouyate, Idrisse Gueye and Badou Ndiaye all hitting their prime, this Senegal team is the most well-rounded they've ever been. If the other teams in the group start dropping points, look for Senegal to take advantage. However, if the only aspect of Senegal that shows up in Russia is their natural speed, they'll be packing their backs before advancing out of Group H.
---