Why Gordon Hayward's injury isn't the end for the Celtics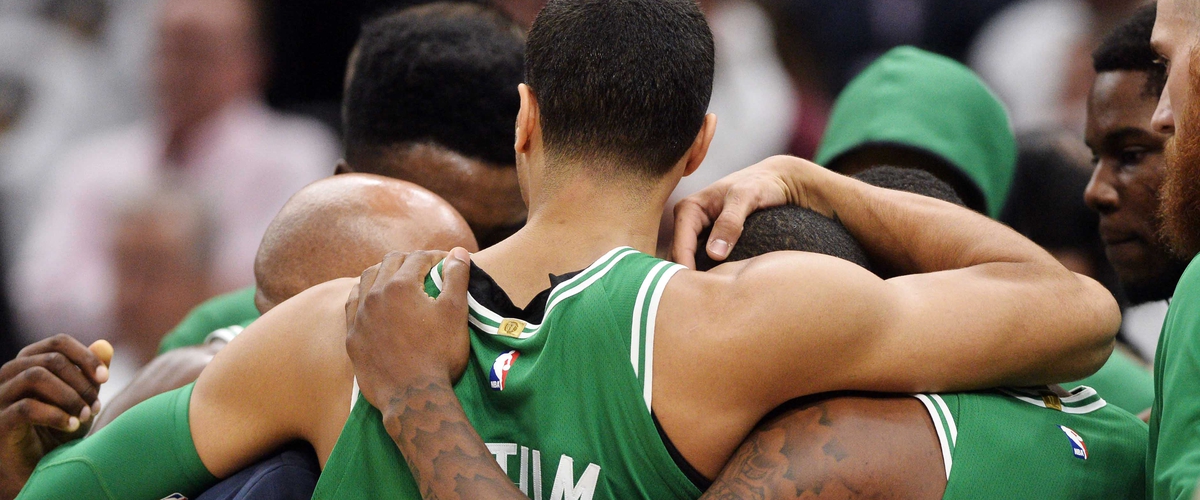 Last night, the Boston Celtics just lost their second scorer and a potential superstar in Gordon Hayward to a horrific leg injury, that is almost certainly going to hold him off until the playoffs, and likely even longer. Because of this, the Celtics will likely be forced to rely on Kyrie and their younger assets in order to get much of anything going for their team. Unsurprisingly, this is not how Boston wanted to start their season, as this injury alone will likely cement them lower in the playoffs than what was anticipated. However, it's not all doom and gloom for Celtics fans. Even though they just lost the man that was supposed to give them the final push against the Cavaliers to an injury that may ruin his career, Boston has plenty to be excited for in the foreseeable future.
I think this goes without saying, but the most obvious support the Celtics have right now is their young cast to support Kyrie. Over the past 3-4 years or so, Boston has pushed towards breaking their former cast apart, and starting a new. This is likely helped due to the blockbuster deal in 2013, with Kevin Garnett, Paul Pierce, and Jason Terry joining the Brooklyn Nets in exchange for future draft picks. Pierce and Garnett were not likely to lead their team to a championship again due to their age, so the Celtics traded them for assets in the future. These draft picks that were given by the Nets have resulted in the Celtics picking up some players that are being particularly viewed as future stars, such as Jayson Tatum, Jaylen Brown and Marcus Smart. Clearly the Celtics know what their future entails, so they're stockpiling for when they can finally reach the point of a championship. However, out of the three, Jaylen really stuck out last night, due to his excellent performance.
Is Jaylen Brown the future of the Celtics? Maybe, but maybe not. But last night, he clearly showed that the team had no reason to worry for Hayward's injury, as Brown scored 25 points, garnered 6 rebounds, and managed 2 steals in the space of 40 minutes. The only issue I noticed with the performance as a whole was the sub-par three-point shooting, but that can easily be improved with time. If you were to take away the 3-point shots taken last night, he would still average 19 points, and he would average an impressive 79% from the field. His close to mid-range shooting game clearly has a ton of potential, which Hayward himself excelled in. If Brown can meet the expectations that Hayward was intending, this could spell trouble for the rest in the Eastern conference.
Of course, let's not rule out the man the Celtics got this year: Jayson Tatum. In Duke, Tatum averaged 16.8 points a game, which is quite showing of his performance against the Cavs. If Jayson can keep up, or even improve upon his stat-line for the rest of the season, Boston just might relay the founded expectations set by Hayward's joining, without even having him play. However, Tatum has even more up his sleeve, like his stellar defensive pressure. In Duke, Tatum averaged a steal and a block a game, which is pretty telling of his athletic and defensive longevity. These aren't Mutombo numbers, sure. But for a forward that only spent a season in college, that clearly displays why Boston shouldn't be afraid of a single player's absence.
However, their young assets alone won't get them a ring, as great players need more than themselves in order to meet their full potential. That is met with a great coach, and though it's been said before, I'll say it again for good measure; Brad Stevens is an excellent coach. Stevens has held the hand of the Celtics franchise since 2013, and clearly has been looking up toward what the Celtics need. If Boston wants to win now, they need a coach that doesn't necessarily look toward what they need now, but what they need for the long run. Coach Stevens has done that magnificently, and he knows how to get these young players off their feet, and to meet their potential. If we look at Marcus Smart, though he was drafted in 2014, he is already showing potential to be 'that guy' that can lead Boston to the promise-land. Brad has transformed Smart from a decent rookie, averaging almost 8 points every game, to a true game-changer, which we're expecting to see plenty of as the season moves on. If Brad Stevens can give that push to Tatum and Brown like he did Smart, then Boston may truly have nothing to fear.
Will the Celtics win the title this season without Hayward? Probably not. But I can tell you for a fact that the Celtics have more to be excited about than Hayward's return. They are ready to be the team of the future, and once these players get a taste for greatness, I assure you they will do anything they can to capture it.
- Mason Ocker, 10/18/17
Any questions, comments, or concerns? Tweet them to me, at @MasonOcker, or e-mail me through [email protected]! Thanks!
---