"The Stack" 10-19-17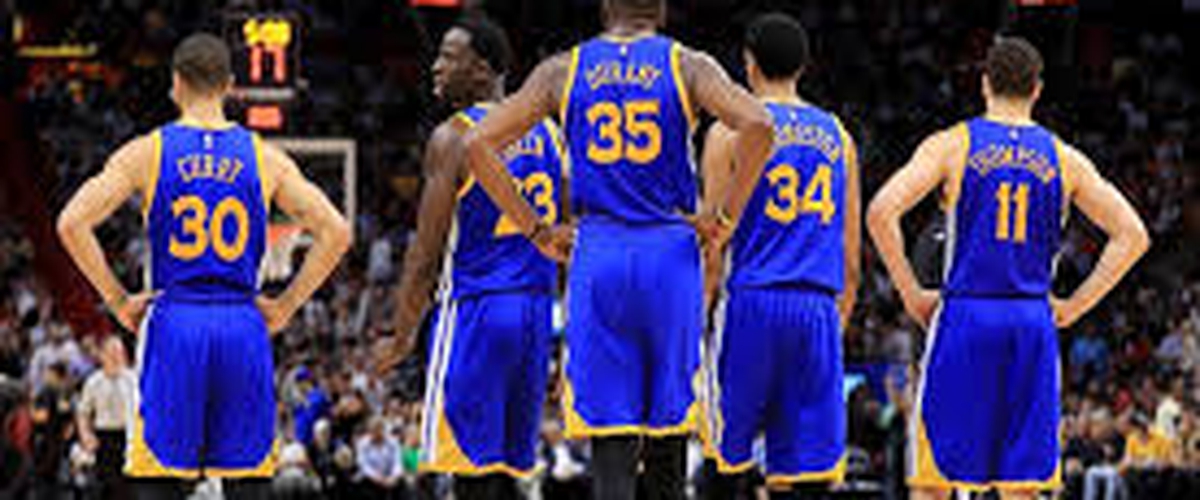 Can anyone take down the Warriors and prevent them from winning another NBA championship? The NBA season has tipped off.
The Stack is back on this Thursday and yes, the NBA is back too. We'll have a season preview that we hope you demand although the balance of power, mainly in the east, may have just shifted dramatically after one night so with the injury to Gordon Hayward of the Boston Celtics. The Cleveland Cavaliers should run away with this conference now. I do have the Kansas City Chiefs beating the Oakland Raiders tonight 27-20 so that should be fun, but let's get to the basketball talk in "the stack" for today, Thursday, October 19th:
NBA 2017-18 season preview
You know, not much is going to change even though we are now two nights into the new season. Despite Gordon Hayward's injury, I'm still going to peg Boston as the second best team in the eastern conference. And despite an opening night loss at home to the Houston Rockets, I still think Golden State is head and shoulders the best team in the western conference.
Plenty of guy got paid again this summer and there are plenty of new faces in new places such as Paul George and Carmelo Anthony joining forces with Russell Westbrook in OKC. Jimmy Butler is in Minnesota while Zach Lavine and Kris Dunn are in Chicago. Kelly Olynyk switched from Boston to Miami, but really all of the big stars essentially moved from the eastern conference to the western conference. Paul Milsap is in Denver. He left Atlanta to join the Nuggets. Apart from Hayward leaving Utah for Boston (which made complete sense so he could reunite with his college coach), there really was no west to east movement amongst the stars. Chris Paul is a Rocket now, teaming up with James Harden. Rudy Gay is in San Antonio. Perhaps you knew that already. Those are just some of the big names and I no doubt am missing more.
Of course there are all of these great rookies like Markelle Fultz in Philadelphia joining forces with Ben Simmons and Joel Embiid. The 76ers are going to be a fun team to watch this year. Lonzo Ball (and his loud mouth father LaVar) are with the Lakers so the rest of the association is going to hate Ball and take it out and him and the Lakers each and every night...hopefully. Malik Monk is in Charlotte. De'Aaron Fox is a member of the Sacramento Kings. Dillon Brooks is a Memphis Grizzly. Maybe the Ducks' star and his other teammates should have gone back to school instead of getting drafted in the second round, but I digress. Bottomline, there are a lot of very intriguing rookies this year.
At the end of the day though, it really doesn't matter all that much, because the regular season and the first three rounds of the NBA playoffs are a means to an end with the fourth straight meeting between Golden State and Cleveland in the NBA Finals. The NBA season matters less than just about any other league and it is also filled with the biggest superteams than any other of the major four professional sports boast. Cleveland, Houston, San Antonio, Golden State of course and maybe if you want to throw in Boston have legitimate hopes of winning an NBA title this year. The rest of the league has no chance. I bet that makes this season so much fun for folks in Orlando or Indiana so much fun. Anyway, let's enjoy round four of Golden State versus Cleveland, Steph Curry versus LeBron James, and let's move on.
Eastern Conference
Atlantic
There is not much star power in the east. The Atlantic Division arguably has the most talent with what Boston has with Kryie Irving, Hayward when healthy, Jayson Tatum (rookie), Al Horford and more. Don't forget Toronto with Kyle Lowry and DeMar DeRozan. Ultimately, this division will come down to these two teams, but I think Boston overcomes the early injury, figures things out and wins this division. Philadelphia is a borderline playoff time with all of their young talent. It's just a matter of if the young talent can come through and play together and if management doesn't take someone away. Brooklyn may be better than people think this year in part because they have De'Angelo Russell, but it is still going to be a long year for them and for the New York Knicks, apart from the unicorn known as Kristaps Porzingis, enjoy the long season ahead.
Predicted Atlantic Division standings
1. Boston Celtics
2. Toronto Raptors
3. Philadelphia 76ers
4. New York Knicks
5. Brooklyn Nets
Central Division
Let's see, when two of the teams lose superstars like both Indiana and Chicago did with losing Paul George and Jimmy Butler respectively (the Bulls also bought out Dewayne Wade's contract so he is no longer with the team), it's not hard to think that this is going to be a long year for both teams and their fan bases. No one is going to touch Cleveland with what they have in Derrick Rose and Wade plus getting Isaiah Thomas back sometime at the beginning of 2018 hopefully will be a big boost for them. Heck, they are even starting Kevin Love at center. What, what, what? Milwaukee is a rising team because of the Greek Freak, but they aren't just about him. They have a lot of good young talent on that team mixed in with some veterans. And I think Stan Van Gundy is going to help lead Detroit to some bigger things this year. It's still Cleveland's division though and nothing is going to stop that.
Predicted Central Division standings
1. Cleveland Cavaliers
2. Milwaukee Bucks
3. Detroit Pistons
4. Indiana Pacers
5. Chicago Bulls
Southeast Division
The Washington Wizards were so close to taking down the Celtics last year. Ultimately they could not do that. They have John Wall. They have Bradley Beal. They also have a decent supporting cast. This division is not very good so they should have an easy time winning the division. Charlotte is interesting because Kemba Walker and getting Dwight Howard in the offseason and drafting Malik Monk. I think they are going to be pretty good. They can overcome the injury to Nicolas Batum who will be back later this season. Miami started out poor last year, but played well down the stretch. I think they can make it back to the postseason. Atlanta is in full rebuild mode. They won't be very good. And Orlando just doesn't have enough talent for me to see them making it to the playoffs yet even in the weak eastern conference.
Predicted Southeast Division standings
1. Washington Wizards
2. Charlotte Hornets
3. Miami Heat
4. Orlando Magic
5. Atlanta Hawks
Predicted Eastern Conference playoff teams
1. Cleveland Cavaliers
2. Boston Celtics
3. Washington Wizards
4. Toronto Raptors
5. Milwaukee Bucks
6. Charlotte Hornets
7. Miami Heat
8. Detroit Pistons or Philadelphia 76ers
Eastern Conference Finals
Cleveland Cavaliers vs. Boston Celtics
Western Conference
Northwest Division
The western conference first and foremost is by far the more interesting division. How intriguing is this division going to be though? Oklahoma City was on the verge of a full rebuild, but kept Russell Westbrook on a five-year deal worth of $200 million and then they swing the trades for Paul George and Carmelo Anthony and had to give up for little to do it. That is rather stunning. The Minnesota Timberwolves have undergone a relatively new transformation acquiring Jimmy Butler in a trade on draft night with the Bulls and then adding pieces like Taj Gibson and Jamal Crawford. They were not a good shooting team last year. They are hoping that changes this year and the Timberwolves can end the longest playoff drought currently in the NBA. Denver should be better by getting Paul Millsap to go along with guys like Emmanuel Mudiay, Nikola Jokic and Kenneth Farried. Portland still has Damian Lillard and CJ McCollum and while Utah lost some good players including Gordon Hayward, they still have Rudy Gorbet and I am going to pay attention to them because Nate Wolters (from South Dakota State) is on the team. I just don't think they can return to the playoffs though.
Predicted Northwest Division standings
1. Oklahoma City Thunder
2. Minnesota Timberwolves
3. Portland Trailblazers
4. Denver Nuggets
5. Utah Jazz
Pacific Division
Who is going to take down the Golden State Warriors in this division? The answer is no one. Less you forgot, the Warriors still have Steph Curry, Klay Thompson and Kevin Durant to go along with a tremendous supporting cast. Yeah, good luck beating them. The Clippers lost Chris Paul, but kept Blake Griffin and DeAndre Jordan and added some other decent players that can assist in keeping this team a playoff team. Speaking of assists, Milos Teodosic is an assist machine. YouTube him and see some of his passes. Truly amazing. The Sacramento Kings are very intriguing because of the guys they brought in Vince Carter, Zach Randolph and George Hill. They had a stellar draft. There is finally reason for optimism in Sacramento. The Phoenix Suns have Josh Jackson and Eric Bledsoe, but not much else. And the Los Angeles Lakers are going to be very intriguing this year in large part because of Lonzo Ball, but they are still a year or two away from making the playoffs.
Predicted Pacific Division standings
1. Golden State Warriors
2. Los Angeles Clippers
3. Sacramento Kings
4. Los Angeles Lakers
5. Phoenix Suns
Southwest Division
This has been a stellar division throughout the years and not saying that it won't be this year, but I don't think there are as many talented teams as in previous years. Maybe I have just more questions with the Memphis Grizzlies this year. For some reason, I just don't really like their chances. I need to see how the New Orleans Pelicans are going to play with Anthony Davis, DeMarcus Cousins and Jrue Holiday. Is bringing in Rajon Rondo to be a point guard really the answer? Can Anthony Davis stay health for a full season? They could very well make the playoffs this year. Dallas Mavericks fans should appreciate this year to watch Dirk Nowitzki in the last couple of years of his professional career. There is not much else there for this team. San Antonio has dominated this division for years, but with what Houston has done in bringing Chris Paul aboard with James Harden, I just think the Rockets are going to be too difficult to stop. The Spurs will not go quietly with Kawhi Leonard and company, but I think Houston takes the division from them this year.
Predicted Southwest Division standings
1. Houston Rockets
2. San Antonio Spurs
3. Memphis Grizzlies
4. New Orleans Pelicans
5. Dallas Mavericks
Predicted Western Conference playoff teams
1. Golden State Warriors
2. Houston Rockets
3. Oklahoma City Thunder
4. San Antonio Spurs
5. Los Angeles Clippers
6. Minnesota Timberwolves
7. Portland Trailblazers
8. Denver Nuggets
Western Conference Finals
Golden State Warriors vs. Houston Rockets
NBA Finals
Golden State Warriors vs. Cleveland Cavaliers
NBA Champions
Golden State Warriors
NBA MVP: Kevin Durant
Hopefully you enjoy the NBA season everyone. It's going to be interesting. If you don't pay attention until June, that's a good time to start with the NBA Finals with what we hope is round four between Golden State and Cleveland. Should be good.
Coming up Friday: Week 7 NFL preview and predictions
---