2016-17 Central Division Preview
This will be a four part blog post, with this being the first, in which I will tackle some predictions of how teams will perform as well as where they will fall come playoff time. Playoff teams will be marked with a "X"
Central Divison
1. Nashville Predators X

The Predators will be a force to reckon with this upcoming season, without a doubt. Upfront on their forward lines, they have big names like Filip Foresberg, James Neal and Ryan Johansen that are known around the league to be fairly dangerous. Other than the big names though, Nashville also have some lesser known players on their team that significantly help spread out the scoring. With players such as Craig Smith (21 goals, 16 assists in 82 GP), Mike Ribeiro (50 points in 81 GP), Mike Fisher (13 goals and 10 assists in 70 GP) and Calle Jarnkrok (30 points in 81 GP), it not only takes the pressure off of the big guns, but it also adds constant scoring threats throughout the lineup.
But Nashville's biggest advantage, is by far the fact that they have the strongest defense in the league. They added Yanick Weber as a free agent, which is a solid upgrade for their bottom pairing. But besides that minor signing, they also have guys such as Ryan Ellis and Mattias Ekholm on their second defensive pairing, which play better than most teams first pairing.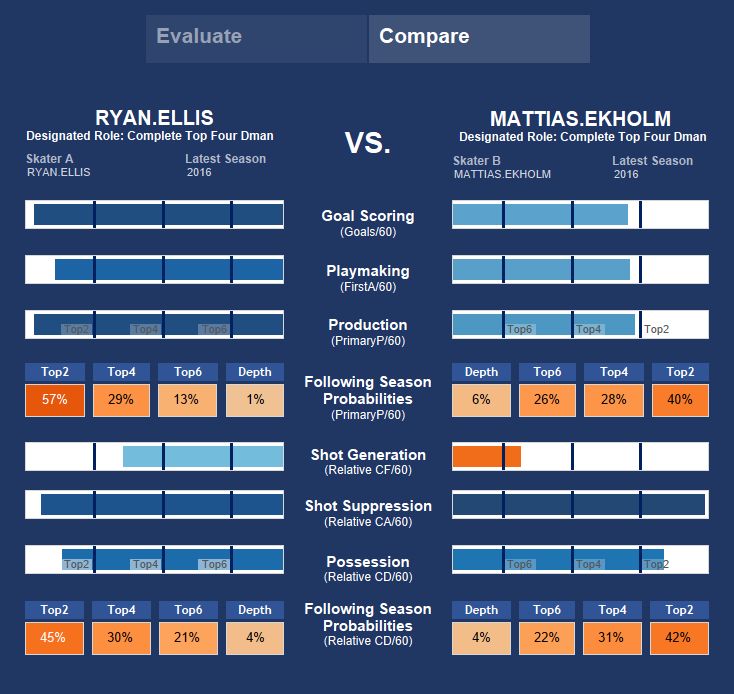 HERO Chart Ellis & Ekholm
Ellis earned 32 points last season, all while having an impressive CF% of 54.4%, while Ekholm scored 35 points with a possession number of 53.2%. Besides Ekholm and Ellis, Nashville unbelievably also has another elite pairing of defensemen. This elite pairing contains Roman Josi and newly acquired PK Subban. Both players are absolute stars and it is almost mind-boggling to think that this team has such a stellar core of defensemen.
Behind the crew of forwards and defense, is the franchise goalie, Pekka Rinne. In 2015-16, the Predator goaltender did not have a great season, finishing the season with below average stats, a .908 save percentage and a 2.48 GAA. While Rinne did not have a good year, I do however believe that he will bounce back this upcoming season. He has shown in the past that he possesses the ability to be among the best in the league, he just needs to regroup and move on from the terrible season he had. Rinne will revert to his old self, and in the process he will help backstop the Nashville Predators to their first ever divisional title.
2. St Louis Blues X
St Louis is a very balanced team that may not score an abundance of goals, coming 15th in GF during 2015-16, but they do an exceptional job preventing goals averaging about 2.40 goals against per game. But with the addition of David Perron, the production should slightly trend upwards despite losing captain David Backes. Their franchise right winger, Vladimir Tarasenko, is looking to build off of a career season and it's reasonable to believe that he will be able to hit at least 40 goals once again. Also, if Jaden Schwartz is able to play at least 70 games this season, that will help them tremendously. The Blues' forward group is pretty average outside of Tarasenko, but much like their divisional opponents the Nashville Predators, their real strength lies on the blueline.
St Louis' defense consists of guys like Jay Bouwmeester, Kevin Shattenkirk, Joel Edmundson, Carl Gunnarsson, young gun Colton Parayko and newly captained Alex Pietrangelo. This D-core is a big reason as to why the the Blues have been consistently one of the best defensive teams, as there are no glaring weaknesses to be seen. They can all pitch in offensively while also being very responsible in their own zone.
Unlike the rest of the team, the goaltending has gotten a tad worse over the course of the summer. With trading Brian Elliot to the Calgary Flames and signing Carter Hutton as the backup, the Blues are showing that they are putting all of their trust in Jake Allen. Allen has proved he can be a number one goaltender with his 2.35 GAA last season, but with only Carter Hutton as the backup, there isn't much of a safety net in case Allen falters or runs into injury troubles once again. But barring key injuries, Allen will play fine, steal a few games even, and the Blues will be right back into the hunt for their first Stanley Cup.
3. Chicago Blackhawks X
This may come as a shock to some that the all mighty Blackhawks are starting to slip this far in the standings, but the writing is on the wall. With the massive contracts dished out to Patrick Kane and Johnathan Toews, Artemi Panarin reportedly asking for a $6 million contract, not to mention Brent Seabrook's new $6,875,000 eight-year contract extension, there isn't much cap space for depth. But that's the price you have to pay when you seriously contend for the Stanley Cup year after year. Toews will score at least 20 goals again and hit 50 points, but it'll be difficult to achieve much more if he continues to play with guys like Richard Panik and an aging Marian Hossa that only managed to score 33 points last season. Of course though, everyone's favorite (or least favorite) player Patrick Kane will be the team's main source of offense, but it'll certainly won't be the 46 goal season he just enjoyed. After a career year there is bound to be a drop off since Kane has never had another season that even remotely rivaled his monster 2015-16 season, especially if they pry Panarin off of his line to spread out the scoring.
The Hawks top four on the other hand, is a different story. They still have Duncan Keith, Brent Seabrook and Niklas Hjalmarsson, which all may be aging but they are still some of the best defense in the NHL. Add Brian Campbell to the mix and you have a quite the blueline that are terrific in all three zones of the rink. There may be a bit of decline in their play and point production, but it won't seriously hinder the team this upcoming season.
While Chicago may not have an elite goaltender, they do have a very solid number one, with a serviceable backup. Corey Crawford posted a .924 Sv% and a 2.37 GAA in 2015-16, those number may not be sparkling, but at worst he is only good on some nights. Chicago doesn't have any issues in net, their biggest hurdle this upcoming season however is the absolute lack of depth due to the massive amount of cap dedicated to two guys, one of which is far from deserving. The Blackhawks will make the playoffs, but it'll take some unlikely hero's and a little bit of magic for them to find themselves hoisting the Stanley Cup once again this year.
4. Dallas Stars X
The Stars are great at one thing, and one thing only: scoring goals. And that is exacty what they will continue to do this season. The forwards still hold stars such as Tyler Seguin, Patrick Sharp, Jason Spezza and the 2014-15 Art Ross winner, Jamie Benn, as well as they'll add center Cody Eakin when he returns from injury. Dallas has also built upon this group by adding Jiri Hudler, who will most likely net another 20 goals to the Stars goal totals. But the Stars forwards were never their problem.

While the forwards are deep, the blueline has more to be desired. Dallas did manage to sign Dan Hamhuis during the offseason, which certainly does add another degree of strength to a weak D-core that has lost Alex Gologoski and Jason Demers. They do have a stud in John Klingberg however, which definitely helps. But beyond the possible first pairing of Klingberg and Hamhuis, things get a little shallow, with no one else particularly being all that great.

Along with Dallas' lack luster defense, comes atrocious goaltending. The two Dallas netminders, Antti Niemi and Kari Lehtonen, combined for a weak .906 Sv% and on average allowed 2.78 goals a game, and it's hard to think that they'll be much better this year. But who needs good goaltending when your team scores over 3 goals a game, am I right Dallas?

5. Winnipeg Jets X
The Winnipeg Jets are going to take a big leap forward this year. Their second overall pick Patrik Laine is going to be a big contributor, with 20 goals not being out of the question if he plays a full season. Mark Scheifele is going to have another 60 points year, with winger Nikolaj Ehlers netting himself at least 20 goals. Their offense is set with so many young guys growing and improving every game, along side veterans such at Blake Wheeler and Bryan Little who still have many good seasons left in them. The Jets have a terrific mix of veterans and youngsters, and due to this it's not out of the realm of possibility that they make the playoffs.
On top of the impressive young forward core, the Jets also have some larger than life defensemen in 6"8 Tyler Myers and 6"5 260 pound Dustin Byfuglien. These two giants can strike fear into the opposition, whether delivering a devastating hit, or by burying the puck from the point. While possibly losing coveted prospect Jacob Trouba due to a contract dispute may hurt Winnipeg, they will hopefully get a return of a defenseman equal to his caliber. They do have a very weak spot on the back end however, which is Mark Stuart. He is unable to contribute offensively, drive possession, and he's slow.
Whether the Jets play Pavelec, Hutchinson or Hellebuyk, the goaltending will be better than last year, simply because it's hard to be much worse than they were. The Jets finished 2015-16 second last in save percentage, only ahead of the Calgary Flames. The goaltending will improve, the forwards will find their groove, the defense will continue to do their thing and the Winnipeg Jets will take a jump in the standings, no longer being a pushover.
6. Minnesota Wild
To compete in this league, you need bonafide stars. The Minnesota Wild do not have that. Sure, they have Zach Parise, but he's no longer a shining star in this league, and he and fellow teammate Ryan Suter's shoulders are tired from carrying this team. The Wild's biggest stars are aging players that they signed to massive contracts in free agency. A key to success is drafting, especially the ability to draft great players in late rounds, which Minnesota has not done. They are incredibly average upfront, which in the tough Central Division, is not a recipe for success.
Behind the forwards is a pretty decent group players. Guys like Ryan Suter, Jared Spurgeon and Matt Dumba, just to name a few, are all pretty solid. They can generally keep the puck out of their net with the help of very average goaltender Devan Dubnyk. The Wild will continue to struggle to score even with the signing of Eric Staal, but they'll continue to play well in their own zone. Due to their sheer lack of goal scoring, and rather average-ness everywhere else, the Wild will be faced with a disappointing summer of playing golf.
7. Colorado Avalanche
Colorado really has no idea what is going on, do they? They have a very nice core of Duchene, Landeskog, MacKinnon, Barrie and goaltender Varlamov. But General Manager Joe Sakic has done nothing to help surround those players. They have players like Blake Comeau playing on the first line for far too much money than he is worth. The Avs are going nowhere, and quickly. They have wasted a good chunk of Duchene's career and will most likely do the same with MacKinnon. Varlamov will certainly bounce back from his poor play in 2015-16, but the rest of the team cannot score or defend if their lives depended on it, resulting in most likely another top 10 pick during the 2017 draft. Firing Patrick Roy was probably the smartest move the Colorado brain trust has made in years, and even that happened later than it should have.
---