Divisional Preview: St. Louis Blues
??We wrap up our preview of the Central Division with a look at the team our blog is dedicated to, the St. Louis Blues. We will have our predictions this upcoming week. Let us know what you think in the comments below.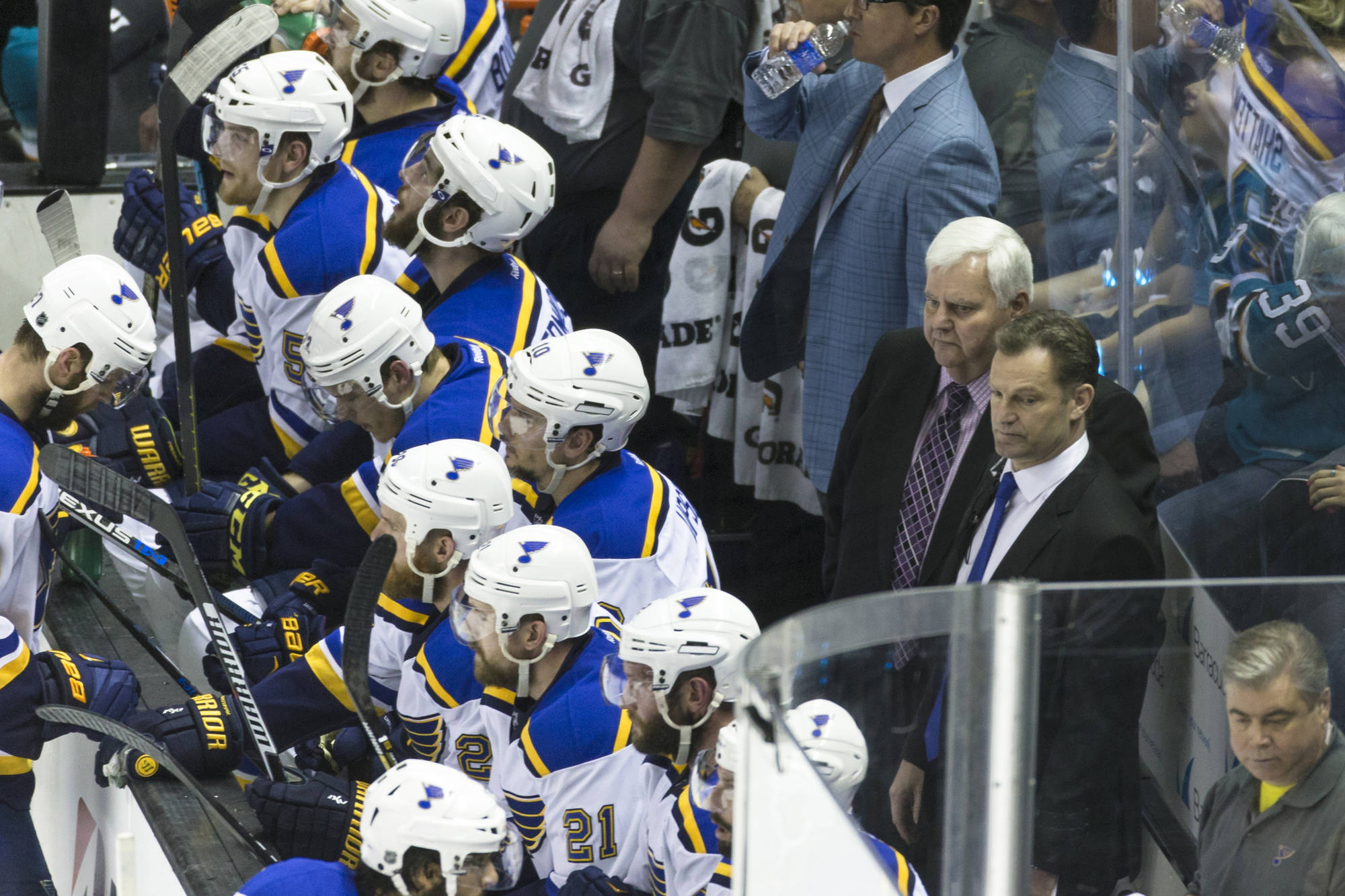 John Hefti-USA TODAY Sports
Has everyone recovered from the hangover yet? You know the one we all got after getting bounced by the Sharks in the Conference Finals last year? Well we need to be because Blues hockey IS BACK!! That's right, the Blues dropped the puck on preseason play this afternoon, starting a new era that could make or break this fan base.
This off-season brought significant changes that affected every aspect of this team from the coaching staff to the on ice product.
Ken Hitchcock is still behind the bench but announced this would be his last seasons. The Blues started and ended their search fairly quickly by hiring former Minnesota Wild coach Mike Yeo as the coach in waiting.
Brad Shaw and Kirk Mueller left in the offseason as well and the Blues brought in Rick Wilson and Steve Thomas to replace them. Ray Bennett and Jim Corsi were retained. Shaw is a huge loss as the Blues special team an have excelled under his direction.
The most significant changes, though, came on the ice. Free agency hit the Blues hard as they saw David Backes, Troy Brouwer and Steve Ott sign elsewhere. Losing that much leadership in one swoop changes the dynamic of this team quickly. Young players are going to have to step up and be mentors to even younger players.
It wasn't just free agency that cost the Blues, the team felt like it had to make a choice in net as well and the Blues moved two goalies out to make room for their decision. Anders Nilsson was brought in to supplement the team when Brian Elliott and Jake Allen alternate defense injuries but the Blues didn't feel he had a future in St. Louis so they shipped his rights to Buffalo.
But the shocker to all was on draft day when Elliott was traded to the Calgary Flames for two draft picks. Elliott was one of the most underrated goalies and players the Blues featured since the lockout and fans were befuddled when he was traded. Elliott never seemed to get a fair shake in St. Louis and now he will get a chance to be the guy in Calgary.
Blues management made the decision that it was time to promote from within, partially because they have the talent and partially because of the contracts on the books that prevent them from making a huge signing. Carter Hutton and David Perron were the only two players signed in free agency and those aren't big splashes.
The Blues have talent, though, and it's that talent coaches and management are banking on. Everyone knows about Vladimir Tarasenko, Alex Pietrangelo and Alexander Steen but last season saw the emergence of Robby Fabbri and Colton Parayko on the scene.
Tarasenko just keeps getting better and last years 40 goal season made him the first Blues player to reach that mark since Brad Boyes, when he had 43 in 2007-08. Vladi is being marked more aggressively each year and yet he is still producing. The only thing that may worry fans this year is his participation in the World Cup of Hockey after enduring extended play in the playoffs. Will he struggle from fatigue? Remember he is a new father too so sleep probably is still a thing of the last for him.
The Blues suffered an inordinate amount of injuries this past season and that forced players into the lineup that otherwise may not have been there but that proved to be a blessing in disguise for two such players.
Robby Fabbri wasn't given much responsibility early on in the season but by the time the playoffs rolled around he was an interagal part of the top 6 forwards. Fabbri recorded 37 points in his rookie year but it was his play in the most pressure packed of times that make him stand out. In 20 playoff games against Chicago, Dallas and San Jose, Fabbri scored 9 goals and assisted on 11. Fabbri will get a chance to build on his successful rookie year on the second scoring line with Steen and Perron.
Colton Parayko came into camp last year with an outside shot at making the team but impressed coaches so much that he earned a starting spot by the end of camp. Parayko showed he wasn't just a solid defender burn husband offensives game was right up there with Kevin Shattenkirk. Parayko has a booming slap shot but can also lead a breakout and stickhandle into the opposing zone. His best quality, though, may be his recovery on defense. Many times last season Parayko would look like he was caught in the offensive zone only to recover and break up the play in his zone.
Fabbri and Parayko, as well as Robert Bortuzzo and Ty Rattie, were welcome precenses as the Blues suffered a a myriad of injuries last year. Almost every regular player suffered some type of injury last year, some more serious then others. In all of those instances one or more players would step up in that time frame and produce and when it happened to another player, another set of players stepped up. That selflessness allowed the Blues to compete for a division title and put them in position to finish 2nd in the conference.
The Blues excorcised some demons by advancing past the first round in the playoffs while at the same time eliminating rival Chicago in a dynamic series. A 7 game series win against Dallas put the Blues in the Conference Finals but two prolonged series were their undoing. The Blues never seemed to be in the San Jose series despite goon 6 games. Lessons were learned, though, and if that situation repeats this year St. Louis should be ready.
This season the Blues could see two more impact players help the squad. Ty Rattie spent some time with the Blues last year and even scored a few goals. While he found success in the lineup, Rattie never spent extended time with the club. Ivan Barbashev could be looked at as the next Tarasenko and could see some time with the Blues of an injury hits the team. He had a decent first year in the AHL with 10 goals in 65 games but will need to really come out on fire if he wants a decent look.
This season will fall squarely onto the shoulders of Jake Allen as he takes the reins full time in net. Allen has the potential to be a franchose goalie and the Blues are paying him like it. Allen appeared in 47 games last year and posted a 26-15-3 record with a 2.35 GAA and a .920 save percentage. If not for multiple injuries Allen likely would have gotten the majority of starts but Elliott was just as good, if not better, in his stead.
The future of Kevin Shattenkirk will be looming over the team all year. An unrestricted free agent, the Blues are going to have hard choice to make at the deadline. Do you trade an offensive threat if you can make a deal that gets you over the top? Or do you risk letting him leave for nothing at the chance for a Stanley Cup? Either way, Shattenkirk will have a big impact on the team as he is an assisstant captain this year.
Speaking of captains, the departure of Backes left a void in the captains spot and a choice had to be made. Go with a veteran or make the youth movement complete. Well, they chose youth when naming Alex Pietrangelo the new captain. Petro has been a workhorse in his time with the Blues and it was a no-brainer he would be captain one day. Alex Steen, Paul Stastny, Tarasenko and Shattenkirk were all named assistant captains.
The biggest question mark will be how this team plays for Hitchcock. Will his status as a "lame duck" coach hurt his ability to reach the players? How much will Mike Yeo's future plans go into the team development? How will Brad Shaw's absence affect the special teams?
This is going to be an interesting year in the Central, Chicago is retooling, Dallas is the class of the division and you can't count out Nashville or Minnesota ?this year either. The Blues have a chance to make the playoffs but it will come down to if Allen can stop the puck and if the youth can continue their success.
So can the Blues make another Cup push? What will happen with Shattenkirk? Let us know what you think in the comments below and look for our predictions this week on Homers and Hat Tricks.
---