NY vs NY Week 1 Recap: NYC's Top Ballers invade Watty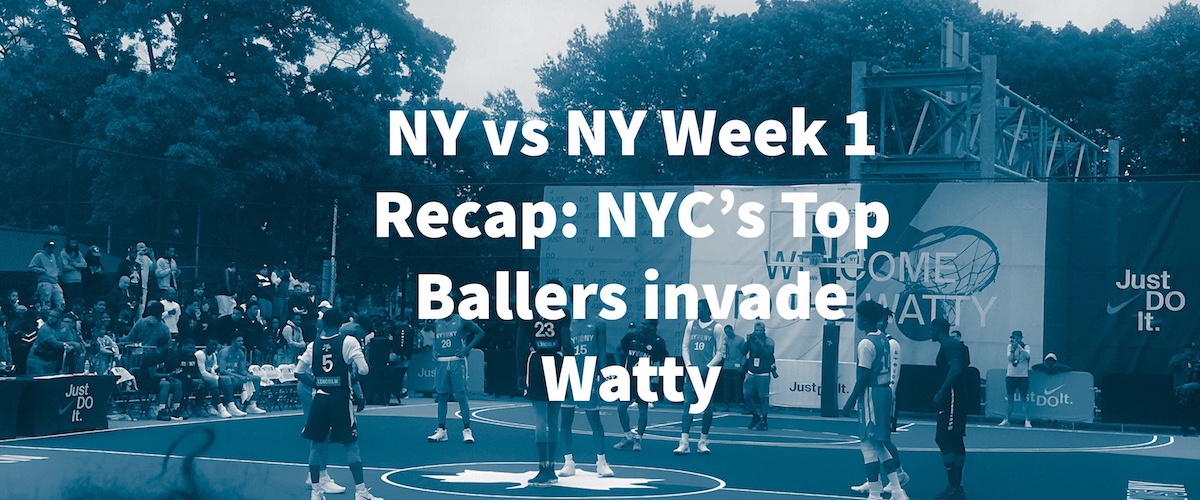 New York vs New York Year Two kicked off this past weekend at Watson Park in The Bronx and it did not disappoint. There were some big changes that came this year. Familiar faces switched teams. New faces shined on the big stage and NY vs NY's newest addition Lincoln Park out of Queens.
In the first game, the home team Watson Classic defeated Team West 4th 72-58. It was a great Debut for Mount St. Michael rising senior Michael Green III who exploded for 26 points in the victory. Green who plays AAU for the NY Gauchos and holds an offer from Manhattan College is one of many local products who has been having a great summer. Another emerging prospect Dashawn Davis scored 18 points while Albany Commit Malachi Desouza scored 15.
Game 2 was the debut of Team Lincoln Park out of Queens which featured a slew of newcomers along with some familiar faces. One of the familiar faces was Anthony "Rome" Marshall (Metro-BDA HS '20) who led Gersh Park to the NY vs NY championship last year.
Tri-State had a new squad of their own with a new coaching staff. Tri-State brought out Butler Commit Khalif Battle along with a couple of talented players from New Jersey were featured on the team along with new heights duo Precious Achiuwa and Idan Tretout. Tri-State took advantage of Lincoln's slow start throughout the first quarter but Lincoln fought right back in the second quarter to take a 34-33 lead into halftime. In the third quarter, Lincoln Park took over and gained a big lead in the third quarter. Tri-State fought back but in the end, Lincoln Park went on to win 70-59. Precious Achiuwa led Tri-State with 17 points. Nate Tabor led Lincoln with 19 points. Big men Aidan Igiehon and Moussa Cisse held it down in the paint as they combined for 21 points and 11 boards.
The last game between Team Dyckman and Gersh Park was the perfect game to end Week 1 of NY vs NY. The last time these two teams met Gersh defeated Dyckman in the championship game. Dyckman came for revenge while Gersh wanted to pick up from where they left off.
Gersh has a very strong first half and we're hitting on all cylinders. It was a great debut for guards John Wilson, Jaquan Carlos and Kareem Welch who controlled the pace of the game and were hitting their shots. Gersh would go into the half up 37-29.
Team Dyckman may have been down going into the second half, but if you haven't seen how hard they play and how resilient this team was last year in the chip game, then you are playing yourself. Down double figures, for most of the second half, Dyckman made a huge run to cut the lead to 1 with only a couple of seconds remaining. With a chance to give themselves the lead, Gersh forced a Team Dyckman turnover and hit key free throws to seal the 65-62 victory.
Jaquan Carlos a 6-0 freshman out of Thomas Jefferson HS in Brooklyn led Gersh Park with 17 points. Zack Freemantle a 6-8 Forward out of Bergen Catholic HS led Dyckman with 15 points. There's no question that both of these teams could possibly meet again in the playoffs.
It's safe to say NY vs NY week one exceeded its expectations in Week 1. A ton of people came out to the park to check out the top high school players in the city and the country. Teams found out where they are after week one and will probably make adjustments if needed going forward. It's too early to say who will be carrying the hardware on August 4th, but one thing for sure it's going to be a hot summer and the competitiveness is going to be crazy.
---