NY vs NY Week 4 Recap: The Brooklyn Way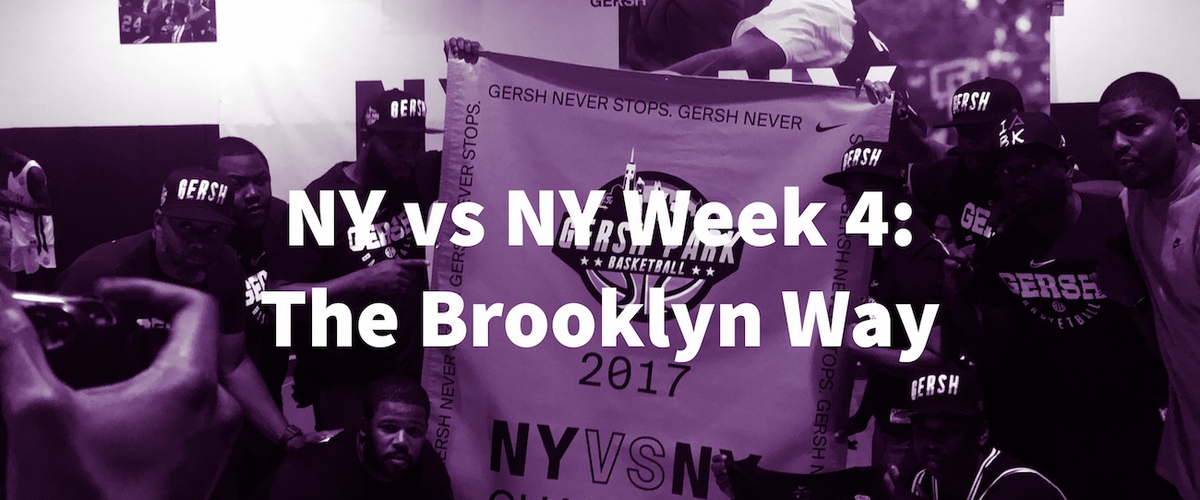 On Tuesday, Nike's NY vs NY tournament made its way to Brooklyn, NY as Gersh Park was the host of the tournament but due to the rain, all games were moved to First Achievement High school in Crown Heights. Despite the games being indoors that didn't stop all of the players and fans from coming out besides, its Brooklyn and it's already a given that the whole borough is going to come out and support regardless of weather. The stakes were higher on Tuesday night, as there were playoff implications in these games and of course, some statements were made.
Dyckman Edges Watson in a Double-overtime thriller 70-69
In Game 1, Team Dyckman vs Watson needed a whole lotta extra time to decide a winner. Watson got off to a good start in the 1st quarter as they led by as much as seven points, but Team Dyckman woke up and went on a huge run to take a 19-14 lead at the end of the 1st quarter.
In the second quarter, it was a different story as Watson outscored Dyckman 17-7 to take a 31-26 lead into the half.
Watson continued their scoring onslaught as they extended their lead to 15 in the 3rd quarter, but if you have been following Team
Dyckman since this tournament started. You will know that they are the comeback kings. Down 43-28 Cardinal Hayes rising senior guard Joe Toussaint was like a man possessed leading a huge 8-2 run to cut the deficit to nine going into the 4th quarter. With Joe Toussaint's offense combined with the defensive presence of the Drame Twins, team Dyckman outlasted Watson 70-69 in double overtime. Joe Toussaint with an inspiring performance as he scored 29 points to lead Dyckman. Watson definitely had a lot of chances to put Dyckman away but some sloppy play down the stretch made things harder for them. Dashawn Davis led Watson with 21 points and dished out seven assists.
Gersh Park Dominates Lincoln Park 78-60
The nightcap featured the defending champs Gersh Park vs Lincoln Park in a Brooklyn vs Queens matchup. There was a lot of trash talk throughout social media leading into this game, but in the end Gersh Park had to put an end to all of that.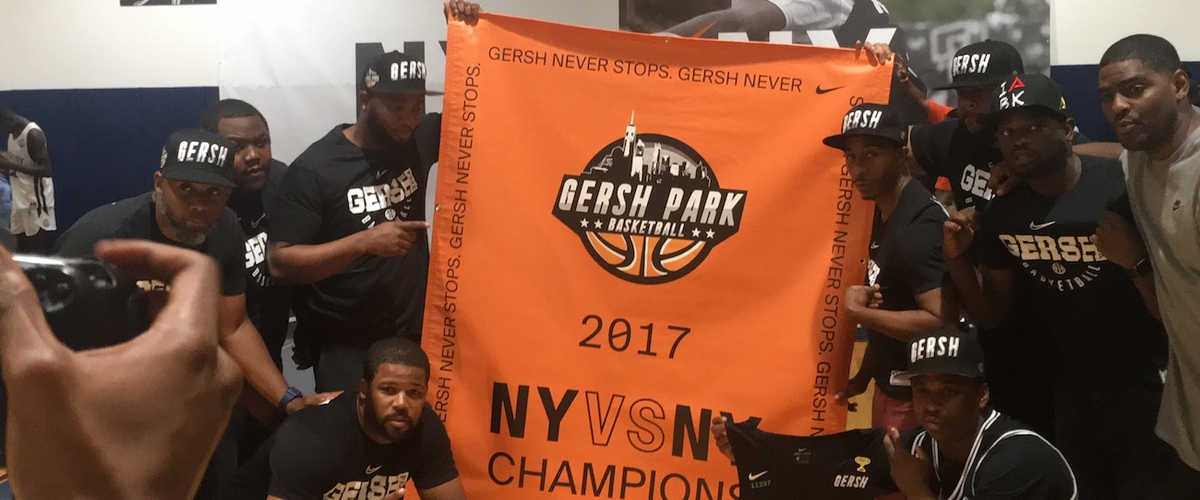 Gersh Park Commissioner Damian Pitts along with announcer Fly Ty, and the Team Gersh coaching staff are presented with their 2017 championship banner courtesy of Nike.
Lincoln Park had a strong first quarter behind points from Zack Martin and Alejandro Vasquez and they were able to take advantage of Gersh's slow start. In the second quarter, Gersh fought back but still found themselves down 40-36 at the half. The third quarter would be where The game would be heavily in their favor as they dominate Lincoln Park holding them to four points while scoring 22. One player that came
Up huge in the third was Bishop Loughlin Forward Julian Champangie who had the crowd in a frenzy with a big poster dunk on a defender with 2:23 remaining in the third quarter. Gersh would continue to dominate the rest of the way as they would win 78-60 and claim sole possession of first place with a 3-0 record. Julian Champangie scored 27 points and grabbed eight rebounds to lead Gersh Park.
Outside of the big win, it was a banner night for Gersh Park as they were presented with a banner for winning the inaugural championship last year. With the regular season over we now focus on the playoffs at Dyckman Park on the July 31st. The question going into the playoffs is who will stop Team Gersh or Team Dyckman? Right now the top two teams have the momentum going into the playoffs and both teams will have their full rosters as well as all the other teams. One thing we know for sure is if you haven't checked out NY vs NY, you definitely need to before it ends. This is one of the hottest events of the summer and it just got hotter.
---