NHL Draft: Q&A with Dobber Hockey's Cam Robinson
With the NHL Draft just around the corner, I decided to do a little question-and-answer with Cam Robinson, who is an Associate Writer and Scout for Dobber Hockey as well as a frequent guest on Sportsnet650.
In this Q&A we discuss overrated and underrated players in the draft, players with the most potential at the NHL level, and more! To read the first of my two NHL Mock Drafts, click here. Stay tuned for more NHL coverage on this blog, and enjoy this Q&A! Cam is an excellent player evaluator who is very knowledgeable about this year's crop of prospects.
Aly Dhanani: We all know Rasmus Dahlin is #1, but who is #2 defenseman behind him in the draft?
Cam Robinson: I've long debated which defenseman I prefer behind Rasmus Dahlin. A few months back I broke down Quinn Hughes vs Adam Boqvist. While the results may not have been definitive, it was a cathartic exercise that gave some clarity to the debate – at least in my mind.
As of my last rankings from the end of April, I have Quinn Hughes as the second best defender in the class. He boasts supreme skating ability, dynamic edge work and top-flight offensive creativity. Those aspects push him slightly ahead of players like Boqvist and Noah Dobson. Being a tad closer to NHL-ready as a late 1999 birthdate doesn't hurt his case either.
Boqvist is very young and possesses tantalizing potential. It's difficult to quantify what he'll do with those extra 11 months to develop. Yet when you watch him play you can imagine it will be impressive. It's razor thin between those two for me.
This class is similar to the 2008 and 2012 drafts that were littered with defenders in the first round. 2008 produced a plethora of top-level blue liners while 2012 turned out a few more duds than one would hope for. Here's hoping 2018 is more like the former.
AD: Whose stock had risen the most in their draft year?
CR: Noah Dobson. The Acadia-Bathurst defender has rocketed up virtually every service's rankings this season. Pegged as a likely second rounder last summer, the 6'3 smooth-skating rearguard took gigantic steps forward in his development in 2017-18. He found immediate success leading one of the QMJHL's top power-play units. That helped propel him to over a point-per-game and nearly 300 shots on goal.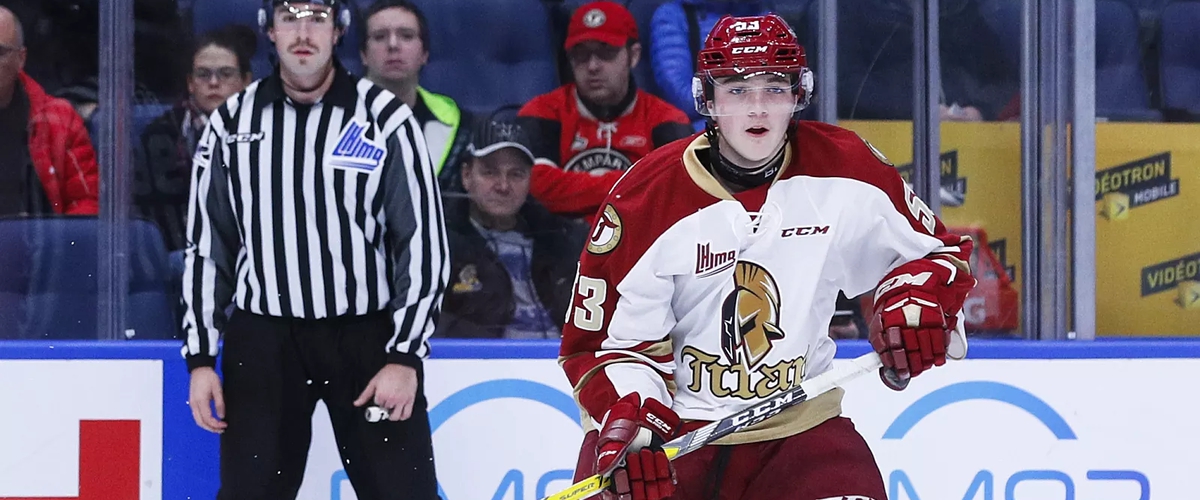 The defensive side of the puck is as impressive. He reads the play well, and can transition with his feet or his outlets. He owns a projectable frame that once filled out, should be able to contain even the strongest NHL forwards bearing down on him. He doesn't wow you with one individual skill, but he's a smart, effective and calm defender capable of influencing the game in many ways.
He may not have quite as high an offensive ceiling as some of the other defenders do, but his bust factor appears quite low. He has all the tools to become an impact defender in all situations.
AD: Whose stock has fallen the most in their draft year?
CR: Another defenseman; this time it's Ryan Merkley. The former first overall selection in the OHL Bantam draft and 2016-17 OHL Rookie of the Year was considered a top 10 talent heading into this past season. A right-shot defender who owns some of the finest play creating tools I've ever seen from a 17-year-old. His quick and agile skating ability is only outmatched by his vision and creativity. If only he could play 25 minutes a night on the power-play.
The issues with Merkley have been well documented. His brand of hockey lends itself to glaring giveaways that result in prime scoring opportunities for his opponents. He tends to cough the puck up more than his fair share and then doesn't exactly bust his ass to get back and clean them up. Whispers of attitude issues for the way he treats his coaches and teammates aren't helping matters either.
As one of the youngest players in this class and possessing some of the most rare talents, he's managed to stay in the first round for many services. However, few would be surprised to see him still available on day two of the draft. A team with multiple first round picks should be licking their chops at the prospect of taking a swing on such high upside though. His boom-or-bust tag is well earned, but that boom could be dynamite.
AD: Who is an underrated player in draft rankings?
CR: I've been beating the Jonatan Berggren drum for several months now and the beat may finally be catching on. Berggren is a versatile Swedish forward who tore apart the J20 circuit to the tune of 57 points in 38 games. He got his feet wet in 12 SHL games and didn't look out of the place either. While his club stats should get him noticed, it's been his play on the international stage that may finally have moved the needle. He's had excellent showings at the Ivan Hlinka, Five Nations and most recently, the U18s.
The 18-year-old blends speed, tenacity and some of the best one-on-one skills in the draft. He skates miles each night, disrupts with his fore-check and is dangerous in all situations – including on the penalty kill.
Berggren is reminiscent of a bigger Viktor Arvidsson. Yet some major lists still have him going in the late second round. Don't be surprised is a team falls in love with this player and grabs him at the tail end of day one. If he's there on day two, someone is getting a steal of a deal.
AD: Who is an overrated player in draft rankings?
CR: There are a few players that are still getting love in the rankings that maybe don't deserve it. Jared McIsaac, Jack McBain, and Adam Ginning have all continued to make appearances on the first round of some major services. Ginning being ranked as the fourth best European skater by Central Scouting is something I cannot get on board with.
However, the player that likely gets overrated the most is also the best of that bunch. Brady Tkachuk is a talented player. He showed his silky soft hands and finishing ability at the World Junior Championships last winter and had an adequate freshman season at BU. However, some prognosticators have him in the race for second overall. For my money, he's not in the same class as Andrei Svechnikov or Filip Zadina.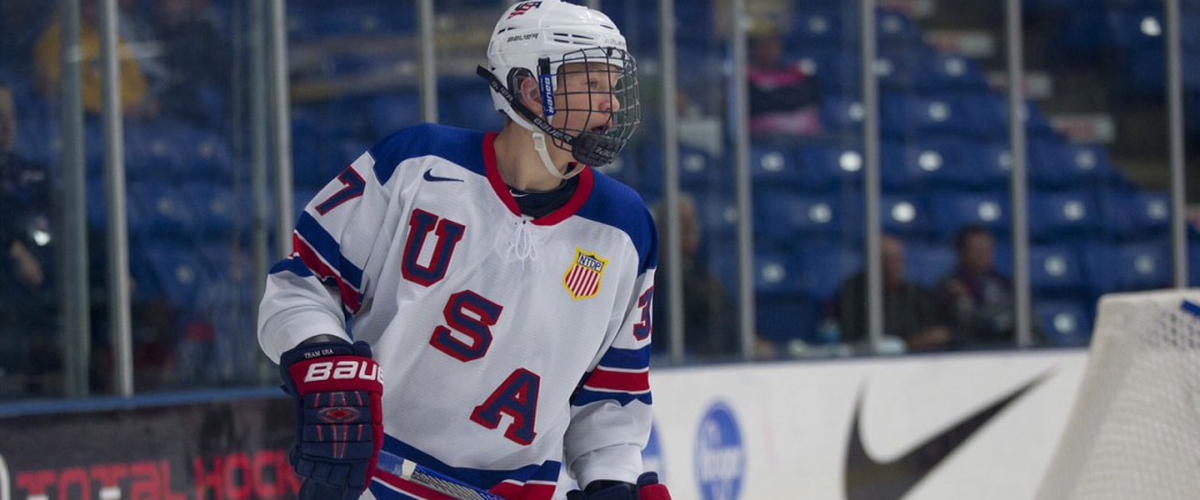 Tkachuk is as old as you can be for this draft, missing the cut-off for the 2017 crop by a single day. He's physically mature, close to NHL-ready and should be able to step in a contribute right away. However, he's not the goal-scoring threat that either Svechnikov or Zadina are. Or for that matter, Oliver Wahlstrom either.
He'll have a strong professional career but I have him at number nine for good reason.
AD: Who are your top five players this year in terms of raw potential?
CR: If we're talking about players with the most potential to thrive at the NHL-level:
1. Rasmus Dahlin
2. Andrei Svechnikov
3. Quinn Hughes
4. Filip Zadina
5. Oliver Wahlstrom
HM: Adam Boqvist
To add a little more depth to this, here are a handful of players I haven't mentioned that have a great chance to out-produce their draft slots.
• Joel Farabee
• Dominik Bokk
• Jake Wise
• Nils Lundkvist
• Nicolas Beaudin
• Jay O'Brien
• Niklas Nordgren
• Jan Jenik
• Johnny Gruden
AD: Is there a clear top goaltender in this draft year? If so, who?
CR: The last few drafts have seen several goalies go in the top 60 with a net-minder or two sneaking into round one. However, this is not the year to be pulling a goaltender early.
Jakub Skarek has long been considered a phenom in Czech hockey circles. He mixes ideal size and mobility and has produced quality numbers against men as a teenager. He had a tough start to his draft-eligible campaign and a dreadful World Junior Championship. That saw him slip from a potential top 40 selection down many boards – mine included.
I've spent some time speaking to some experts on all things goaltender and the consensus seems to still be high on Skarek. He's quite likely the first off the board and still has a good shot at being a top two round selection.
**
Cam Robinson is an Associated Editor with DobberHockey, DobberProspects and is a regular guest on Sportsnet650. You can follow him on Twitter @CrazyJoeDavola3
---