NHL Mailbag: Karlsson(s), Panarin, Hughes & More!
Welcome to the @hockeynews.ig NHL Mailbag, where I answer seven of your NHL questions! I will try to pick different people's questions each time, so I can eventually get to everyone! This week's topics include both Erik and Willam Karlsson, Artemi Panarin, 2019 draft-eligible phenom Jack Hughes, and more! Let's dig in...
Who do you see having a breakout year and who do you see having a down year? - @jake.mcgaughey
I believe that both Max Domi and Alex Galchenyuk could bust out with their new teams, but I think the most likely out of those two to enjoy a successful season is Galchenyuk. He's shown flashes of his talent before, potting 30 goals in 2015-16, and Arizona head coach Rick Tocchet will give him the patience and playing time he needs too be successful. Also, don't sleep on Alexsander Barkov, who was absolutely on fire to end off April. He finished the season with 78 points in 79 games, and I think he can get to 90 next season.
In terms of down years, I find it hard to see William Karlsson scoring 43 goals on a 23% shooting percentage next season, especially because Karlsson was previously known for his playmaking, not his goal scoring. I think Karlsson comes down to earth next season and scores 25 goals and 60-65 points.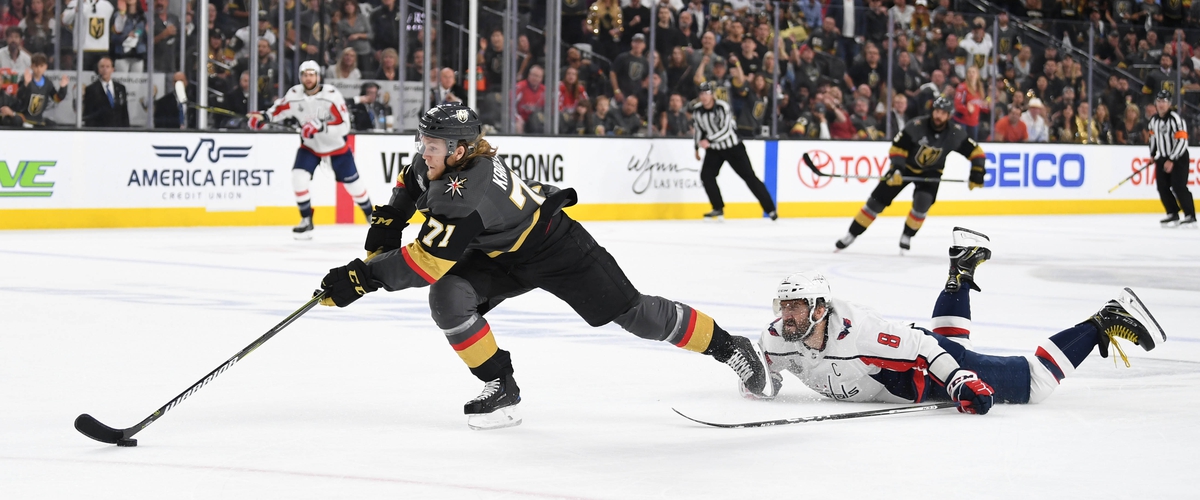 What would be a fair trade between the Hawks and Canes for Skinner and Faulk? - @logankisu
This is something I had given some serious thought to after the rumours emerged that Chicago liked both Skinner and Faulk. Don't beat me down for this too much, but here is the proposal I crafted that would work for both teams:
Hawks Receive: LW Jeff Skinner, D Justin Faulk, C Janne Kuokkanen
Canes Recieve: C Artem Anisimov, RW Alex DeBrincat, RW David Kampf, CHI 2019 2nd Round Pick, CHI 2020 2nd Round Pick
I know, it probably sucks, but I tried my best. Trading DeBrincat is a tough pill to swallow for Stan Bowman, but he gets rid of a bad contract in Anisimov, and Kuokkanen isn't a bad prospect at all who could play in Chicago's top nine as soon as this season. Not to mention Bowman significantly upgrades his team by adding Skinner and Faulk, and doesn't give up a single first round pick in the process.
Do you think Jack Hughes will be a generational talent or an average first round pick? - @vinny.coyle
On a scale of Nolan Patrick to Connor McDavid, Hughes is definitely more on the McDavid side as he approaches his draft year. In the end only time will tell, but Hughes has elite hockey sense, playmaking skills, and hands. His closest comparison would be Patrick Kane, but playing centre. And Kane isn't a generational talent, but he's pretty darn good. But I don't want put a limit on what Hughes can be. He could very well post insane numbers in the USHL and be mentioned in the same breath as players like Crosby, McDavid, and Gretzky.
What's the trading price for Artemi Panarin? Also, will he be a $10M+ AAV extension? - @amass_2
It has been made clear that Columbus would ideally want a 'hockey trade' for Panarin, getting a player of the same calibre back in return. But those deals are hard to find. I think Jarmo Kekalainen settles for a slightly lesser player in the same position plus a couple B-level prospects and picks.
I think Panarin wants to go somewhere in Florida, New York, or California, which limits the number of teams the Blue Jackets can work with.
I think the top three best fits for Panarin are the Panthers (trade targets : Nick Bjustad, Henrik Borgstrom), Sharks (trade targets: Josh Norris, Joonas Donskoi) and the Islanders (trade targets: Kieffer Bellows, Brock Nelson). In terms of what he would want on an extension, I've heard Panarin wants between $9M-$11M, which is a tad expensive but not completely unreasonable. I'm sure most teams would be fine with giving him a eight-year, $72M deal.
Where will Erik Karlsson land? - @kier_9
I believe Tampa Bay is Karlsson's preferred destination, but a deal looks less and less likely with each passing day. Dallas continues to be engaged in Karlsson trade talks, but I get the sense nothing is close there and nothing will be until Jim Nill is willing to give up Miro Hieskanen. Vegas was very close to acquiring Karlsson at February's trade deadline, but Ottawa backed out at the last minute. Reports say Vegas and Ottawa were once again on the verge of a deal on the night before the draft, but Ottawa yet again backed out.
I think the GM's of teams looking to trade for Karlsson are frustrated with Ottawa, but Sens GM Pierre Dorion wants to play his patient card. At this point I have stopped obsessively refreshing Twitter, and I expect talks to heat up and ultimately reach a climax in mid-to-late August, in the weeks before training camp.
Who's the leagues most underrated and overrated players? - @josephiannacone
Let's start with overrated. Jonathan Toews is a fine number one centre, but at this point in his career he is not a top ten centre in the NHL, not a superstar, and not worth his $10.5M. I like Toews, but a guy who has point totals of 58, 58, and 52 in the past three seasons should not be considered anywhere near a top ten player in the league. That was different from 2010 to 2014, when Toews combined elite defensive play with point-per-game production and earned himself a reputation as arguably the most complete player in the NHL. His defensive play his still there, but his play in the offensive zone has dwindled.
On the other side of the spectrum, players like Evgeni Malkin and Patrice Bergeron have been long underrated. Malkin quietly put up 98 (!!) points in 78 games this season, and has 930 points in 784 career games. When he is healthy, Malkin can put up points with just about anybody. And people don't appreciate the physical element to his game. Bergeron is a player who has pretty much traded places with Toews as of late. Both have elite defensive play (is Bergeron the best faceoff-man in NHL history?), and while Toews has struggled offensively, Bergeron had the best season production-wise of his career, putting up 63 points in 64 games. He was also a monster in the playoffs, with 6 goals and 16 points in 11 games.
Anything brewing on notable RFA's? - @nate_mshkbv
- As of now, contract talks between Golden Knights GM George McPhee and William Karlsson are at a standstill. Karlsson, who went from 6 goals and 25 points with the Columbus Blue Jackets to 43 goals and 78 points with Vegas, is understandably wanting a long-term deal at a high number ($7M-8M, I imagine). But McPhee, also understandably, is skeptical of Karlsson's breakout season being a one-off, and is offering a two-year bridge deal. Don't be surprised if this goes to all the way to arbitration, or if Karlsson settles for a bridge deal.
- Because Ottawa is so cash-strapped they aren't likely to give Mark Stone the long terms deal he deserves at a $6.75-$7.75M AAV, so this is likely to go to arbitration. Stone is arguably the best two-way winger in the NHL, is always among leaders in takeaways, and is a lock for 60-70 points per season. Don't be surprised if Stone leaves as a UFA next summer if things don't get better in Ottawa.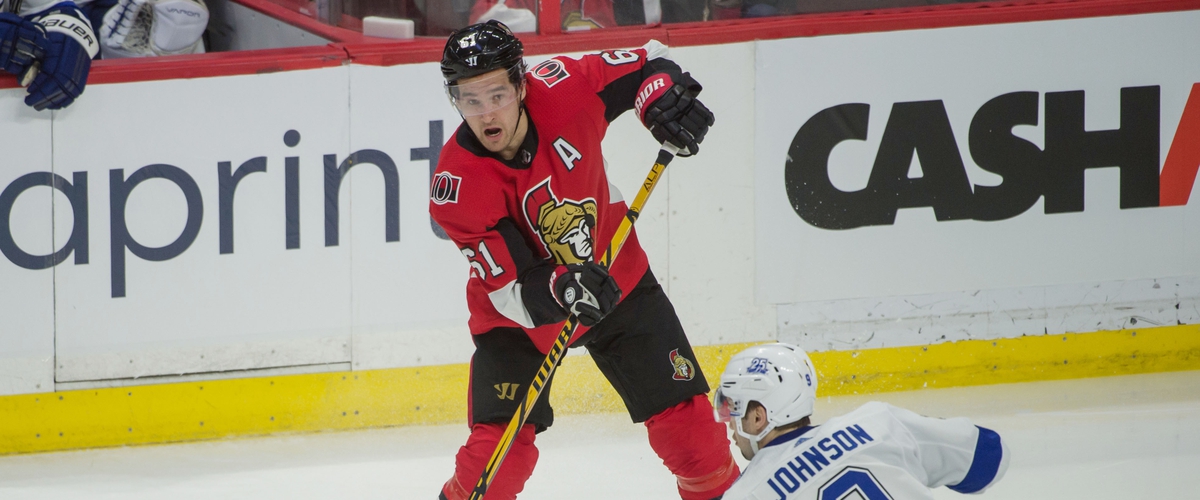 - Ryan Spooner, who filed for arbitration last week, has been 'in play' in trade talks over the past few days. A deal to stay in New York is still very much a possibility, but don't be shocked if Spooner is moved before his arbitration date.
That's all for now, folks! See you next week…
---