Let It Fly, Kayla (2019-20 NWI Basketball Preview)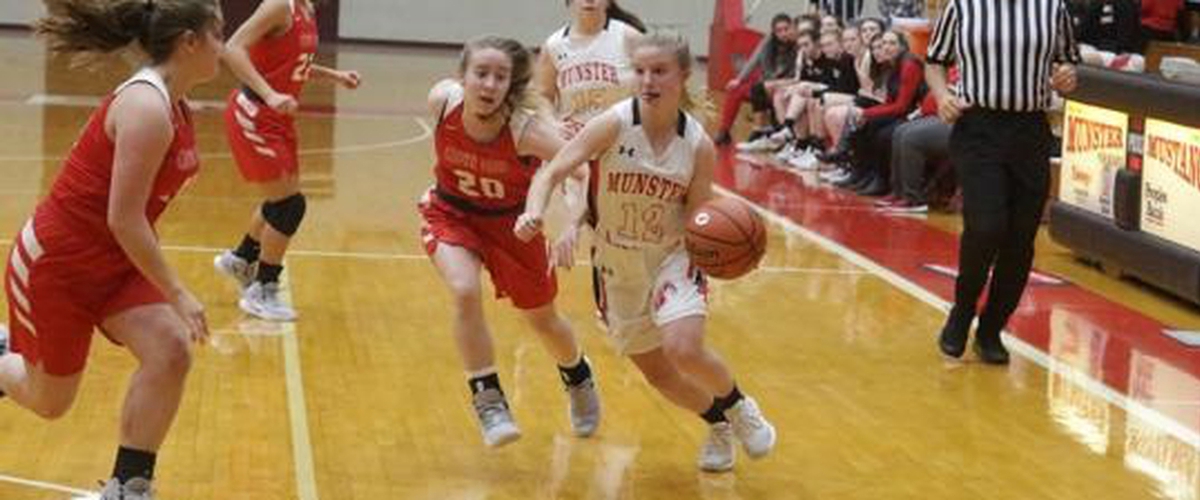 (In this photo: Munster's Kayla Ziel being checked by Crown Point's Grace Tyndall)
Before I begin, I would like to thank my father Tom for being such a significant influence and factor for me doing what I do today. Back in 2010 when I was a 22-year-old kid, he and I decided to purchase a house in Chesterton, Indiana, and I had moved in with my dad for the first time since he divorced my mom when I was all of one year old.
Needless to say, the move did not end all too well for obvious reasons.
That said, it was in 2012 that he suggested he and I start attending sporting events at Chesterton High school, both boys and girls, just as something new to do. And with that, my interest in high school basketball had been renewed, therefore it would be incredibly difficult to claim that the move was a complete waste.
By 2014, that renewed interest brought me back to my former school down the road in Hobart, where I would become a regular spectator at Lady Brickies games in the ensuing seasons, a program that had consistently put a solid product on the court under Mike Hamacher. And in March of 2017, I published my first high school sports-related blog post.
Given the rapid decline in Hobart's girls basketball program in recent years for which I have documented in the past (shhh! Don't bring up that dreaded name - Hint: To this day I remain about 95 percent sure that she had tried to manipulate me to her 2015 senior prom while on twitter), I was bared the opportunity to surf all of NWI for my region basketball, first for entertainment and later for blogging possibilities.
And that is where I stand today.
My first big break in the sports blogging scene had come way back in 2009 when I earned an insert on the front page of CBSSports.com for an article I had written about then-NBA player Jerry Stackhouse. Now, I'm probably the only 31-year-old man on this planet that makes a priority to blog about girls basketball. One may claim that this hobby of mine is kind of "out there" for a lack of a better word, but I prefer to look at it as barriers being broken.
To say my journey has been an unorthodox one would be a massive understatement, but as an individual who has always strived to hate being ordinary for really my entire life, I'm proud to say that I've done it all my way.
Now here's to another great season...
Roughly two and a half weeks ago, Munster 5'4" junior and three-sport athlete Kayla Ziel scored the game winning goal for the Mustangs during a soccer sectional semifinal against Crown Point, a game that ended 1-0 in overtime.
Quotable from Ziel to James Boyd of the NWI Times, "I saw Alice (Foley) have space, and she always shoots, so if she hits the post, I'm always there for the rebound, and I just put it in," Ziel said. "(Crown Point) is a really good team. We just all came together and gave it our all, played well and gave them a good game."
Munster would go on to win their sectional title in the sport two days later.
If Kayla could bring that level of confidence into basketball season, this could prove to be a fun upcoming couple of years for her. Ziel scored a career-high 23 points on five-of-eight shooting from three-point range in a win over Illiana Christian back on Jan. 22 and shot 15-of-30 (50 percent) overall from distance overall for her sophomore campaign, including 10-of-15 in the month of January.
In addition to her impressive shooting accuracy, Ziel also averaged 3.4 assists, 2.2 rebounds, and 2.2 steals overall during the 2018-19 season, and it would be intriguing to think what she could do with more attempts beyond the arc...Not likely to sustain a 50 percent clip, but you kind of get the idea...
The bottom line is that she can shoot, and the talent is undeniable...Let it fly, Kayla - Let it fly.
This season, Ziel will be part of an intriguing Munster team with renewed expectations. Aleena Mongerie returns as the team's leading scorer, and St. Johns University commit Sara Zabrecky is set to play her senior season at Munster after transferring over from Lake Central.
Other News and Notes:
- Also shown in the photo above, Crown Point guard Grace Tyndall is the youngest daughter of Donnie Tyndall, the former men's head coach at Morehead State and Tennessee, and current NBA G-League head coach. Nicknamed "Goose" by her father, Grace connected on her first three-pointer on the varsity level during her sophomore season in CP's win over Merrillville on Jan. 13, 2018. It would prove to be her lone three-point make on varsity that season, plus having connected on 21 threes on J.V. that season. Now a senior, Tyndall will take part on what is widely considered one of the best teams in the entire state of Indiana. Like Munster, Crown Point will also be given the benefit of a transfer in all-area senior guard Dash Shaw, late of Gary West Side.
- Morgan Township guard Emma O'Brien will look to bounce back from somewhat of a sophomore slump. She was still solid overall in 2018-19, with averages of 8.0 points, 2.9 assists, 4.2 rebounds, and 2.3 steals per game while connecting on 30 percent of her three-pointers. O'Brien went for 12 points, seven assists, and six rebounds during a 59-39 win over Argos last Nov. 29, and the Cherokees are a solid candidate for the PCC crown bringing back virtually their entire roster and hiring a veteran-experienced head coach, Rick Budka, formerly the HC at South Central.
- Grace Tyndall's father has, in fact, once coached on the same staff with the aforementioned Mr. Stackhouse while with the Toronto Raptors organization. To Grace, hear me out and let me say that if you have in fact met Jerry Stackhouse in person, that I am officially jealous of you. That be one of my life idols right there. Stackhouse is currently the HC at Vanderbilt.
Some highlights from my youthful years: