Shocking AFC East Standings--NFL Week 4 Recap
A lot happened this week in the NFL, and there weren't even national anthem protests to distract us from actual football! After the Bills weirdly got their third victory over Atlanta, the Chiefs are the lone undefeated team in football, and they haven't even played their Week 3 matchup yet (they face off at home against the Redskins at 8:30 tomorrow night.) There are four 0-4 teams remaining, and three of them (Giants, 49ers, Chargers) came within a field goal of winning today. The league is not bottom or top-heavy at all, keeping every division race close so far through four games. Sunday Night Football is already underway in what should be a truly thrilling Seahawks-Colts matchup, featuring a Seahawks defense that should really have their hands full with Jacoby Brissett. No question that Monday night should be the better game. But before that, let's cover the action that happened on Sunday (and Thursday).
Packers 35-Bears 14
Compared to last week's Thursday Night thriller, this was a disappointment. It was definitely a weird game, with the Bears outgaining the Packers 308-260. With Ty Montgomerey getting hurt early on, rookie RB Aaron Jones came in and had a solid outing and scored his first touchdown. Rodgers had 4 touchdowns and no picks, while Mike Glennon threw 2 INT and lost 2 fumbles, which led Bears fans to call for rookie QB Mitchell Trubisky to take over the starting job. Speaking on the matter after the fact, head coach John Fox said he didn't think it was the "ideal time" for Mitch to get put in the game. After Deshaun Watson gave the Texans 5 total touchdowns against the Titans (we'll get to that later), I'm sure Bears fans are itching even more to see what their own rookie can do.
Saints 20-Dolphins 0
Jay Cutler is worse than we all thought he was, unfortunately for the Dolphins. I guess all this talk about how great he would be with Adam Gase because of their connection when Gase was the OC in Chicago was total bullshit. Jay Ajayi's lack of production is not helping, either. After a 122-yard showing against the Chargers in the first week of the season, Ajayi has gotten had a combined 62 yards the past two weeks, and he's yet to score. As for the Saints, their defense was clearly the star of the show. A shovel pass from Drew Brees to Alvin Kamara sealed the deal for the Saints in London. If you like NFL drama, the biggest current feud just got even worse, when Adrian Peterson got 4 touches the entire game. Kamara currently has more all-purpose yards than Peterson. Hey, I wasn't in the room when that contract was getting negotiated, but I'm guessing he was looking for more than that.
Texans 57-Titans 14
Titans fans should be worried, and not just because of Marcus Mariota's hamstring injury. His two rushing touchdowns were great plays, but one of them forced him to leave the game. Other than his legs, the Titans offense that we'd been hearing so much about this offseason was absent. They turned the ball over FIVE times, and Demarco Murray had just 31 yards on 7 carries, with Derrick Henry getting 7 yards on 6 carries. And the defense giving up 57 points to an offense that, frankly, isn't that good? Beyond concerning.
Jets 23-Jaguars 20 (OT)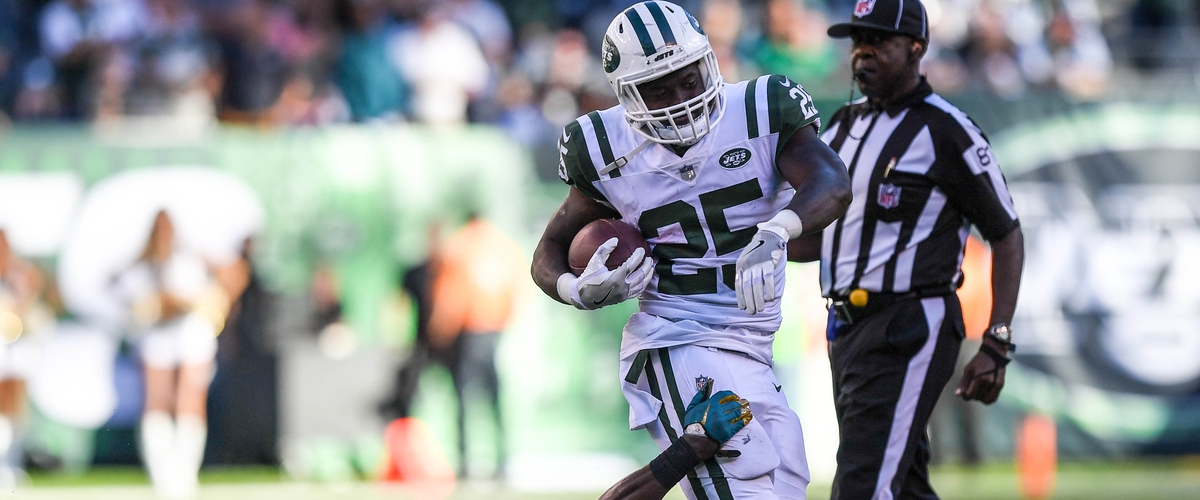 Yes, I get it. The Jets' schedule has been, so far, significantly easier than the Patriots' schedule. But there was nobody outside of the Jets locker room who thought that the Jets and the hated Patriots would have the same record in Week 4. With winless Cleveland as the opponent next week, the Jets have an opportunity to go into Week 6 against New England at home with the same, or a better record than them. That is not something that many people expected. My biggest takeaway from the game is that Blake Bortles is really f***ing bad. Watching that game actually made me realize that Josh McCown is a significantly better quarterback than Blake Bortles, and it's really not close. McCown's completion percentage was 71%, compared to Bortles' 43%. There were many plays where Bortles threw absolute ducks that was absolutely ridiculous for a starting quarterback in the National Football League to miss. If Jacksonville had a half-decent QB like Alex Smith, they would be a surefire playoff team, but he holds them back. For the Jets, the ball did not move great other than two big runs by Bilal Powell and the rookie Elijah McGuire. There were lots of penalties. Bilal Powell, despite his great statistical day, made two mistakes that could've cost New York the game. The defense played well, but had a tough time containing Leonard Fournette at some moments. The fake punt was a great moment, followed by a delay of game penalty that put the Jets five yards back, thus making them miss the 45-yard field goal. They desperately need to clean up the stupid mistakes if they want to beat any good teams this year.
Panthers 33-Patriots 30
Cam Newton is back!...Or New England's defense is terrible. Yep, I think it's that. Newton threw for his first 3 touchdowns of the year, and added 316 yards. Matt Patricia was seen screaming at his secondary on the sidelines after Devin Funchess was found wide open for an easy TD. Brady threw for 307 yards and 2 touchdowns, and has yet to throw a pick this year. The offense is fine, but they're going to need to make some major adjustments on D if they want to return to the Super Bowl. This game was nice, because who doesn't love to see whiny Pats fans on social media after a heartbreaking last-second loss?
Lions 14, Vikings 7
After a career day last week against the Bucs, Case Keenum was brought back down to Earth by the Lions defense. The Vikings fumbled three times today, one of which effectively ended the game. On another, rookie RB Dalvin Cook fully tore his ACL, undoubtedly ending his season. Man, the Vikings really have not gotten a break with injuries and suspensions. In 2014, Adrian Peterson was suspended nearly the whole year just two seasons after rushing for over 2,000 yards. Last offseason, Teddy Bridgewater tore his ACL in training camp after reaching the playoffs in just his second season. Then after a great Week 1 performance, QB Sam Bradford hurts his knee and still has not come back. And now, after 3 great games in his rookie year, Dalvin Cook is out for...a while. This really puts the season in jeopardy for Minnesota.
Bills 23-Falcons 17
The Falcons lose their first game, and the Bills improve to 3-1 to lead the AFC East. What a weird year in football this is. Tyrod Taylor is doing all Buffalo needs from him. Other than an INT in Week 1 that was due to a drop by a Bills receiver, he hasn't turned the ball over. Matt Ryan threw 2 picks in a disappointing loss for the Falcons. Julio Jones is hurt, which would really hurt that Falcons offense that was so potent last year. Micah Hyde is leading the league in picks right now. Definitely one of the more underrated signings of this offseason looks like it's paying off for a Bills team who lost all four starters in their secondary.
Steelers 26-Ravens 9
What happened to the Ravens? The first two games, their defense was lights out, and they looked like they were a team to beat. The past two games, they're being outscored by a slight margin of 70-16. Oh, right. The first two games were against the Bengals and the Browns. The NFC North looks unusually weak this year, but Antonio Brown going off on the sideline about not getting enough targets is a really bad sign for a team that is trying to get past the Patriots in the playoffs for the first time in the Bell-Brown era.
Bengals 31-Browns 7
I haven't heard as many people say that Colin Kaepernick should start over Andy Dalton after his 286-yard, 4-touchdown performance against Cleveland. Sure, he was facing the Browns, but a win is a win. Deshone Kizer had a pretty terrible performance. He has not been playing well at all so far; he's thrown 8 INTs and just 3 touchdowns. Vontaze Burfict had 6 tackles and NO PENALTIES (!!!) in his season debut.
Rams 35-Cowboys 30
The Rams averaged 14.0 points per contest last season. They've bumped that up slightly to 35.3 points per game so far this year. Yeah, I'd say Sean McVay has made a difference. The man largely credited with making Kirk Cousins the player he is today, McVay is making Jared Goff look GREAT so far this season. He's already thrown for over 1,000 yards, along with tossing 7 touchdowns and just 1 interception. Today, he threw for 255 yards and 2 scores in a win that brought Los Angeles to a surprising 3-1 record. But it would be a mistake to talk about the Rams vastly improved offense without mentioning Todd Gurley, who has simply been a man on a mission thus far. After a sophomore slump, he has 362 yards rushing, 234 yards receiving, 4 rushing TDs and 3 receiving TDs. He's arguably been the best back in the league, debatably behind Chiefs RB Kareem Hunt. However, the defense for the Rams remains a bit of a struggle. The past three games, their opponents have scored 27, 39, and 30. Prescott threw for 252 yards and 3 touchdowns today, but it couldn't match fellow second-year QB Jared Goff's performance, leaving America's Team at 2-2. Side note: McVay, Goff, and Gurley should definitely be getting most of the credit for the Rams' offensive resurgence, but signing Andrew Whitworth this offseason has also proved to be a huge move for the team.
Eagles 26-Chargers 24
Despite Philip Rivers' 347-yard, 2-touchdown effort today, the Chargers fall to 0-4. Hunter Henry had the second best one-handed catch of the day (more on #1 later), and both Tyrell Williams and Keenan Allen had over 100 yards. Melvin Gordon could only muster 22 yards on the ground. After losing Darren Sproles for the season, Philly looked upon LeGarratte Blount and Wendell Smallwood to take over his role, and boy, did they deliver. Blount had 136 yards, including a 68-yard gain that was reminiscent of Marshawn Lynch back in Seattle. Smallwood also delivered a key touchdown in the second half. Wentz's Eagles are now perched atop the NFC East standings, with Washington within reach (and New York nowhere in sight).
Buccaneers 25-Giants 23
With the Jets now holding a shocking 2-2 record, the G-Men have now taken the role of most heartbreaking and depressing New York team to be a fan of. Don't worry, Giants, basketball season is right around the corner. But the misery of losing 2 games in a row because of last-second field goals by the opponents has got to hurt, especially when that means 0-4. The Giants had some, well, gigantic expectations for this season after the acquisitions of Brandon Marshall and Evan Engram, and that has made this season all the more disappointing. And that offensive line...sheesh. Ereck Flowers is next-level bad. Eli is getting absolutely no help, particularly when he has to throw the ball 49 times a game. Eli is best when the running game is good, and he can execute on the play action. That's not the case right now. As for Tampa, Jameis Winston led the Bucs on his 7th game-winning drive of his young NFL career, and threw for 332 yards and 3 TDs while he was at it. And while Jacquizz Rodgers hasn't been particularly bad, the Bucs will like to have Doug Martin back in two weeks, even if Dirk Koetter won't admit it.
Cardinals 18-49ers 15 (OT)
Carson Palmer, baby! The veteran threw for 357 yards and tossed a game-winning touchdown to Larry Fitzgerald with 32 seconds to spare in overtime as Arizona handed San Fran their fourth straight loss. Losing David Johnson sure does hurt. Chris Johnson was their leading rusher, and the 32-year old had just 32 yards. It was an ugly win against a bad team, but as I said earlier--a win's a win.
Broncos 16-Raiders 10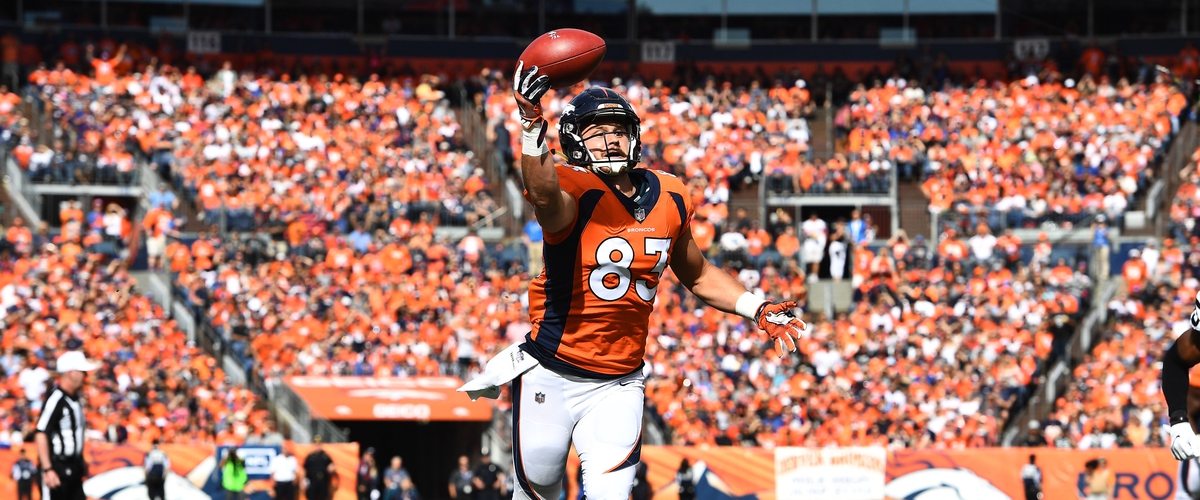 A big division win for Denver, but a pretty lucky one as well. Why was it lucky? Derek Carr hurt his back, forcing E.J. Manuel to go in for Oakland. This is stating the painfully obvious, but E.J. Manuel is not very good. And compared to Derek Carr, he is really, really not good. Not to mention, he was without Michael Crabtree as a weapon, and was facing what is still one of the best defenses in the league, a defense that held Oakland to 24 yards on the ground. Play of the game? That honor would belong to tight end A.J. Derby, with a 1-handed catch that challenges Cole Beasley's Week 1 catch against his back as Play of the Year. Attached is a video of Derby's sick one-hander.
https://www.youtube.com/watch?v=C2-z9QJqBN8
---