NFL Week 4: Big Division Matchups, Three Undefeated Teams Remain, and More
As we exit Week 3 and head towards Week 4 of the National Football League season, teams will start to go on their bye weeks. There are only two teams with the early Week 4 bye, the Carolina Panthers and Washington Redskins. That means 30 other teams will be in action, including the three remaining undefeated teams in the Kansas City Chiefs, Miami Dolphins, and Los Angeles Rams. So without further ado, let us check how we did with last week's picks here on MTV's Hot Takes:
Last Week: 9-7
Season Record: 27-19-2
Not too bad of a week considering the under .500 prediction percentage last week, but definitely some room for improvement. Let us jump right into this week's picks and see if we can get back on track.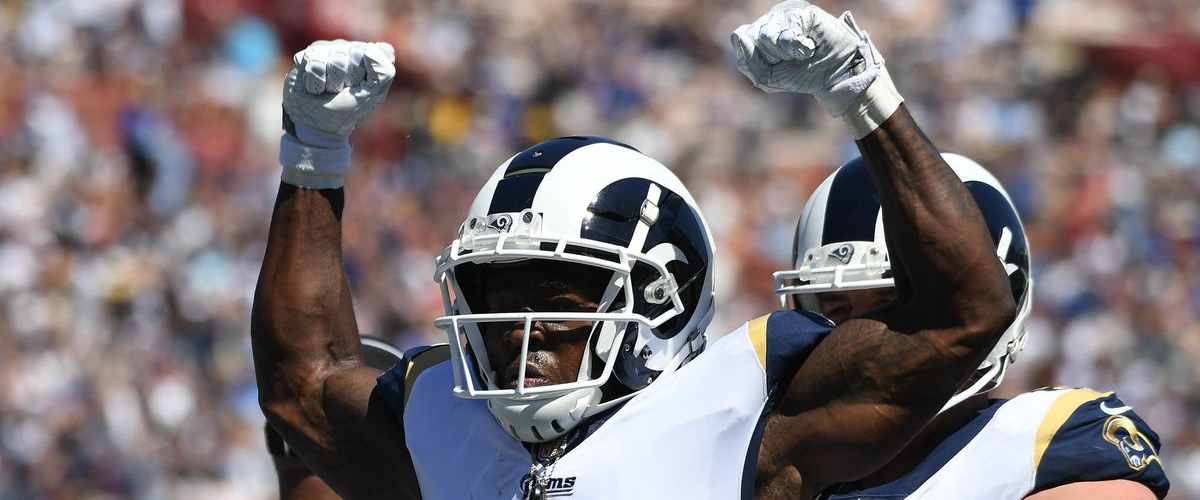 Week Four Predictions:
Thursday Night Football
Minnesota Vikings (1-1-1) @ Los Angeles Rams (3-0) 8:20 PM EST
The hottest offense in the league led by the two-headed beast of Jared Goff and Todd Gurley face a defense in the Vikings that is reeling after an embarrassing loss to the Buffalo Bills at home. Minnesota has failed to impress much this year after making it to the NFC Championship Game last season and has given up an average of 24 point per game through the first three weeks of the season. Now they have to go on the road to face a Los Angeles Rams team that has scored over 30 points in each of their first three games. Jared Goff has thrown for 941 passing yards and six touchdown passes while Todd Gurley has punched another four touchdowns in on the ground. These two teams seem to be trending in opposite directions at the moment, seeing the trouble the Vikings and Kirk Cousins had generating offense against the Bills defense makes me think they will be out of this one quickly.
Rams 35, Vikings 20
Sunday Football
Cincinnati Bengals (2-1) @ Atlanta Falcons (1-2) 1:00 PM EST
This game is probably coming at the best time possible for Matt Ryan and the Falcons as the offense found its stride last week against New Orleans. Although they came up short, they moved the ball a lot better than in their previous two games which leads me to believe the offense is turning itself around. Now it will be up to the defense which has been riddled by injuries to try to patch together a decent game to give the Falcons a chance. That could very well be possible against a Bengals team that saw quarterback Andy Dalton throw four interceptions that led to 17 points off the turnover for the Carolina Panthers. This has the potential to be a confidence boosting game for the defense if Dalton continues to have turnover problems down in Atlanta.
Falcons 24, Bengals 14
Tampa Bay Buccaneers (2-1) @ Chicago Bears (2-1) 1:00 PM EST
Two of the younger teams in the league go at it in an NFC matchup which should make for a good battle between a high-flying Tampa Bay offense and a stout Chicago defense. James Winston's suspension is over, and we still do not know who the quarterback for Week 4 is, but according to Bucs head coach Dirk Koetter, the two quarterbacks already know the plan for this week. What that means remains to be seen by the public, but it does not change my opinion on who wins this game. If Ryan Fitzpatrick starts, he has proven to be good for at least 2-3 touchdowns so far this season, but his turnover troubles came back to haunt him against Pittsburgh last week. Turnovers could be an issue for him against a Bears defense that has forced the 2nd-most turnovers in the league thus far with eight. If James Winston starts, I expect to see rust from him considering he has not seen regular season action since Week 17 of last year which will result in turnover problems. While I do not like the Chicago offense too much as Mitchell Trubisky has still struggled to take strides so far this year, the defense will likely lead the way for the Bears, and they will see another victory on Sunday.
Bears 17, Buccaneers 13
Detroit Lions (1-2) @ Dallas Cowboys (1-2) 1:00 PM EST
The Lions showed a lot of improvement last Sunday against the New England Patriots on both sides of the ball. It is not exactly easy to hold Tom Brady to under 200 passing yards and just one touchdown in a game, but the Detroit defense found a way to do it. Perhaps the shutdown effort was due to the fact they have former Patriots defense coordinator Matt Patricia as their head coach, so he had some knowledge of the personnel and what they do. Either way the Lions showed growth against New England, which is a word that cannot be used to describe the Dallas offense so far this season. Dak Prescott has been far from impressive and if it were not for a game against the New York Giants in Week 2, this team could easily be winless right now. Prescott has failed to top 200 passing yards since Week 15 against the Raiders last year, a game in which he threw two interceptions in a 20-17 win. The Lions have some momentum after last week's win at home and Dallas could be another opponent they will absolutely feast on this weekend.
Lions 28, Cowboys 10
Buffalo Bills (1-2) @ Green Bay Packers (1-1-1) 1:00 PM EST
Here is the dilemma with this game. The Bills were not expected to go into Minnesota and beat up on the Vikings like they did, especially with the defense they were expected to have this season. Now they travel to Lambeau Field to face the Packers and an Aaron Rodgers that is clearly being hampered by the knee injury he suffered in Week 1 against the Bears. As much as I want to pick against Green Bay in this one, it is rare to see Rodgers lose at home, even if he is dealing with injuries at the moment. The Bills are definitely not a team to slack on with their defense beginning to emerge in their last six quarters of play, allowing just nine points with head coach Sean McDermott calling the plays. With that being said, I am going to go with the safe pick and say the Packers in this one, but it will be much closer than people may expect.
Packers 24, Bills 20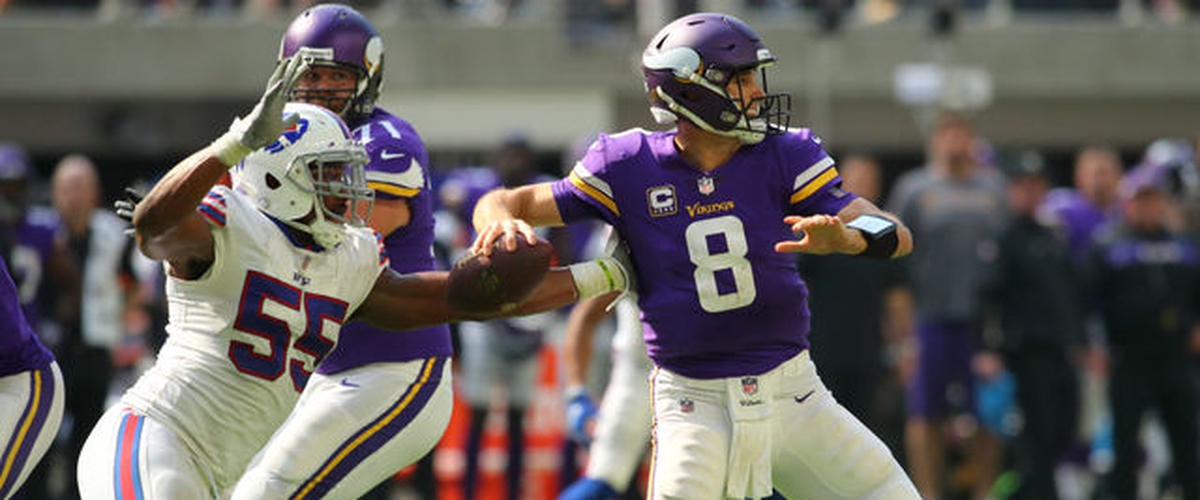 Philadelphia Eagles (2-1) @ Tennessee Titans (2-1) 1:00 PM EST
The return of Carson Wentz to the Philadelphia Eagles seemed to work out well for the offense as the team started to find a groove with the quarterback making his first start of the season against the Colts. Considering Wentz tore his ACL last year, rust is expected early on in his return and I expect him to still be working out the kinks this weekend against Tennessee. Speaking of the Titans, their offense was less than impressive last week as they put up just nine points against Jacksonville and struggled to move the ball against their defense. Marcus Mariota had to enter the game despite an elbow injury after Blaine Gabbert suffered a concussion in the first quarter and now the Titans have signed Austin Davis to back him up. If the Titans want to give Mariota another week to regain feeling in his hand, Davis will be starting at quarterback and I think it still would not matter. Regardless of who finds themselves under center for Tennessee, I do not see them being able to pull off a win against an Eagles team that is starting to slowly gain momentum.
Eagles 27, Titans 14
Houston Texans (0-3) @ Indianapolis Colts (1-2) 1:00 PM EST
Andrew Luck is continuing to show improvement under center since returning from the shoulder injury that held him out all of last season. Luck and the Colts came up just short last weekend against the Eagles as a last second drive stalled short of the end zone in the closing minutes of the game, resulting in the team's second loss of the season. But they get a chance to redeem themselves against a division opponent this weekend as the Houston Texans come to town for an afternoon matchup. The Texans are winless so far this season as DeShaun Watson has struggled to consistently move the ball down field and put the team in scoring situations. He continues to show improvement as he comes back from the ACL tear last season, but he also is leading scoring drives in garbage time when Houston is already far out of reach to catch their opponent. While I do not think that will be the same theme this weekend against the Colts, I do not expect the offense to show up and perform well enough to put them in a position to win. I have gotten burned back-to-back weeks picking the Texans to win, now watch them return the favor by winning as I pick against them on the road.
Colts 21, Texans 16
Miami Dolphins (3-0) @ New England Patriots (1-2) 1:00 PM EST
Just writing the records next to the respective team names seems weird as usually the Dolphins' record would apply to the Patriots and the Patriots' record would apply to the Dolphins. But nonetheless, the Miami Dolphins have gotten off to an undefeated start this season (as a fan of the team, I am certainly not complaining) and head into Foxboro with a two game lead in the division. Miami has not won in Foxboro since 2008 when they introduced their Wildcat offense to the league and I do not expect them to win this weekend either. New England is reeling and their defense has looked like a dumpster fire, but it is important to note they were missing two big players on defense in Patrick Chung and Eric Rowe due to injuries last week. Furthermore, I do not expect Tom Brady to have a subpar game like he did last week against the Lions or for New England to lose a third straight game, especially at home to a division rival. The Dolphins have been good at minimizing their mistakes on offense, but will have to get going early if they want a chance to win this one. They also lost William Hayes for the season and Andre Branch for a couple weeks which is a blow to their defensive line, potentially the run game, and the potent pressure they place on quarterbacks which will be crucial against Brady. I expect it to be closer than matchups past in New England, but I expect the Patriots to come away with a victory.
Patriots 24, Dolphins 17
New York Jets (1-2) @ Jacksonville Jaguars (2-1) 1:00 PM EST
The Jets have had plenty of time to prepare for the Jaguars after blowing a 14 point lead to the Browns on Thursday Night Football last week to give Cleveland their first win since 2016. But the key to their success remains in Sam Darnold limiting the amount of turnovers he produces while leading the offense. Darnold has thrown two interception in each of his last two games, both losses to the Dolphins and Browns. He showed a lot of promise in his NFL debut back in Week 1 which gave fans of the Jets hope that the team was turning things around, but now he has to face a tough Jacksonville defense. Even though the Jaguars lost last week, they held the Titans to nine points. It was the offense that failed to get going despite Blake Bortles not making any mistakes that would doom his team. It was just one of those gritty, low-scoring division games that both teams struggled to get the ball moving in. That will not be the case this week and the Bortles-led offense should get back on track against the New York defense which was unable to maintain Baker Mayfield upon his entry into last week's game. Jets should keep it close early on, but Jacksonville pulls away in the second half because of rookie mistakes by Sam Darnold.
Jaguars 28, Jets 14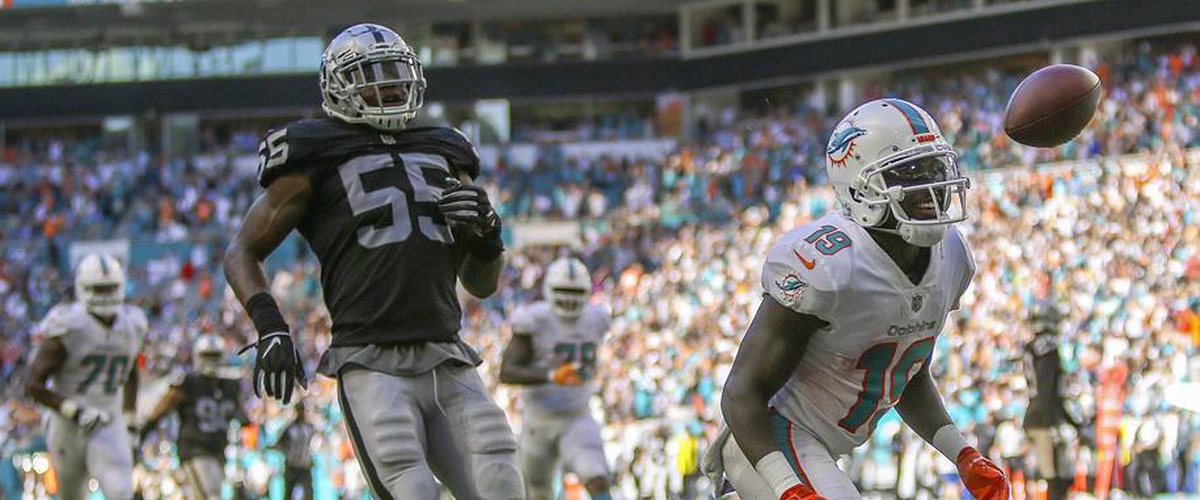 Cleveland Browns (1-1-1) @ Oakland Raiders (0-3) 4:05 PM EST
Baker Mayfield gave Browns fans something to cheer about last week as he led the team to their first win since 2016 when he relieved Tyrod Taylor at quarterback after he suffered a concussion. Despite Taylor likely being cleared, Mayfield will get the start and try to get the Browns their second win of the season on the road against Oakland. There is a lot to like about the defense of Cleveland seeing they effectively shut down Ben Roethlisberger in Week 1, held Drew Brees in check during Week 2, and got after Sam Darnold as the game went on last week. This is going to be a competitive Browns team all season long if they can get their offense to work with Mayfield at quarterback seeing how tough their defense has played each and every week. It will be interesting to see how Baker Mayfield performs in his first full game for the team, and we will see if he can build on his heroics from last week's relief effort. Oakland comes in looking to get their first win of the season, in each of their first three games they have led at halftime only to lose each one of those games. This is due to their lack of fourth quarter offense which has produced just three points so far this season, a field goal by Mike Nugent in the waning seconds of their loss to Miami. Derek Carr has been good under center, but the offense as well as the defense seem to disappear when it is crunch time and it continues to doom the team each week. The Browns have all the momentum in the world, and I am going to have to pick them for a second straight week to win, I ended Cleveland's winless streak with my pick last week and now I am going to get a win streak going for them.
Browns 27, Raiders 21
Seattle Seahawks (1-2) @ Arizona Cardinals (0-3) 4:05 PM EST
The Arizona offense produced its most points all season when Sam Bradford gave the Cardinals an early 14-0 lead in the first quarter against the Bears until he began to turn the ball over repeatedly which resulted in Chicago climbing back into the game and snatching victory away. Now Josh Rosen will make his first career NFL start after coming in during the fourth quarter in relief of Bradford after his fumble put the Cardinals behind, 16-14, which was ultimately the final score of the game. Russell Wilson will lead the charge for the Seahawks after they got their first win against Dallas in Week 3, 24-13 and the defense looks to keep its momentum after forcing the Cowboys to cough the ball up three times. Playing a rookie quarterback in his first career start may just be the perfect opportunity for Seattle to continue building defensively and stifle the Cardinals' offense. Arizona's offense has been in flux all season long with their inability to produce points and continuous turnover problems by Sam Bradford. While Rosen may be the answer in the long term, he is not the answer this weekend and the Cardinals drop to 0-4 on the season.
Seahawks 23, Cardinals 7
New Orleans Saints (2-1) @ New York Giants (1-2) 4:25 PM EST
Both of these teams are coming off big wins on the road last week as the Giants avoided an 0-3 start by beating the Texans in Houston and the Saints won an overtime shootout with the Falcons in Atlanta to move to 2-1 on the year. New York did a good job of holding the Texans' offense in check, holding them to nine points through three quarters before Houston put together two late touchdown drives, one of which was in garbage time with the Giants already in full control of the game. The question is, will they be able to handle Drew Brees and the offensive attack of the Saints? Probably not. New Orleans was clicking on all cylinders last weekend against Atlanta and Brees single-handedly accounted for five of their touchdowns on the afternoon. He is poised to keep things rolling against New York this weekend and lead the Saints to victory yet again. Do not get me wrong, the Giants have looked much better on offense as Saquon Barkley emerges in the backfield as a rookie and Odell Beckham Jr. continues to hit his stride as he comes back from his ankle injury from last season. I just do not see them being able to keep up with the speed and firepower the Saints have with on their offense.
Saints 35, Giants 20
San Francisco 49ers (1-2) @ Los Angeles Chargers (1-2) 4:25 PM EST
The C.J. Beathard project will get underway in Los Angeles after Jimmy Garoppolo tore his ACL last weekend against the Chiefs. Beathard started for the Niners in five games while appearing in seven total games for San Francisco before the emergence of Garoppolo following the trade with the Patriots. As a starter last year, the 24-year-old compiled a 1-4 record while throwing three touchdown passes and five interceptions. His first test will be against Philip Rivers and the Chargers in Los Angeles which will be no easy task. While Rivers has been performing well with the offense to the tune of 912 passing yards and eight touchdown passes, the defense has been another story. They have given up 31 points per game this season, twice allowing 30-plus points to the Chiefs and Rams. Even against the Bills they were less than impressive in the second half but had such a big lead that it did not matter much. Beathard's resume speaks for itself though and the Chargers are likely to get to him multiple times throughout the afternoon, making him uncomfortable and unable to get any rhythm.
Chargers 28, 49ers 13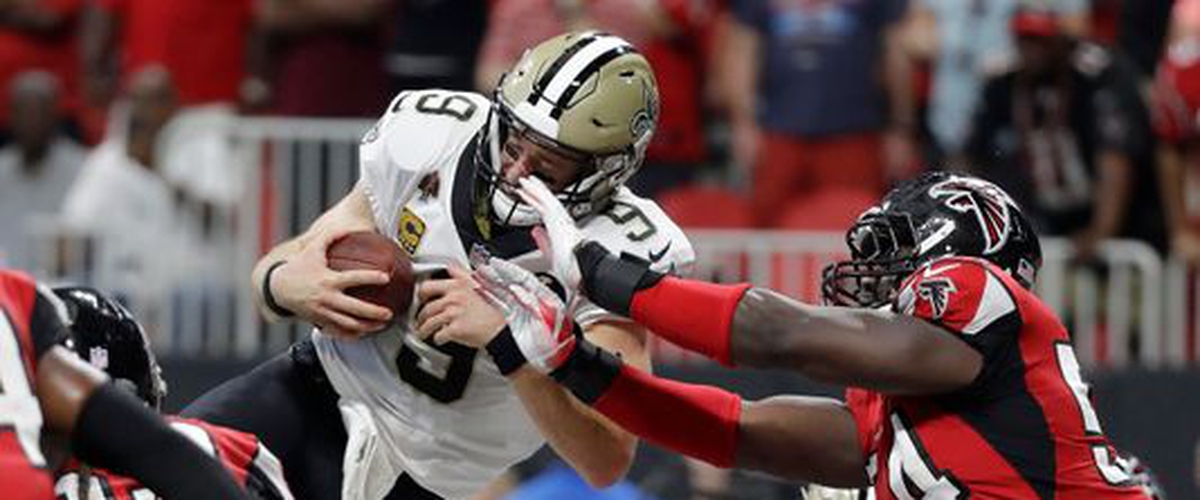 Baltimore Ravens (2-1) @ Pittsburgh Steelers (1-1-1) 8:20 PM EST
Another primetime installment of this AFC North rivalry should promise lots of fireworks on the offensive side of the ball. Joe Flacco and the Ravens are coming off a quality win against the Denver Broncos that featured 20 unanswered points by the offense to earn the victory. As for the Steelers, they were riding high after the offense exploded in the first half of Monday night's victory against the Buccaneers before needing the defense to hold on for them to earn a close win. Now they head home in front of their home crowd for a critical AFC North battle against Baltimore. The Steelers defense has been suspect to start the season which could make the aerial game by Flacco a crucial piece of the Ravens offensive attack on Sunday night. Baltimore's defense is second against the pass this year, giving up just 169.3 passing yards per game. But that will likely change facing the Pittsburgh offense which is very familiar with the Ravens over the years. Expect Ben Roethlisberger to limit his occasional turnover struggles and lead a last-minute drive for the Steelers to give them the win at home in this one.
Steelers 27, Ravens 24
Monday Night Football
Kansas City Chiefs (3-0) @ Denver Broncos (2-1) 8:15 PM EST
The Chiefs have undoubtedly had one of the best offenses in the NFL to start the year and will face the Broncos in a big division matchup early in the season. Patrick Mahomes has looked like an absolute stud in his first three games, throwing for 896 passing yards with 12 touchdowns to lead Kansas City to a 3-0 start as well as 39.3 points per game offensively. While they still have questions in their secondary which has given up 362.7 passing yards per game which is tied for worst in the league, their offense makes up the difference in a big way each week to lead them to wins. Denver comes into this one having lost to the Ravens on the road and Case Keenum has been essentially a game manager at quarterback compared to how he performed last season. Keenum has thrown just three touchdown passes through three games while adding another interceptions to his resume for the season. Those are not exactly numbers you want from your starting quarterback, however, he has gotten the job done to get the Broncos to 2-1 on the year. He has a chance to put up big numbers against this struggling Kansas City defense, but will have to have a big game in order to keep pace with the Mahomes and the potent offensive attack the Chiefs bring to the table.
Chiefs 35, Broncos 21
Questions or comments? Email [email protected] and follow @mtvhottakes on Instagram and Facebook to know when new stories are posted.
---