Absolutely Way-Too-Early 2019 NFL Predictions: NFC West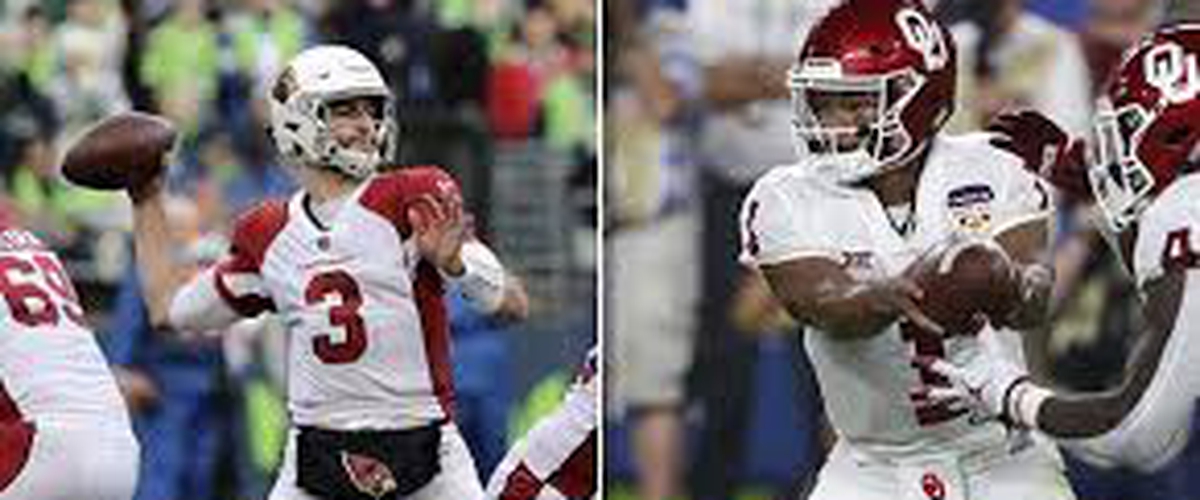 Arizona Cardinals
Pros
The ability to draft QB Kyler Murray #1 overall. I am going to be frank, the Arizona Cardinals offense was awful last year and was the worst in the league. They ranked last in points per game and yards per game. It is crazy that it was only four years ago that Carson Palmer was leading this offense to be one of the best in the league. It is clear to me that current starting QB Josh Rosen does not work in the system that former HC Steve Wilks used, and that could change under new HC Kliff Kingsbury. Kingsbury was the former Texas Tech HC, who initially took the new OC job at USC before changing his mind and taking the head coaching job in Arizona. I initially thought that Kingsbury may want to use Rosen and keep him the starter, but now it is reported that he is intending to use the #1 overall draft pick on Oklahoma Sooners QB Kyler Murray. This may help the offense more two-dimensional, with him being able to run and pass the ball.
Cons
The offensive line was maybe worse than the players behind them. One aspect of being the worst offense in football is a bad offensive line that can't protect the quarterback or the rest of the backfield. With no other first-round picks, the Cardinals may have to trade with either picks and/or players on their roster to get another first-round pick. Without the that pick, the Cardinals will get second pick on most O-Line positions, with players like Greg Little (OT, Ole Miss) and Yodny Cajuste (OT, West Virginia) potentially off the board. There is way too much wrong with this team to make it playoff eligible.
Seattle Seahawks
Pros
Consistency. Since 2010, Seattle has only missed the playoffs twice. Ever since HC Pete Carroll arrived, this team has slowly evolved into one of the best teams year after year. The arrival of QB Russell Wilson has truly transformed the offense, with his ability to move in the pocket and throw on the move. WR Tyler Lockett has really became their #1 receiver, and the amount of quality runners in the backfield make defenses constantly fear play-action. And as always, their defense is amazing and deserves all of the credit it receives. It may take a little bit more work to get back to the level of excellence from 2012-15, but it could happen with smart draft picks.
Cons
Winning in the playoffs. Since winning the Super Bowl in 2013, they have failed to win it again, going 3-4 in the span and even missing the playoffs in 2017. Near the end of the season, their defense started to look a little more shaky especially in the secondary. The loss of Richard Sherman in the off-season really showed and they were really wishing that the star cornerback would return to Seattle. With the #21 draft pick in the first round, I expect the Seahawks to draft someone for their secondary. Some players that they really should take a look at is Deionte Thompson (S, Alabama) and Deandre Baker (CB, Georgia).
San Francisco 49ers
Pros
The return of QB Jimmy Garoppolo. In the three games that he played in 2018 before tearing his ACL, the 49ers were 1-2 with Garoppolo going 53-89, 718 yards, and five touchdowns. After his absence, San Francisco went 3-10 and were 3rd in the division. QB Nick Mullens didn't do a bad job during his short reign as QB, but you could definitely tell that the 49ers were missing him. The only standout star that was discovered during the season was TE George Kittle, who led the team in receiving yards with 1377 yards.
Cons
Turnovers. In the 2018 regular season, San Francisco had the worst T/G (Takeaway/Giveaway) ratio. This means that they gave the ball away way too much and rarely forced a turnover on the other side of the ball. With a young backup quarterback like Mullens and that half of the issue will hopefully be solved when Garoppolo retakes the reigns on the offense. The issue on defense may be solved during the draft. With Arizona presumably taking Kyler Murray as #1 overall, San Francisco may take Joey Bosa (DE, Ohio State) with their #2 overall pick. He could really help force more fumbles near the line and improve the defense that was 28th in points allowed last season.
Los Angeles Rams
Pros
Coming back with their key players. HC Sean McVay has really turned this organization around since taking over in 2017. Since his arrival, LA has gone 24-8 with a loss in the Super Bowl last season. QB Jared Goff has really started to grow as a player, throwing for 800 more yards in 2018 than in 2017. His vision down field is sharper and his reaction time is getting faster by the day. Their defense was threatening the whole season, with a stacked front seven including DT Ndamukong Suh, DT Aaron Donald, and OLB Dante Fowler Jr. With no key losses, LA can use their first round draft pick to bolster their O-Line and give more protection to Goff and the running backs. Speaking of their backs...
Cons
Is RB Todd Gurley III ok? For real though, he is ok to play at the level he reached during last season? It has been reported that the back may have arthritis in his knee, which may be the reason he had such a disappointing end of last season. He barely played in the NFC Championship or the Super Bowl, which raised a few eyebrows for experts and fans alike. It may be possible that he has reached his peak of performance this early in his career, which would be a travesty. The only positive I see from this is that the Rams signed veteran RB C.J. Anderson late last season , and he played fantastic while on the field. We will have to wait awhile to find out if Gurley will play in 2019 and to what level and all fans should hope that this great talent doesn't have his dream have an abrupt end.
Prediction:
1. Los Angeles Rams
2. Seattle Seahawks
3. Arizona Cardinals
4. San Francisco 49ers
If you ever want to contact me about anything related to sports or the blog, please feel free to send me an email at [email protected] and I will try to get back to you as soon as I can!
---