Predictions for the 2019 Men's College Basketball Title Game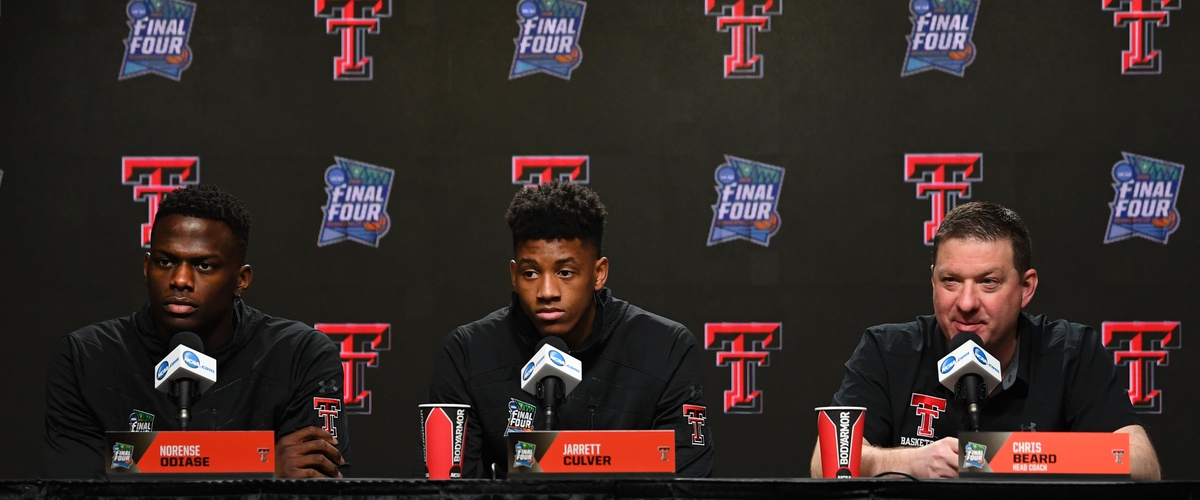 First of all, what a tournament! There wasn't as many upsets in the first half of the tournament, but since then it has been full steam ahead. Duke failed to make the Final Four despite being the favorites for the tournament. One seeds Gonzaga and UNC also failed to make the Final Four, leaving Virginia as the only one seed going into Minneapolis. 12 Oregon had a cinderella run go to the second weekend, a team that only got into the tournament due to winning the PAC-12 Tournament. It has been another great tournament with tons of great games. Hopefully tonight's game will end the tournament with a bang!
Virginia wins if...
They frustrate and shut down T-Tech G Jarrett Culver
Jarrett Culver was not a huge influence in Texas Tech's win in the Final Four over 2 Michigan State. If they fully frustrate him and have him start forcing turnovers, Virginia may be able to build a lead too large for Texas Tech to comeback from. I am still surprised to be talking about this team because they were lucky to make it to the title game. First, G Ty Jerome double-dribbled on his way up the court with under five seconds left. Second, they were fortunate enough that Auburn accidently fouled G Kyle Guy while he was shooting a three with time expiring. But, let's talk about why they can win their first national championship in school history. Jerome and Guy have been two of the best players on the court this postseason, with consistency and clutch shots throughout the tournament. Culver for the Red Raiders is leading in points, assists, and rebounds per game this season. If the Cavaliers can isolate him and force him into harsh situations, he may become frustrated and take bad shots and turnover the ball. Both teams have excellent defenses, each allowing under 60 PPG while scoring over 70 PPG, but something to have to give. If Culver's influence on the game is limited, it forces players like G Davide Moretti and F Tariq Owens to step up, which I don't know if they are capable of. This Cavaliers team has only lost to Duke twice and Florida State this whole season, that should mean something. Their resilience has been unbelievable since the beginning of the tournament and that may help them win their first national title in program history.
Texas Tech win if...
They match Virginia's physicality and force turnovers
The Red Raiders this whole tournament have been a team that gets the lead early and forces the other team to catch up. They will need to do that and more if they want to win their first national championship in program history. In their Final Four game against Michigan State they shut down star G Cassius Winston, they forced Winston to take made shots, resulting in him shooting 4/16 in the game. They will have to shut down two players on Virginia, Jerome and Guy. They combined for 36 of Virginia's 63 points in their Final Four win over 5 Auburn, with Guy sinking all three free throws to clinch the win for the Cavaliers. Virginia has one of the most physical defenses in the country, forcing turnovers left and right. One of the reasons however that Auburn stayed so close to them was due to Auburn forcing more turnovers than Virginia. It was like they didn't know what to do on the other side of the situation. Ty Jerome got in foul trouble late in the game, forcing him to be benched late in the game. Auburn took advantage of this and started their comeback that just fell short. If T-Tech can get Guy and Jerome in foul trouble by being physical in the paint, it may force Virginia to either bench the key players or play the risk of them receiving their fifth foul. G Matt Mooney was a fresh surprise for the Red Raiders Saturday, leading with 22 points. Texas Tech will come home with a national championship if they can match Virginia's physicality and have Culver return to form.
Prediction
Texas Tech 64 - Virginia 58
If you ever want to contact me about anything related to sports or the blog, please feel free to send me an email at brawdersje@gmail.com and I will try to get back to you as soon as I can!