Impact of Magic Johnson "Running out of Magic" in LA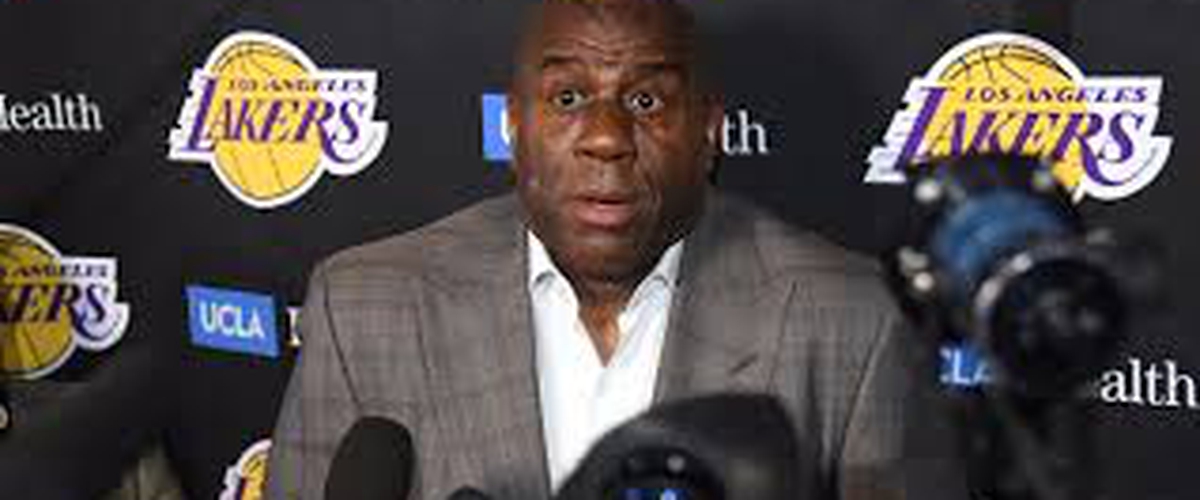 LA internally has been bleeding for a long time
No one could have expected a week ago that the Lakers would be in such turmoil. Before Magic Johnson's announcement Tuesday night, there was reports that Head Coach Luke Walton and Johnson have not been on speaking terms for weeks and would discuss the future for Walton in the organization after the regular season ended. Well, I guess Walton is going to have to beg to the owners instead of the former President of Basketball Operations due to Johnson stepping down. Ever since the Lakers told the New Orleans Pelicans that everyone except Lebron James was on the table for a trade for Anthony Davis, the foundation started to crumble. All of the players not named Lebron James started to lose trust in the front office due to this statement and in turn lost trust and chemistry with Lebron. It added to the already started spiral of the organization that has ended in the disaster. The Lakers were not holding up to the high expectations that were gained when James joined in the summer. Granted, most fans knew that the addition of James would not fix everything, but thought a playoff berth was possible. LA failed those expectations, and actually have ended the 2018-19 season with the same record as last season (35-47). You would think that the addition of Lebron James and the tools of such young players would lead to a better record than last season. I guess time will tell who will be the new President of Basketball Operations for the Lakers, but it will take more than just a new name tag to fix the foundation of this organization.
The front office will have a new look next season
A report from ESPN's Adrian Wojnarowski shortly after Johnson's announcement stated that some of the Lakers' coaching staff were going to get fired hours after their finale against Portland. It has been reported today (April 10th) that athletic trainer Marco Nunez has been fired, but GM Rob Pelinka will not be fired and may actually have his role in the organization greater due to Johnson's resignation. It is still uncertain if Luke Walton will get fired, with him participating in player exit meetings this morning. If Walton is fired, there are three main candidates that come to mind: Jason Kidd, Tyronn Lue and Juwan Howard. Kidd formerly coached in Brooklyn and Milwaukee with both teams becoming better after his exit. He is not a bad coach, but has too big of a desire for control of a organization. Howard has a past history with Lebron, playing with him in Miami from 2010-13 and was the assistant coach of Miami during Lebron's last season in Miami. Finally, Lue may be the frontrunner to get the HC job in LA. He has past coaching experience with James in Cleveland and was the HC of the Cavaliers during their 2016 NBA Finals win. No matter who does or doesn't get fired in the Lakers Organization, nobody comes out of this situation looking too great.
Future in LA uncertain for Lebron James?
This may be a stretch, but could James be leaving LA sooner than he thought. Most experts know that the former MVP will have some input on who will get the head coaching job for the Lakers and will say his position on each candidate. But will Lebron want to stay in LA for the foreseeable future. The team itself is a full disaster. James threw everyone under the bus when he started convincing Anthony Davis to join through trade to LA, but the trade negotiations fell through. Ever since the rumors of everybody except Lebron on the table came out, his teammates lost trust in him. I can't blame them, who would not lose trust of a teammate that just said they would rather have this one player and was willing to lose anyone on his team. Also, the team's failure of a season has resulted in James missing his first playoffs since 2005. He has been in the playoffs for 13 straight seasons, which is a stat that most people would not have recognized if someone didn't tell them. Lebron has always followed success, leaving Cleveland in turmoil twice for bigger markets. The first time leaving Cleveland did result in two titles in Miami before returning to home to create an all-star team to match Golden State. Even after winning one championship in Cleveland, he decided to go where the money and market is in LA, entering a young team looking for guidance. The project has not worked so far for James, and if the project continues to fail, only James knows where he would travel to next. If the Lakers were able to add players like Anthony Davis, Kevin Durant, or even Kawhi Leonard, it may lead to James staying on the West coast for a few more seasons.
If you ever want to contact me about anything related to sports or the blog, please feel free to send me an email at brawdersje@gmail.com and I will try to get back to you as soon as I can!