Reading Furious George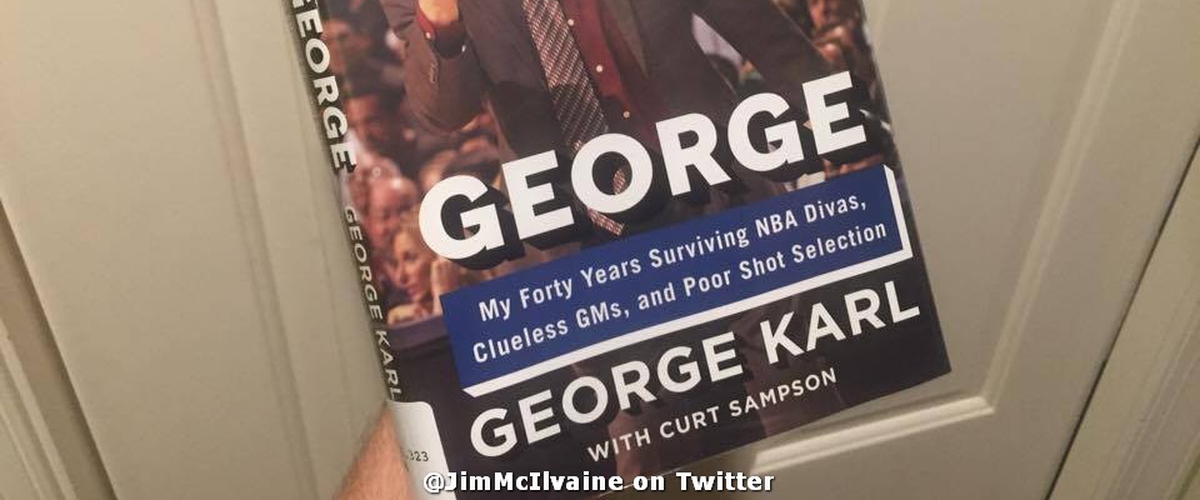 My local library finally got their hands on George Karl's latest book, Furious George. Surprisingly, my name was the first on the waiting list to check it out, so I dove right in. Several months ago, excerpts from the book came out, which infuriated some of Karl's former players, including Carmelo Anthony and Kenyon Martin.
Some of the anger seemed to rise from theories George had about why these guys turned into the people they had become and whether their upbringing and/or home environment had an impact on that outcome. As a former player of George's, I had to wonder if I would end up being mentioned somewhere in the book and if so, in what context? As months passed, I figured at least a few folks I knew would've gotten around to reading the book and if there was anything really bad, I would've heard about it already.
I did end up being mentioned a few times and I think George's take was fair and accurate. He did mention that Shawn Kemp was upset with the contract I received when I came to Seattle, but there's an important distinction between Shawn being upset with my contract relative to his own and Shawn being upset with me. Shawn and I got along very well throughout our time together in Seattle and even though I could've ended up making more money in the later years of my contract than Shawn had signed on to make in his contract, that never happened.
George suggested in the book that Shawn was upset that I was making $1 million more per year than Shawn, but that never happened either. In fact, there was never a year that I played in the NBA that I ever made more money than Shawn Kemp. If Shawn never re-negotiated his contract, there was a chance that at the end of my contract, I could've made more, but that didn't happen.
If Shawn had anyone to be upset at in that whole ordeal, it would've been his agent. He was the one who negotiated a long-term deal before I ever arrived in Seattle, which locked Shawn into a pay scale that would quickly become outdated as other contracts expired and more cap room was created.
By contrast, my agent, Ron Grinker, insisted on having me sign two one-year contracts in my first two years in the league. I was offered longer deals that could've given me more "security" or peace of mind in the short run, but he knew they wouldn't pan out over time. He knew that once I played under two different contracts, I'd become an unrestricted free agent after my second season. He also knew that timeframe corresponded with several teams around the league having huge cap space available to sign free agents and a shortage of free agent centers on the market (there's always a shortage of centers). Grinker's plan worked to perfection, while perhaps exposing the shortsightedness or inexperience of other agents. Enough about that though, let's get back to George's book.
Based on the buzz that came out early, I prepared myself for George's book to be a literary bloodbath. Twenty pages in, he had already insulted two different breweries. Who would've thought that would happen in a book written by a basketball coach? Maybe it was going to turn into a 200-page hit piece on everyone who wronged George during his career in basketball?
It really didn't turn out that way. In fact, Carmello and Kenyon barely had a mention until around 180 pages in. Now, once George got into his story with them, there were some rough patches and harsh descriptions (I think "batsh_t crazy" was used at some point). As I read the book, I wondered if there was anything George mentioned that was so blatantly false and offensive, that it would be worth someone getting really upset over?
George is a pretty wealthy guy, so if there were libelous statements made, legal action probably would've been taken by the offended parties. I imagine Harper Collins probably has some kind of legal expert read through the book pretty closely before it's release, to make sure that couldn't happen. What's left over are either things that have some measure of truth to them or George's own opinions.
Did he meet individually with me three times a year when I played for him in Seattle, as he suggested he did with all players in his book? I don't know what constituted "a meeting," but I remember meeting with him in his office at least once. In that meeting, he told me he wanted the Sonics to sign Bison Dele, instead of me. The book offered more clarity on that preference as he seemed to suggest Bison was the difference-maker who helped the Nuggest pull off one of the biggest upsets in NBA playoff history when their eighth-seeded team knocked off the 1-seed Sonics.
I remember realizing that meeting was the first time I got a good feel for the rift that existed between George and the Sonics GM, Wally Walker, which George also recounted in his book. For all the foresight my agent had in anticipating the free agent market, he either wasn't as dialed-in on the nature of the relationship between George and Wally or if he was, he wasn't concerned about how that might impact George's receptiveness to me being added to his roster. I do wish some of George's insight into how he approached and coached the game was explained to me and my teammates while he was coaching us, but hindsight is always 20/20. Maybe George didn't even fully understand it himself until years later?
I did enjoy playing for George and told him at Rick Majerus' funeral several years ago, that those Sonics teams were my favorite to play on during my entire NBA career. We were always very well-prepared for our opponents, very well-coached and very well-trained and maintained and we won a lot! His assistants during my time there, Bob Weiss, Dwane Casey, Tim Grgurich and Terry Stotts were four of the very best coaches I ever had at any level. The strength & conditioning coaches (Bobby & Dwight) were both outstanding and even though Frank Furtado may have been the oldest and longest-tenured trainer in the league when I was in Seattle, he was on the cutting edge of technology and did an amazing job of keeping everyone healthy.
The way the world seems to work today, spicy snippets of books are pre-released, to generate buzz about the book. That gets the media to talk about it and hopefully, readers to buy it. However, does anyone really remember those hot-button comments? Based on the fact that so many media outlets (as well as George's own liner notes) suggest this is his first book, I'd say no.
George Karl (and Don Yaeger) wrote a book 20 years ago- This Game's the Best. The way the world works today, if the words are visible to Google, they can live on indefinitely. If they are hidden behind the paywall of a published book, they'll only be remembered by people who remember them. Look at all the media outlets that commented on George's latest book as his first, without even realizing it was actually his second book. I think I have a copy somewhere, but his first book is only ranked 4,644,026th on Amazon's best-seller list, which suggests I may have a rare, first (and only) edition copy. Furious George is currently ranked 27,068th, so it seems like it will have a better shelf life, but I guess we'll know more when we see how it stands the test of time.