Chargers Defeat Hopeless Giants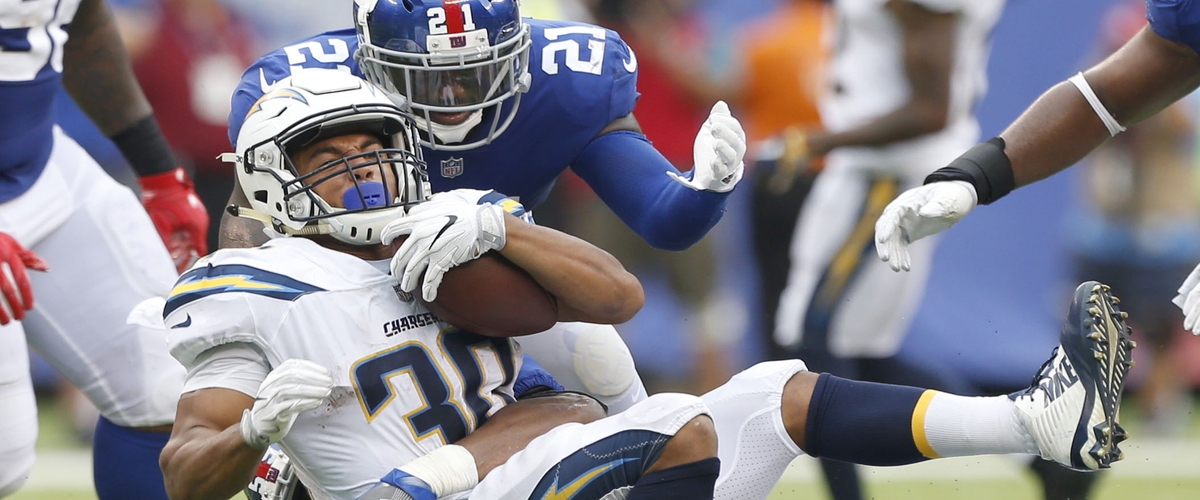 In a battle between 0-4 teams, someone was just looking to get a win between the Los Angeles Chargers and the New York Giants. Melvin Gordon caught the game-winning 10-yard touchdown pass with 3:04 remaining in a 27-22 win for the Chargers over the Giants.
It happened after Melvin Ingram stripped sacked Eli Manning to give the Chargers good field position.
In the first quarter, the Giants scored on a safety and a 23-yard touchdown run by Orleans Darkwa. Darkwa finished with 69 rushing yards on 8 carries and a touchdown. He left the game with a calf injury.
In the second quarter, Melvin Gordon caught a 6-yard touchdown pass from Phillip Rivers. Gordon finished with 105 rushing yards on 20 carries and he caught 6 passes for 58 yards receiving and 2 touchdowns.
With the Giants trailing 10-9 in the third-quarter, Roger Lewis caught a 29-yard touchdown pass from Eli Manning. Brandon Marshall and Sterling Shepard left the game with ankle injuries and they did not return.
In the third, Rivers threw a 25-yard touchdown pass to Hunter Henry. Henry finished with 3 catches for 42 yards receiving and a touchdown. Rivers completed 21-of-44 passes for 258 yards 3 touchdowns and a interception.
In the fourth quarter, Odell Beckham Jr. caught a 48-yard touchdown pass from Eli Manning. Beckham Jr. finished with 5 catches for 97 yards receiving and a touchdown and he also rushed for 8 yards. Late in the fourth, Beckham Jr. broke his ankle and he was carted off the field.
Manning completed 21-of-36 passes for 225 yards 2 touchdowns and an interception. Manning threw an interception to Tre Boston late in the game to seal the deal for the Chargers.
The Chargers will head home to face the Oakland Raiders (2-3) next Sunday and the Giants will head to Denver to face the Broncos (3-1) next Sunday Night.
---