Chiefs Hold Off Texans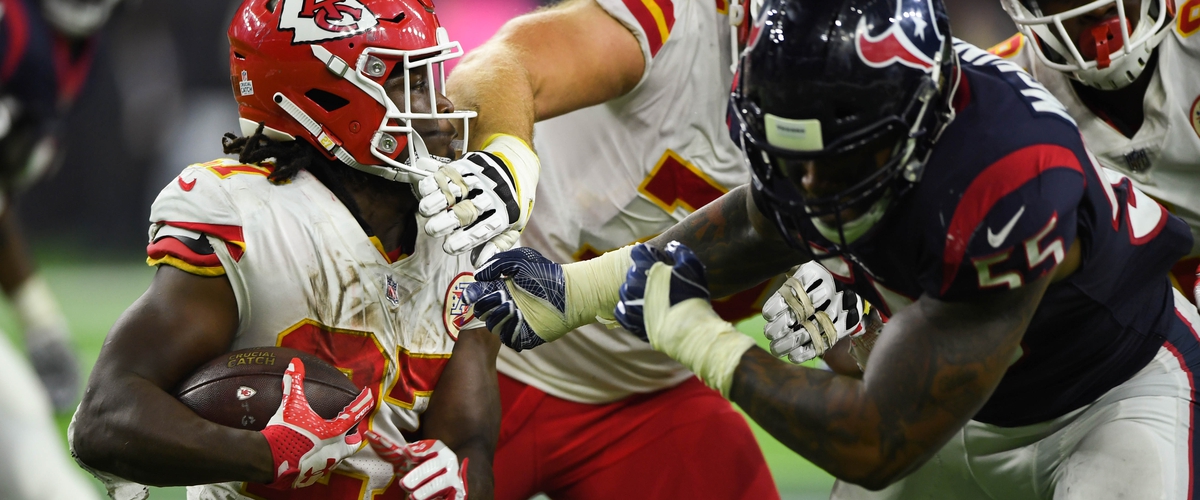 The Kansas City Chiefs wanted to stay undefeated on Sunday Night in Houston and the Texans wanted to put the first blemish on Kansas City's record. The Chiefs remain perfect as they defeated the Texans 42-34.
With the Chiefs leading 6-0 in the second-quarter, Alex Smith threw a 8-yard touchdown pass to Charchandrick West. With the Texans trailing 16-0 in the second, DeShaun Watson threw a 6-yard touchdown pass to DeAndre Hopkins. Later in the second, West caught a 4-yard touchdown pass from Alex Smith.
Those were the only receptions of the game for West. Chiefs running back Kareem Hunt had 107 rushing yards on 29 carries.
In the third quarter, Will Fuller V caught a 9-yard touchdown pass from Watson.
With the Texans trailing 26-13 in the fourth, Fuller V caught a 48-yard touchdown from Watson. Fuller V only had two receptions in the game, but they both went for touchdowns.
De'Anthony Thomas caught a 10-yard touchdown from Alex Smith. Smith completed 29-of-37 passes for 324 yards and 3 touchdowns. Tyreek Hill returned a 82-yard punt for a touchdown for Kansas City.
DeShaun Watson threw both of his touchdown passes to DeAndre Hopkins in the fourth (34 and 1-yard out). Watson completed 16-of-31 passes for 261 passing yards and 5 touchdowns. Hopkins finished with 4 catches for 52 yards receiving and 3 touchdowns.
The Chiefs will head back home to face the Pittsburgh Steelers (3-2) next Sunday and the Texans will host the Cleveland Browns (0-5) next Sunday.
---