Cowboys Shutdown Giants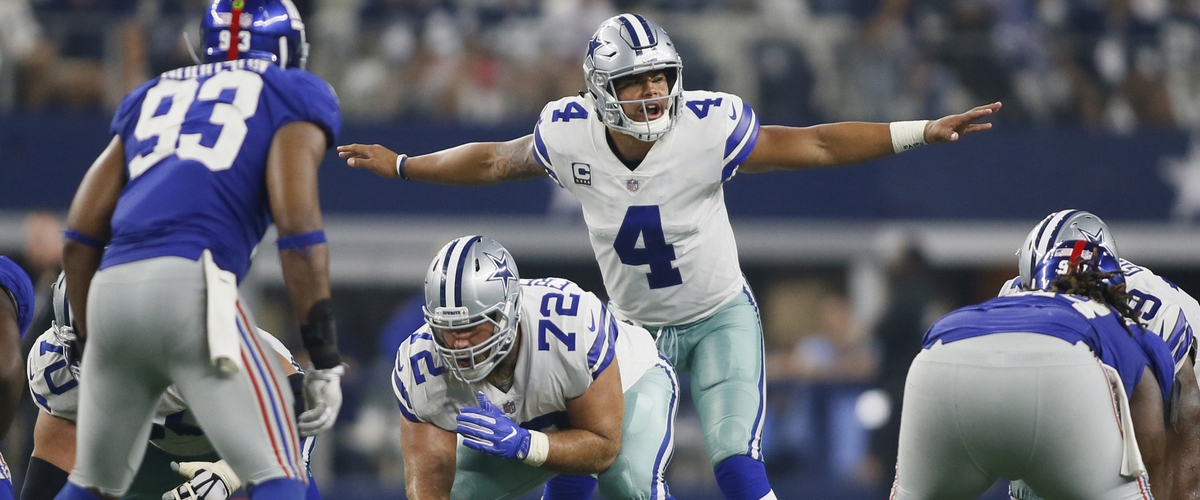 Once again NFC East New York Giants and the Dallas Cowboys squared off in week one of the regular season. Dallas never trailed and they defeated the Giants 19-3.
The Giants offense seemed to be offensively challenged for much of the first half. They only picked up two first downs. The offensive line was horrendous. Demarcus Lawerence recorded two sacks for Dallas and Charles Tapper had another one for the Cowboys.
The only touchdown that was scored in the game was in the second-quarter on a 12-yard touchdown pass to Jason Witten from Dak Prescott. Witten finished 7 catches for 59 yards receiving and a touchdown. Witten is now in first place in Cowboys history for receiving yards. Prescott completed 24-of-39 passes for 268 yards passing and a touchdown. He only rushed three times for 24 yards.
Cowboys running back Ezekiel Elliott's suspension has been blocked by a judge and it allowed him to suit up. He rushed for 104 yards on 24 carries. Elliott also caught 5 passes for 36 yards receiving.
The Giants best drive of the game came in the second half where they took up almost 10 minutes, but they had to settle with a Aldrick Rosas 25-yard field goal. New York's defense was on the field a lot and it didn't play that badly. Olivier Vernon recorded the only sack for the Giants.
B.J. Goodson had a game high 14 tackles. The Giants forced the Cowboys to kick four field goals. Dan Bailey made them all (21, 48, 42, and 36 yards).
In the fourth quarter, Eli Manning threw an interception to Anthony Brown and it sealed the deal for Dallas. Manning completed 29-of-38 passes for 220 yards passing and one interception.
The Giants didn't have receiver Odell Beckham Jr. because of an ankle injury and his presence was missing big time, but it may not have made a difference will see as the season goes on. Sterling Shepard caught 7 passes for 44 yards receiving.
Brandon Marshall only had one catch for 10 yards and it came with less than 10 seconds remaining. Janoris Jenkins held Dez Bryant in check with 2 catches for 43 yards receiving.
The New York Giants will host the Detriot Lions (1-0) next Monday Night and the Dallas Cowboys will travel to face the Denver Broncos next Sunday.
---