NHL Preview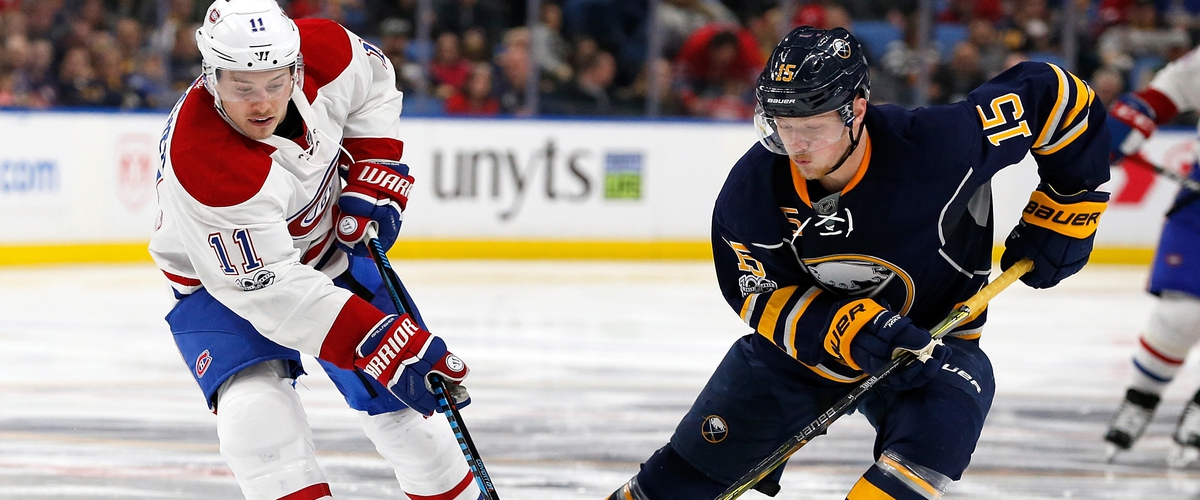 With a little bit over three weeks to go before the regular season begins, everyone is going to try to dethrone the Pittsburgh Penguins from winning three championships in a row. There will be 31 NHL teams this season. The Vegas Golden Knights are the newest addition to the NHL and will see what they bring to the table.
The young players like Connor McDavid, Auston Matthews, Jack Eichel, etc. is what making the NHL fun to watch year in and year out. The NHL is more a speed and skill game now and trap defenses is what makes the NHL boring. Can a Canadian team finally win it all since the 1993 Montreal Canadiens or will the cup stay in America?
Eastern Conference: Metropolitan Division: 1. Columbus Blue Jackets: Columbus is one of the youngest teams in the NHL this season. They had a 16-game win streak last season and with the talent they have, Columbus could do it again this season. John Tortorella has developed a winning culture inside the Blue Jackets locker room. Nick Foligno is an excellent leader for them and Cam Atkinson is a scoring tank. Losing Brandon Saad will hurt, but getting Artemi Panarin will keep Columbus's offense dangerous. Sergei Bobrovsky is the best goalie in the NHL not named Matt Murray. They will be top team in division because of Pittsburgh and Washington's player personnel changes. Zach Werenski and Seth Jones are very good defenseman.
2. Pittsburgh Penguins: Sidney Crosby and Evgeni Malkin are the catalysts on this Penguins team. Once again they have depth in the lineup with Jake Guentzel, Conor Sheary, Bryan Rust, Phil Kessel, and possibly Daniel Sprong now. The blue line will probably be shaky once again this season, but it won't be catastrophic as long as Justin Schultz stays healthy. The defense looked lost last year without him. Matt Murray is the best goalie in the NHL right now and losing Marc-Andre Fleury will hurt because Antti Niemi isn't as good as him. If someone gets injured, Mike Sullivan will find a way to pull his magic again.
3. Washington Capitals: They failed to get past the second round of the postseason once again last year. Washington won the Presidents' Trophy for the second consecutive season. Alex Ovechkin fails to perform when the stakes are at its highest. They lost key players like Marcus Johansson, Nate Schmidt, Kevin Shattenkirk, and Carl Alzner. Braden Holtby may get off to a slow start but he will bounce back when he gets into a groove. Backup Philipp Grubauer will probably play 20-30 games this season just in case the Capitals want to trade him. Jakub Vrana, Nathan Walker, Travis Boyd, Christian Djoos, and Madison Bowey will be some of the new faces in the Capitals lineup. They need more speed and skill. T.J. Oshie and Evgeny Kuznetsov were signed to eight-year deals in the offseason.
4. Carolina Hurricanes: The Hurricanes haven't made the postseason since the 2008-2009 season and this is their best chance in a while to do so. They are young but the Hurricanes have some play makers. Teuvo Teravainen, Jaccob Slavin, and Jordan Staal are just some of them. Justin Williams returned to Carolina to be a mentor to this young team. Scott Darling and Cam Ward could be a very good goaltending tandem this season.
5. New York Islanders: The Islanders caught lightning in a bottle last season when Doug Weight took over as the coach for the Islanders mid-season. They only missed the playoffs by a point and they hope to actually make it this season. John Tavares is on a contract season and it is unknown what his future with the Islanders actually is. It is important for the Islanders to get off to a fast start because if they don't, the John Tavares trade rumors will start to swirl. Young players like Josh Ho-Sang, Anthony Beauviller, and Mathew Barzal hope to give Tavares a spark. Jordan Eberle and Anders Lee will be pesky on Tavares's line. The blue line will be decent. The biggest question with the Islanders is how will Jarsolav Halak and Thomas Greiss perform between the pipes.
6. Philadelphia Flyers: It is very possible this is Claude Giroux's last chance to make the playoffs with the Flyers or they will move on from him. Why do you think they drafted Nolan Patrick? If Patrick stays healthy, he could threaten to overtake Giroux's spot. Wayne Simmonds and Jakub Voracek has been better recently than Giroux. The Flyers young talent will eventually be brought up, whether it is this year or next season. The defense is still young and raw. Goaltending will be Philadelphia's downfall. Anthony Stolarz should be the goalie but it is going to be Brian Elliott and Michal Neuvirth.
7. New Jersey Devils: I thought the addition of Taylor Hall last season was going to make New Jersey a playoff team, but they are obviously still a year or two away. Nico Hischier will improve this offense and other rookie Michael McLeod could possibly. The issue is the defense is very shaky. Corey Schneider lost his edge last season in net and if he struggles again this season, it could be another long season for the Devils.
8. New York Rangers: I thought the Rangers were going to be the basement last season, but they found a way to make the playoffs. If Lundqvist goes down this season, they don't have Antti Raanta anymore. Ondrej Pavalec isn't the goalie Raanta is. The Rangers offense won't be that special this season and they still don't have a legit goal scorer. It is going to catch up to them at some point. Rangers have had too many playoff failures and they need to have a bad season and it wouldn't be a bad thing for this franchise.
Atlantic Division: 1. Tampa Bay Lightning: Steven Stamkos not being healthy in ways has held this Lightning team back. The Lightning have done a good job of not making excuses without him. Nikita Kucherov is one of the most underrated goal scorers in the entire NHL. Andrei Vasilevskiy is the main goalie now. Ben Bishop was traded last season. They are one of the favorites to win it all.
2. Toronto Maple Leafs: Auston Matthews is ready to take his game to another level and lead the Maple Leafs to bigger things. Mitchell Marner, William Nylander, and Kasperi Kapanen are also young snipers on this team. Veteran Patrick Marleau will influence this team in a positive way. Frederik Andersen will be the most important player on this team. If he goes down, Maple Leafs will struggle to win games.
3. Boston Bruins: Bruce Cassidy took over as coach in the middle of last season. His team played faster and harder, but they just had a bad matchup in the first round against the Ottawa Senators. As long as Tuukka Rask stays healthy, they always have a chance. David Pastrnak hasn't committed to them long term and that is not good as he broke out last season. The Bruins blue line needs to stay healthy and Torey Krug and Charlie McAvoy could be headaches on the blue line for Boston this season.
4. Buffalo Sabres: The Sabres have questions between the pipes, but they will play hard every night and the Sabres haven't made the playoffs since 2010-2011. They could surprise people this season but they need to be patient if things don't go their way. Jack Eichel makes this team better in every way, shape, and form. Sam Reinhart, Alex Nylander, Benoit Pouliot, and Kyle Okposo will be underrated offensively for the Sabres. They also have an underrated blue line.
5. Ottawa Senators: The Senators made it all the way to the eastern conference finals last season and I don't think they were that good to begin with. Craig Anderson played sensational because of what he was dealing with last season, but I don't expect him or his teammates to repeat the kind of season they did. Toronto got better and Tampa Bay got better as well. The division will be a little tougher but the eastern conference will be tough again this season.
6. Montreal Canadiens: Carey Price just got paid big time, but he isn't the best goalie in the world anymore. Montreal looked heartless in the postseason. They lacked an identity and will again this season. Jonathan Drouin will be the only possible spot light on this offense this season. Alex Galchenyuk and Max Pacioretty are also snipers, but they could very well struggle this season.
7. Detroit Red Wings: The Red Wings will struggle again this season, but they do have some key players to keep an eye on though. Henrik Zetterberg, Dylan Larkin, and Andreas Anthanasiou are some of the players that will keep the Red Wings fans on their seats this season. Other than that, it will be a tough season. Jimmy Howard will be a better goalie this season than Petr Mrazek.
8. Florida Panthers: They are a mess right now. After losing to the Islanders in the playoffs two years ago, it seems like they are in a complete downfall. Roberto Luongo is getting older and James Reimer is just average at best between the pipes.
Western Conference: Central Division: 1. Nashville Predators: The Predators will be hungry out of the gate and they have unfinished business to take care of. They lost in six games against the Penguins in the finals last season. Nashville shocked the world when they swept Chicago in the first round. Filip Forsberg could possibly score 40 goals this season. With the additions of Nick Bonino and Scott Hartnell, the Predators add more grit to the lineup. Pekka Rinne needs to keep playing at a high level between the pipes. The Predators defense is what makes this team go. They will miss Ryan Ellis, but the Predators will be fine.
2. Chicago Blackhawks: The Blackhawks might have some depth this season, but will it be enough to win another championship? They got bad Brandon Saad and Patrick Sharp back. Alex DeBrincat could be a break out candidate for the Blackhawks this season. Corey Crawford is getting older and his game isn't getting stronger and that could be a concern for the Blackhawks.
3. Minnesota Wild: The Wild were a surprise team last season in the west, but they were bounced in the first round by the St. Louis Blues. They have talent to win a lot of games, but the coaching will fail them when it comes playoff time.
4. Dallas Stars: Ken Hitchcock is back behind the bench with the Dallas Stars. They have a goalie now in Ben Bishop and there offense is really good. Dallas could win a playoff series.
5. Winnipeg Jets: Blake Wheeler, Patrik Laine, and the rest of the Jets are ready to make a possible playoff push this season. Steve Mason and Connor Hellebuyck will need to play better in net in order to have a chance to make the playoffs. Jacob Trouba is ready to take his game to another level.
6. St. Louis Blues: Jake Allen was a better goalie last season when Martin Brouder became his goalie coach. Brouder left and Allen will now be left in the dust. The Blues have a very good defense, but they are going be offensively challenged this season and they didn't get any better.
7. Colorado Avalanche: The Avalanche were the worst team in the NHL last season and they could very well be again this season. Semyon Varlamov isn't a very good goalie and the Avalanche lack passion. Nathan McKinnon will be a highlight reel waiting to happen, but they need to trade Matt Duchene and Tyson Barrie and start rebuilding this team.
Pacific Division: 1. Edmonton Oilers: Connor McDavid won the MVP last season and he is ready to take his team to the promise land and possibly win it all. They have a ton of depth and Cam Talbot was outstanding in net last season. Ryan Strome, Jussi Jokinen, and Jesse Puljujarvi will give the Oilers even more depth. Leon Draisaitl is the most underrated player in the NHL.
2. Calgary Flames: The Flames have a lethal offense and Sam Bennett and Matthew Tkachuk will bring their game to another level this season. The defense got better and Mike Smith is a major upgrade in net compared to Brian Elliott and Chad Johnson from a season ago. They are ready to seriously bring back the rivalry of Edmonton vs Calgary back.
3. Anaheim Ducks: John Gibson will make or break this Ducks team this season. He was very shaky between the pipes last season and he was one of the reasons why the didn't go to the finals. Corey Perry and Ryan Getzlaf need more help. The defense will be more thin than last season.
4. Arizona Coyotes: The Coyotes are going to be a fun and exciting team to watch this season. They are very young and Rick Tocchet takes over at head coach. He will bring a vocal voice to the team like Mike Sullivan did in Pittsburgh. Dylan Strome, Clayton Keller, Anthony Duclair, and Jakob Chychrun are some of the young players to keep an eye on this season. Antti Raanta will be the new goalie for the Coyotes this season.
5. San Jose Sharks: Losing Patrick Marleau will hurt, but they should still be decent. The Sharks may miss the playoffs because the west got better and they didn't make any moves to make themselves better in the offseason. Martin Jones and Brent Burns will be the two most important players on this team this season.
6. Los Angeles Kings: If Jonathan Quick stays healthy, they may have a chance to make the playoffs but the Kings are still offensively challenged. Anze Kopitar is one of the best offensive players in the league but he doesn't have enough help around him.
7. Vegas Golden Knights: Marc-Andre Fleury will be a fan favorite in Vegas. They are going to struggle because it is their first season in the NHL. Gerard Gallant will be the coach, but it is going to take time. James Neal, David Perron, Shea Theodore, Reilly Smith, and Jonathan Marchessault are some of the key players on offense for the Golden Knights.
8. Vancouver Canucks: Jacob Markstrom will be very good between the pipes this season, but they are still not going to be very good. The Sedin twins are getting older and they should maybe trade them so they can win a title somewhere together but that probably won't happen. Bo Horvat and Reid Boucher will be the only highlights of this team.
Playoffs: Eastern Conference: First Round (1) Columbus over (WC2) New York, (2) Pittsburgh over (3) Washington, (1) Tampa Bay over (WC1) Carolina, and (2) Toronto over (3) Boston.
Second Round: (2) Pittsburgh over (1) Columbus and (2) Toronto over (1) Tampa Bay.
Third Round: (2) Pittsburgh over (2) Toronto.
Western Conference: First Round: (1) Edmonton over (WC2) Arizona, (2) Calgary over (3) Anaheim, (1) Nashville over (WC1) Dallas, and (2) Chicago over (3) Minnesota.
Second Round: (1) Edmonton over (2) Calgary and (2) Chicago over (1) Nashville.
Third Round: (1) Edmonton over (2) Chicago.
Stanley Cup Finals: (1) Pittsburgh over (1) Edmonton.
Enjoy the season everyone!
---