McCoy Runs Wild in Bills Win over Dolphins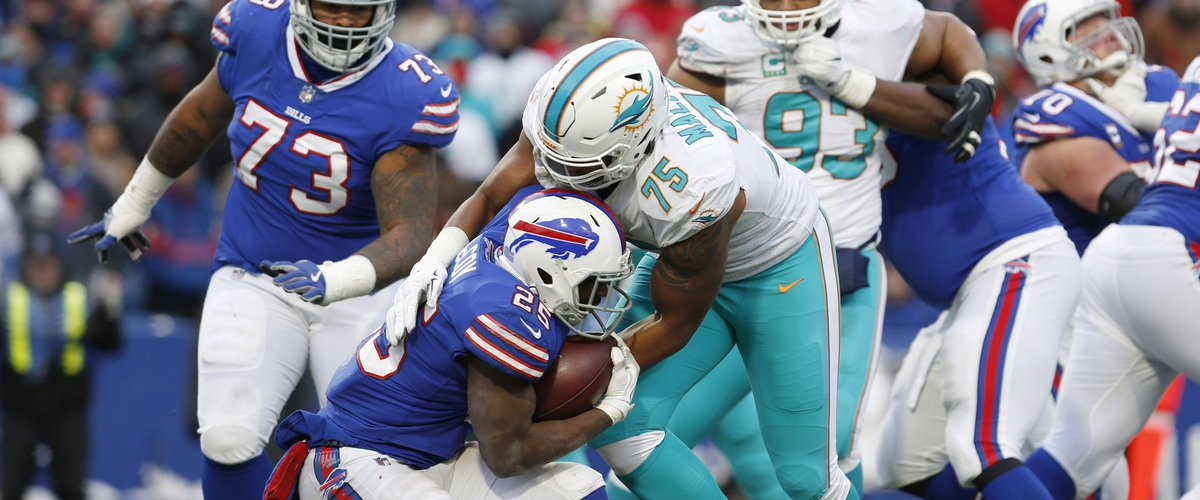 LeSean McCoy put the Buffalo Bills on his back once again as he rushed for 50 yards on 20 carries and a touchdown, along with four catches for 46 yards receiving and a touchdown in a 24-16 win over the Miami Dolphins. This had major playoff impacts heading into this game.
The Dolphins were 6-7 and the Bills were 7-6. With this Buffalo win, they are one step closer to a playoff berth. LeSean McCoy scored on a 4-yard touchdown run in the first for the Bills.
With the Bills leading 7-6 in the second, McCoy caught a 16-yard touchdown pass from Tyrod Taylor. Later in the second, Taylor scored on a 9-yard touchdown run. Taylor completed 17-of-29 passes for 224 yards and a touchdown. He also rushed for 42 yards on six carries and a touchdown.
With the Dolphins trailing 24-6 in the fourth, Kenyan Drake scored on a 1-yard touchdown run. He finished with 78 rushing yards on 16 carries and a touchdown. Drake also caught six passes for 35 yards receiving and a touchdown.
Cody Parkey made a 26-yard field goal for the Dolphins with under a minute remaining (also made 28 and 41-yard field goals). The recovered the onside kick, but Jay Cutler threw an interception on the next play. Cutler completed 28-of-49 passes for 274 yards and three interceptions. Cutler also rushed for eight yards on two carries. Jarvis Landry was the Dolphins leading receiver with 10 catches for 99 yards.
The Dolphins will be on the road against the Kansas City Chiefs (8-6) next Sunday and the Bills will be on the road against the New England Patriots (10-3) next Sunday.
---