MLB All-Stars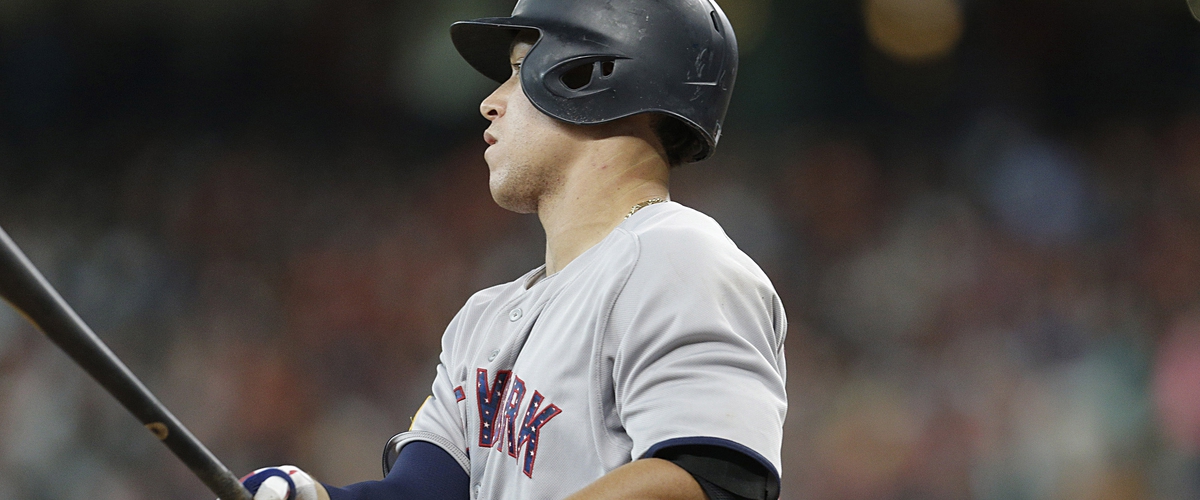 Yesterday the MLB released the all-star game rosters for the National League and the American League. For the first time in a while, the MLB All-Star Game winner isn't going to determine home field advantage in the World Series.
That is a very good thing. Also who was possibly snubbed? The game will take place on July 11th in Miami.
Here are the starters for the American League: First Base: Justin Smoak (TOR), Second Base: Jose Altuve (HOU), Shortstop: Carlos Correa (HOU), Third Base: Jose Ramirez (CLE), Catcher: Salvador Perez (KC), Outfield: Aaron Judge (NYY), Mike Trout (LAA), and George Springer (HOU). Reports are out there that Mookie Betts (BOS) will start over Mike Trout because of an injury. DH: Corey Dickerson (TB).
Pitchers: Chris Sale (BOS), Dallas Keuchel (HOU), Ervin Santana (MIN), Jason Vargas (KC), Luis Severino (NYY), Yu Darvish (TEX), Michael Fulmer (DET), Corey Kluber (CLE), Lance McCullers Jr. (HOU), Craig Kimbrel (BOS), Andrew Miller (CLE), and Dellin Bentances (NYY).
Reserves: Catcher: Gary Sanchez (NYY), First Base: Yonder Alonso (OAK), Second Base: Starlin Castro (NYY) and Jonathan Schoop (BAL), Third Base: Miguel Sano (MIN), Shortstop: Francisco Lindor (CLE), Outfield: Avisail Garcia (CWS) and Michael Brantley (CLE), DH: Nelson Cruz (SEA).
Final Vote for AL: Elvis Andrus (TEX) shortstop, Xander Bogaerts (BOS) shortstop, Didi Gregorius (NYY) shortstop, Logan Morrison (TB) first base, and Mike Moustakas (KC) third base.
Can't think of a possible snub in the American League.
National League Starters: First Base: Ryan Zimmerman (WSH), Second Base: Daniel Murphy (WSH), Shortstop: Zack Cozart (CIN), Third Base: Nolan Arenado (COL), Catcher: Buster Posey (SF), Outfield: Bryce Harper (WSH), Charlie Blackmon (COL), and Marcell Ozuna (MIA).
Pitchers: Clayton Kershaw (LAD), Max Scherzer (WSH), Robbie Ray (ARI), Zack Grienke (ARI), Carlos Martinez (STL), Stephen Strasburg (WSH), Kenley Jansen (LAD), Greg Holland (COL), Wade Davis (CHC), Brad Hand (SD), Corey Knebel (MIL), and Pat Neshek (PHI).
Reserves: Catcher: Yadier Molina (STL), First Base: Paul Goldschmidt (ARI) and Joey Votto (CIN), Second Base: DJ LeMahieu (COL) and Josh Harrison (PIT), Third Base: Jake Lamb (ARI), Shortstop: Corey Seager (LAD), Outfield: Cody Bellinger (LAD), Giancario Stanton (MIA), Michael Conforto (NYM), and Ender Inciarte (ATL).
Final Vote for NL: Justin Bour (MIA) first base, Kris Bryant (CHC) third base, Anthony Rendon (WSH) third base, Mark Reynolds (COL) first base, and Justin Turner (LAD) third base.
Whoever doesn't get voted into the all-star game for NL is getting snubbed. Jay Bruce (NYM), Jacob DeGrom (NYM), and Anthony Rizzo (CHC) are other names to add to the list as well.
Terry Francona will manage the AL in the all-star game. Joe Maddon will manage the NL in the all-star game
---