NFL Week 2 Preview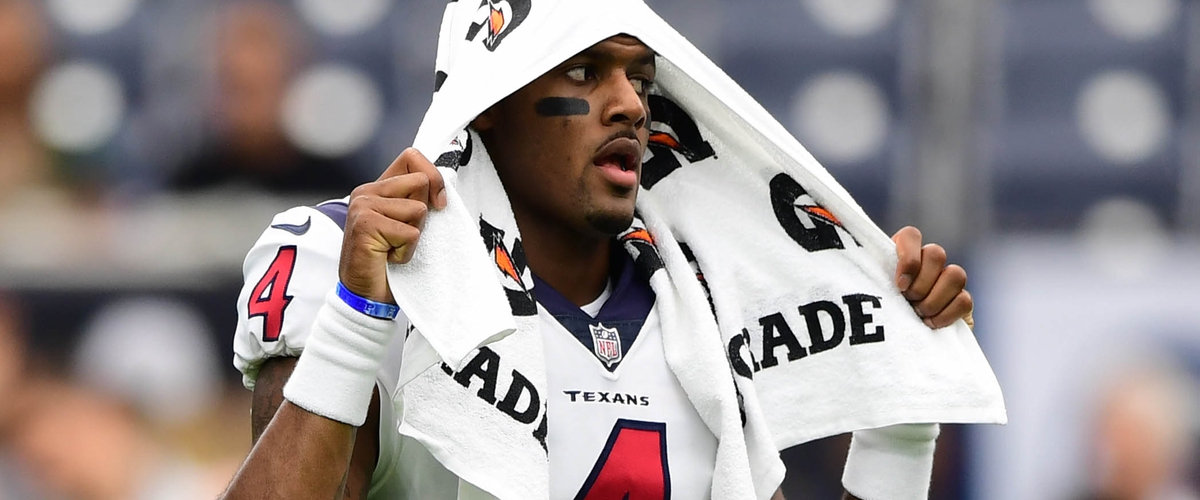 Week one was off to an interesting start to the NFL season. The Giants offense didn't have Odell Beckham Jr. and it looked lost without him. Tom Brady and the Patriots surprisingly lost to the Kansas City Chiefs in the season opener.
The Indianapolis Colts are worse than we thought and the Arizona Cardinals are going to miss David Johnson in the backfield with an wrist injury. The key thing from going to week one to week two is how much of an improvement teams make. I went 8-7 last week with my picks.
Houston Texans 13 Cincinnati Bengals 7: The Texans surprisingly played horrendous against the Jaguars last week. I think they bounce back against the Bengals and tee off of Andy Dalton. Dalton is going to get humiliated once again and it won't be surprising if he got benched, but Marvin Lewis won't do it.
Cleveland Browns 10 Baltimore Ravens 20: The Ravens defense was outstanding against the Bengals last week. I expect it to give DeShone Kizer a warm welcome this week. The Ravens offense is flawed, but the defense will set them up to possibly go 2-0.
Buffalo Bills 13 Carolina Panthers 16: Sean McDermott returns to Carolina as the head coach of the Buffalo Bills. He probably has an idea of what Ron Rivera likes to do best. This game could easily future running the ball and playing defense. I don't expect a whole lot of passing yards in this game. The field goal kickers are going to have to be ready to make some long field goals.
Arizona Cardinals 14 Indianapolis Colts 7: Bruce Arians returns to Indianapolis as the head coach of the Arizona Cardinals. He was the interim coach for Indy in 2012 when Chuck Pagano was diagnosed with cancer. Carson Palmer is a turn over machine lately for Arizona, but he will look like his old self against a bad Colts defense.
Tennessee Titans 17 Jacksonville Jaguars 14: The Titans weren't that bad against the Raiders last week. They took care of the ball, but the Raiders just made a couple of more plays than them. Jacksonville suffocated the Texans on defense, but the Titans have a better offense than Houston does. The Titans will match the Jaguars game plan and execute it better.
Philadelphia Eagles 30 Kansas City Chiefs 27: Kansas City is a tough place to play, but Carson Wentz is a magician in the month of September. He was a magician once again last week against the Washington Redskins. The Eagles defense is tough, but the Chiefs speed will put them on notice. I don't think Alex Smith is going to repeat the same performance as last week.
New England Patriots 21 New Orleans Saints 28: The Patriots defense is going to have trouble against a speedy Saints offense. It is vulnerable to the big play. Tom Brady and Drew Brees will be racking up numbers.
Minnesota Vikings 24 Pittsburgh Steelers 27: The Vikings offense was better than I thought it was going to be in the first week. Sam Bradford played well and he could really test the Steelers secondary. However, it is the Steelers home opener and Le'Veon Bell will have a bounce back game.
Chicago Bears 14 Tampa Bay Buccaneers 21: Tampa Bay got an unwanted bye week in week one because of Hurricane Irma. They will return home with heavy hearts. Jameis Winston will put on a show against an average Bears defense. Jordan Howard and Tarik Cohen can cause problems for the Buccaneers defense though.
Miami Dolphins 28 Los Angeles Chargers 21: The Miami Dolphins were practicing in Los Angeles all week and it should be no issue for them. Jay Cutler will make his Dolphins debut and I expect him to sling it. The Chargers pulled a Chargers last week when they lost the game after a potential game tying field goal was blocked.
New York Jets 3 Oakland Raiders 38: Is it possible this game is over before it even begins? Derek Carr and Marshawn Lynch will give the Jets defense headaches and the defense will feast on the Jets offense.
Dallas Cowboys 24 Denver Broncos 17: It is very difficult to force turnovers on the Cowboys offense and I wasn't impressed with the Broncos in week one. I wasn't impressed with Dallas either, but it didn't come down to the wire for them. Ezekiel Elliott will break free at some point against the Broncos defense.
Washington Redskins 20 Los Angeles Rams 23: The Redskins are horrendous on the line of scrimmage. The Rams will dominate the line of scrimmage. Jared Goff will be impressive once again for Los Angeles for the second consecutive week. Kirk Cousins will be under pressure all day long.
San Francisco 49ers 3 Seattle Seahawks 13: Seattle's offensive line is horrendous, but the offense will do just enough to win. The 49ers defense wasn't bad last week, but it will most likely be without Reuben Foster this week. The Seahawks defense played well last week, but it was on the field for too long.
Green Bay Packers 31 Atlanta Falcons 35: The Packers usually don't win in Atlanta. They were embarrassed in the NFC Championship Game and Green Bay hopes it doesn't happen again. Aaron Rodgers and Matt Ryan will tear up defenses, but teams can't afford to be kicking field goals in this one.
Detroit Lions 28 New York Giants 31: I guess I am counting on Odell Beckham Jr. to suit up for this game for the Giants. If they don't have him, it is almost as if it will be an automatic loss for them. The offensive line was horrendous but Eli Manning needed some blame as well. Manning should bounce back in the home opener. Matthew Stafford will keep the Lions in the game as usual, but which defense will make the key stop when it matters.
---