Raiders Top Dolphins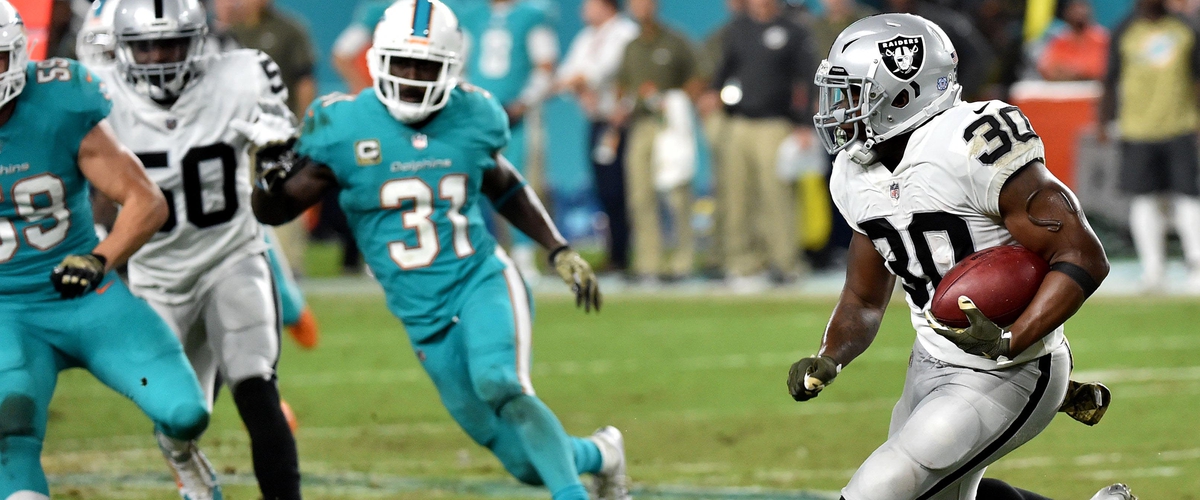 Potential wild card tie breakers were on the line Sunday Night when the Oakland Raiders and the Miami Dolphins played on a wet Miami field. The Raiders defeated the Dolphins 27-24.
With the Dolphins trailing 3-0 in the second quarter, the Dolphins scored on a 10-yard touchdown reception by Damien Williams from Jay Cutler. Williams finished with six receptions for 47 yards receiving and a touchdown. He also rushed for 14 yards on seven carries.
Williams saw a lot of action because of the Jay Ajayi trade to Philadelphia. Kenyan Drake also saw some time at running back. He rushed for 69 yards on nine carries and caught six passes for 35 yards receiving.
Johnny Holton caught a 44-yard touchdown pass from Derek Carr later in the second quarter. That was Holton's only reception of the game and Carr completed 21-of-30 passes for 300 yards one touchdown and one interception. Jared Cook was the Raiders leading receiver with eight catches for 126 yards receiving.
With the Raiders leading 13-9 in the third, Marshawn Lynch scored on a 22-yard touchdown run. Jarvis Landry caught a 6-yard touchdown pass from Jay Cutler later in the third. Landry finished with six receptions for 32 yards receiving and a touchdown.
In the fourth quarter, Lynch scored on a 3-yard touchdown run. He finished with 57 rushing yards on 14 carries and two touchdowns. Julius Thomas caught a 15-yard touchdown pass late in the game for the Dolphins (Drake 2-pt conversion). Thomas finished with six receptions for 84 receiving yards and a touchdown. Cutler completed 34-of-42 passes for 311 yards and three touchdowns.
The Raiders will go on a bye week and the Dolphins will travel to face the Carolina Panthers (5-3) next Monday Night.
---