Speed Haunts Patriots Against Chiefs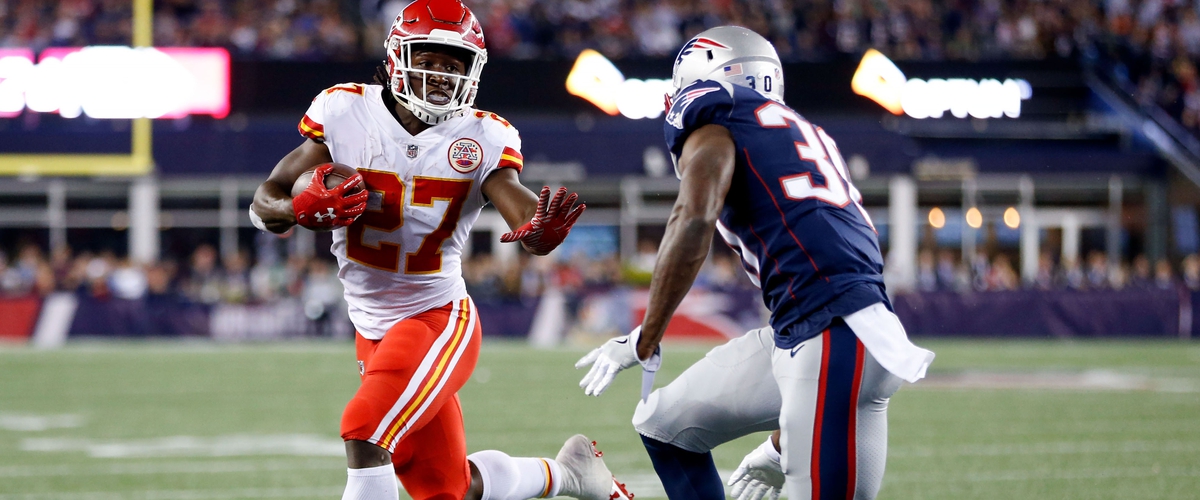 There must have been a reason why the Kansas City Chiefs were raving about rookie Running Back Kareem Hunt during training camp. Hunt rushed for 148 yards and a score and also had 5 receptions for 98 yards receiving and 2 touchdowns, in a Chiefs 42 to 27 victory over the New England Patriots.
New England was off to a great start however. Less than three minutes into the game, Mike Gillislee scored on a two-yard touchdown run. On Hunt's first career carry, he fumbled and the Patriots recovered. It looked like it was on the verge of a blowout, but the Chiefs stopped a fourth-and-1 run and it changed the complexion of the game.
Kansas City responded by Alex Smith throwing a 7-yard touchdown pass to Demetrius Harris. Harris only caught 2 passes for 15 yards and a score. With the Patriots leading 10 to 7 in the second, Gillislee ran in for another touchdown from two yards out. Right before the half, Kareem caught a 3-yard touchdown pass from Alex Smith.
In the third quarter, Alex Smith threw a 75-yard touchdown strike Tyreek Hill. Hill finished with 7 catches for 133 yards receiving and 1 touchdown. The Patriots responded with a one-yard touchdown run by Mike Gillislee. He finished with 45 yards rushing and 3 touchdowns. New England would have extended their lead in the third-quarter on a Tom Brady touchdown pass to James White, but it was called back because Brady clearly threw the ball over the line of scrimmage.
Brady completed 16-of-36 passes for 267 yards. His buddy Rob Gronkowski was only held to 2 receptions for 33 yards receiving. Danny Amendola caught 6 passes for 100 yards, but he left the game with a head injury. Julian Edelman didn't play for New England and he is out for the year with an ACL injury to his right knee.
In the fourth quarter, Kareem Hunt scored the game-winning 78-yard touchdown catch from Alex Smith. Smith had a career night with completing 28-of-35 passes for 368 yards and 4 touchdowns. The speed of Hunt and Hill haunted the Patriots defense all night long.
Hunt scored on a four-yard run as well and Charcandrick West scored on a 21-yard rush. Chiefs Tight End Travis Kelce caught 5 passes for 40 yards receiving.
Hill left the game with cramps. Chiefs Safety Eric Berry left the game in the fourth because of an Achilles or knee injury. The Patriots banner night was spoiled. Patriots linebacker Dont'a Hightower left the game with a knee injury. Kansas City will host the Philadelphia Eagles next Sunday and New England will travel play against the New Orleans Saints.
---