Watson Leads Texans over Bengals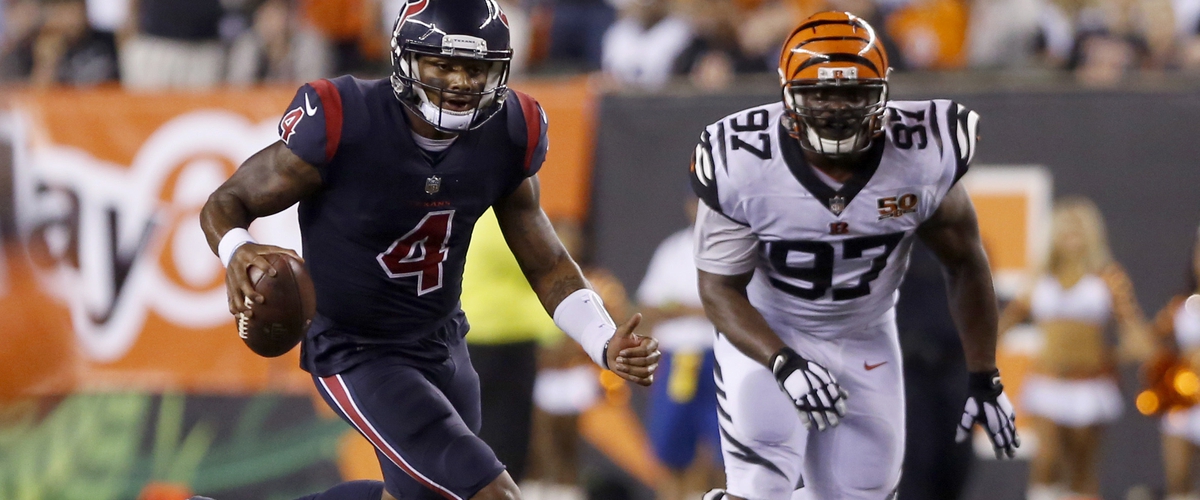 With the game tied at 3 in the Houston Texans and Cincinnati Bengals game in the second-quarter, someone needed to step up and make a play on offense. On a third-and-15 from the Bengals 49-yard line, Deshaun Watson moved back to pass and he started to run and then he took it distance. That play help Houston beat Cincinnati 13-9.
It was Watson's first career NFL start and it was also his 22nd birthday. Watson completed 15-of-24 passes for 125 yards passing. He also 67 rushing yards on 5 carries and a score. DeAndre Hopkins had 7 catches for 73 yards receiving.
Houston had all three of their tight ends out so Evan Baylis had to be moved up from the practice squad. Lamar Miller rushed for 61 yards on 18 carries and also had 3 receptions for 26 yards. D'Onta Foreman rushed for 40 yards on 12 carries.
The Bengals offense has not scored a touchdown in eight quarters this season. Both of those games were at home none the less. The last time a team hasn't scored a touchdown at home in the first two home games was the 1939 Philadelphia Eagles.
Andy Dalton completed 20-of-35 passes for 224 yards passing. Joe Mixon was the leading rusher with 36 yards on 9 carries. The Bengals need to go with a main tail back at some point instead of a running back by committee. A.J. Green caught 5 passes for 67 yards receiving.
Ka'imi Fairbairn made two field goals for the Texans (26 and 42 yards). Reggir Bullock made three field goals for the Bengals (39, 29, and 30 yards).
Both defenses played well. Geno Atkins was a monster for the Bengals with two sacks. J.J. Watt and Jadeveon Clowney played well for the Texans. The Bengals tried laterals at the end of the game, but Texans defensive end J.J. Watt smashed Bengals center Russell Bodine to seal the deal.
The Houston Texans will travel to the face the New England Patriots (0-1) next Sunday and the Cincinnati Bengals will travel to face the Green Bay Packers (1-0) next Sunday.
---