Video: Hockey Player beats Official with a hockey stick and banned for Life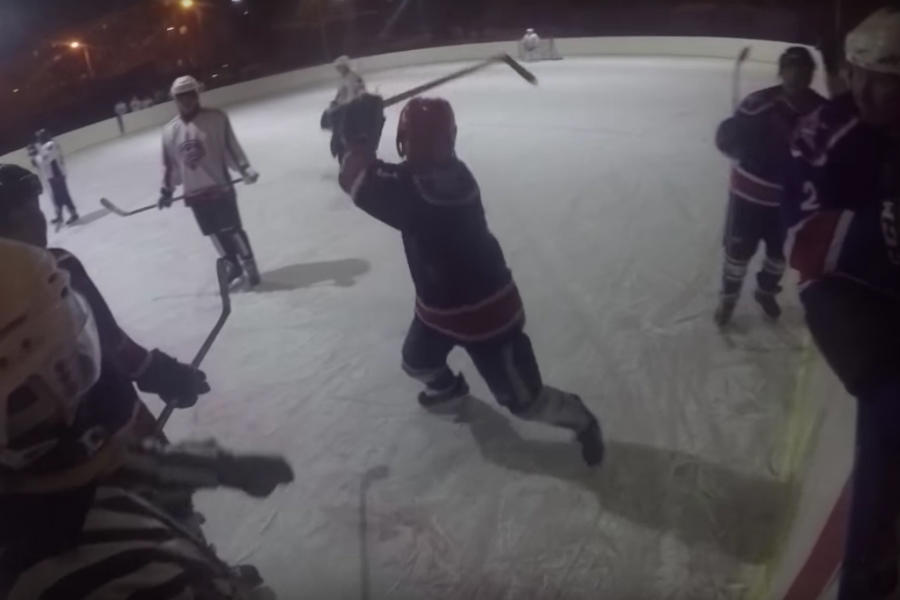 From the December 1, 2016 article by Jared Clinton of The Hockey News
After arguing a penalty call, a Russian amateur player swung his stick at the head of a referee and threatened to kill him in the locker room. The player has been banned for life and the team has been disbanded by the local hockey association.
A veteran player in a Russian amateur league has played his final game, and the last action of his career was a violent stick-swinging incident that saw him strike a referee in the head.
In a shocking video that surfaced earlier this week, a game between two Russian sides got ugly after an interference penalty was called during a contest in the Buryatia Hockey Championship, a league located in Siberia. The team in blue, referred to as "Armeec," or Soldier, protested the call almost immediately, with the player called for the minor penalty initially refusing to take his seat in the penalty box.
As the conversation at the front of the penalty box progresses, No. 6 from Soldier, identified by Championat as Sergei Petrov, began to argue the call.
Referee Nikita Tikhonov explained the incident to Championat on Thursday, saying that it started as soon as the interference call was made. From there, Petrov approached Tikhonov, pushed the referee and asked the reason for the penalty. Tikhonov then handed Petrov a penalty for contact with an official. Petrov wouldn't sit in the penalty box despite being told to do so, and, upset with the call, he struck Tikhonov:
"The blow was aimed at the neck and head, I (blocked it with my) hand," Tikhonov said, according to Championat. "The stick broke on my arm. The second referee who tried to stop the blow, he broke his finger."
Tikhonov said Petrov then threatened to kill him later in the locker room.
Unsurprisingly, the Buryatia Hockey Federation has come down hard on both Petrov and his club.
According to Championat, the league has handed Petrov a lifetime ban from the federation, forbidding him to play for any other team, and the club itself has been broken up. Several other players have been suspended — five, according to Championat — for their actions leading up to Petrov's outburst, with the remaining players allowed to sign on elsewhere if they choose to continue playing this season.
Tikhonov told Championat that Petrov has reached out following the incident and he apologized for the incident.
---