Thunder notebook; Burner twitters, Kanter to Mexico City, more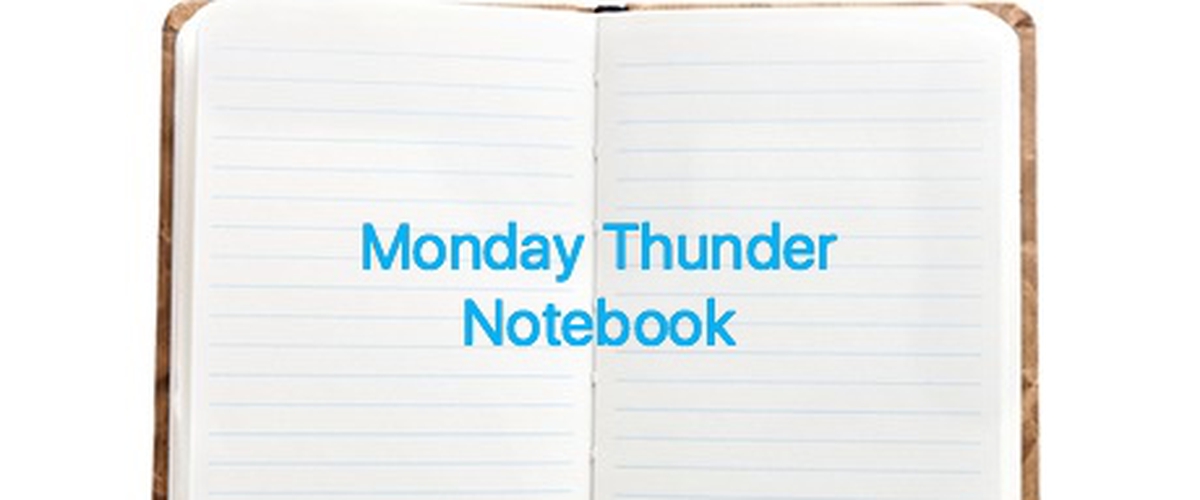 The Monday Thunder notebook is here, and it is pretty simple. Every Monday, there will be an article about all things Thunder from the previous week, and even looking ahead a bit. In today's notebook: New Uniforms, Mexico City news, Burner Twitter accounts, KD's shoes, and Russ' extension.
New Uniforms: On Friday, Nike released alternate uniforms for each NBA team before Nike's inaugural season as the official uniform/apparel provider of the association. The new Thunder "Statement" uniforms will replace the "Sunset" uniforms from a year ago, and will be worn every Sunday home game. Here is a photo of the brand-new threads: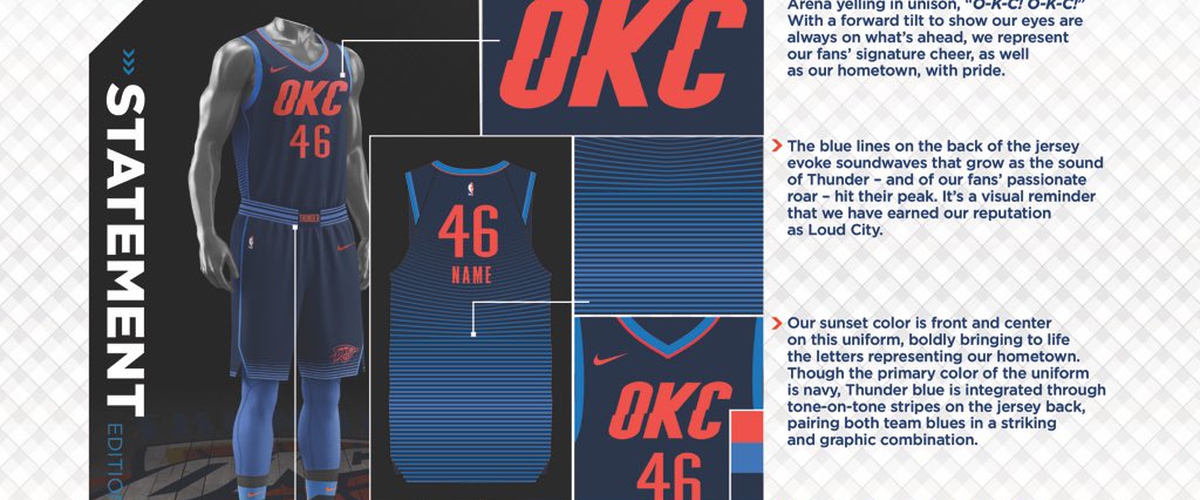 Mexico City: On Thursday, December 7th the Oklahoma City Thunder will take on the Brooklyn Nets in Mexico City. Thunder big-man Enes Kanter will play in that game, despite not having a valid passport. Without fully going into detail--as you can get that from other sources--if in any way this trip puts Kanter in any sort of legal trouble or harm; The Thunder can get by without the defensive liability against the lowly Nets.
Burner Twitter accounts and hater shoes: Kevin Durant took to twitter Monday morning, and like any sentence that starts with "Star athlete takes to twitter", this does not end well. Kevin Durant tweeted: "He (KD) Did not like the organization or playing for Billy Donovan. His rosters wasn't that good, it was just him and Russ." continuing in another tweet to say: "imagine taking russ off that team (OKC), see how bad they were. KD can't win a championship with those cats." Kevin Durant clearly did not mean for these tweets to be sent out from his personal twitter account. He obviously meant to tweet these out from an alias twitter account defending his honor and feeding the deep-dark-twisted-twitter-trolls. A week after releasing shoes littered with phrases that were yelled down to Kevin Durant by his "haters", you are now caught up in fake twitter account drama? Kevin Durant has always tried to play the heat he received from fans, and the media, after leaving OKC cool. Like it did not weight on him at all, like it was irrelevant. While also saying: "Look at all this hate!", "Look what I have to deal with!", "No one thought I could do it!" From rolling out Nike commercial's seconds after winning your first ever NBA Championship about your "haters", to your new shoes telling the world what "Everyone has said" about you, and now this? It is clear for all to see you do care about what people have to say and think about you, Kevin.
Russell Westbrook's Jordan deal: Last week, Russell Westbrook inked a 10-year extension with Jordan Brand. Russell Westbrook and Mavs forward Dirk Nowitzki are the only active NBA MVPs that have not rolled out their own personal shoe collection. With this new 10-year deal, plus Russ' love for fashion I would expect some Westbrook sneaks sooner rather than later.
For more Thunder news, notes, and opinions, follow: @Rylan_Stiles on Twitter.
---