2010 NBA Draft Redo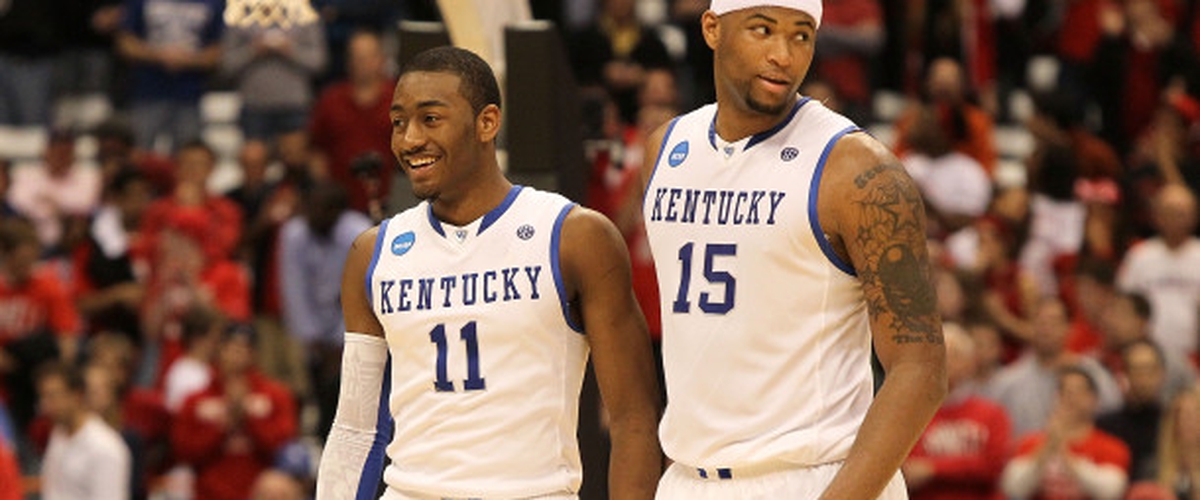 20 years, 20 drafts, and from 1995 all the way through 2014, hindsight is a virtue. I am re-drafting the lottery picks from every draft since the '95 season all the way through 2014, making it a full 20 years of perfect hindsight. Some things to remember is the lottery didn't go to 14 teams until 2015, and that for the years closer to the present, I am only basing this off of current events, and not on projections. I also don't care which team selected who when, this is just a ranking of the best players.
1) C DeMarcus Cousins, Kentucky
Accomplishments: 2x All-Star, 2x All-NBA 2nd, All-Rookie 1st
I took Cousins over Wall because he is a big man who can shoot, defend, and is a double-double machine. That's a lot rarer in the NBA than a great point guard these days, and although Cousins' hasn't made the postseason yet, I believe those days are coming.
2) PG John Wall, Kentucky
Accomplishments: 3x All-Star, All-Defensive 2nd, All-Rookie 1st, Dunk Champ
Although John Wall hasn't been the point guard to define his generation, he is one of the best in the game at this point, and only getting better. He has helped the Wizards make the playoffs multiple times in his early career, and an MVP in the future is not out of the question.
3) SF Paul George, Fresno State
Accomplishments: 3x All-Star, MIP, 3x All-NBA 3rd, All-Defensive 1st, 2x All-Defensive 2nd, All-Rookie 2nd
Paul George kind of came out of nowhere with the Pacers, and was the catalyst on a team a few years back that was the number one seed in the East. Now, he is the only reason the Pacers are still relevant, and I believe he will be traded this off-season. George is clearly among the top five small forwards in the NBA.
4) SF Gordan Hayward, Butler
Hayward has no accomplishments yet, but he will be a multiple All-Star and perhaps be on a few All-NBA 3rd teams. He is a great two way player for the Utah Jazz, and is the biggest reason why they are relevant again. He hits free agency soon, and the Jazz need to keep him to keep this thing going.
5) PG Eric Bledsoe, Kentucky
Accomplishments: All-Rookie 2nd
Bledsoe went from being the best backup point guard in the league to a 20 PPG scorer with the Phoenix Suns. He and Devin Booker are a young, underrated backcourt that could cause problems a few years down the road out West.
6) PF Derrick Favors, Georgia Tech
Accomplishments: All-Rookie 2nd
Favors was part of the Deron Williams trade that sent him to New Jersey/Brooklyn, and although he had a down year, he is a big part of why the Jazz have become gradually more successful. Favors won't be a top five power forward in the NBA, but he can become a quality starter and perhaps part of a big three on a team.
7) G Avery Bradley, Texas
Accomplishments: All-Defensive 1st, All-Defensive 2nd
Bradley was once just a good defensive guard off of the bench, and now he is one of the best in basketball defensively. His points per game numbers have gradually increased as well, and is now the second leading scorer in Boston.
8) C Greg Monroe, Georgetown
Accomplishments: All-Rookie 2nd
Monroe is a double-double threat every night, and he started right away for the Detroit Pistons in 2010. Over time, his defense has improved to where he isn't just a sieve in the paint, and his role on the Bucks is crucial.
9) C Hassan Whiteside, Marshall
Accomplishments: All-Defensive 2nd
There is a big chance that 10 years from now Whiteside will be in the top five in this class, but he has only really been relevant the past 2+ seasons. However, if he doesn't get a double-double and two blocks in a game, I'm surprised, which says how good he has become.
10) F Al-Farouq Aminu, Wake Forest
Aminu has been a consistent player throughout his young career, and is mainly a defensive player who can play both forward positions. His ability to put up 10 points per game or more makes him even more valuable.
11) SG Lance Stephenson, Cincinnati
Lance Stephenson has a personality, and Indiana actually had a pretty good draft in 2010 by getting him and George. He is most known for his wild antics on the court, like untying shoes and blowing in ears, but he actually was a pretty good guard for the Pacers.
12) G/F Evan Turner, Ohio State
Evan Turner has had many ups and downs already in his young career, and his time with the 76ers was underwhelming for the second overall pick. However, he revitalized his career in Boston and now plays for Portland.
13) G/F Quincy Pondexter, Washington
Pondexter has spent the past few seasons injured, but prior to that he was a solid scorer and defender off of the bench. He currently plays for the New Orleans Pelicans.
14) PF Patrick Patterson, Kentucky
You can already see the influence John Calipari has had on the recruiting game in Kentucky, as Patterson is the fourth lottery pick in my mock draft. Patterson is a stretch four, and currently plays a key role on Toronto's bench.
OTHERS: Wesley Johnson, Ed Davis, Larry Sanders, Luke Babbitt, Trevor Booker, Greivis Vasquez, Nemanja Bjelica, Landry Fields
---