RIP 2017 Milwaukee Bucks, with Player Grades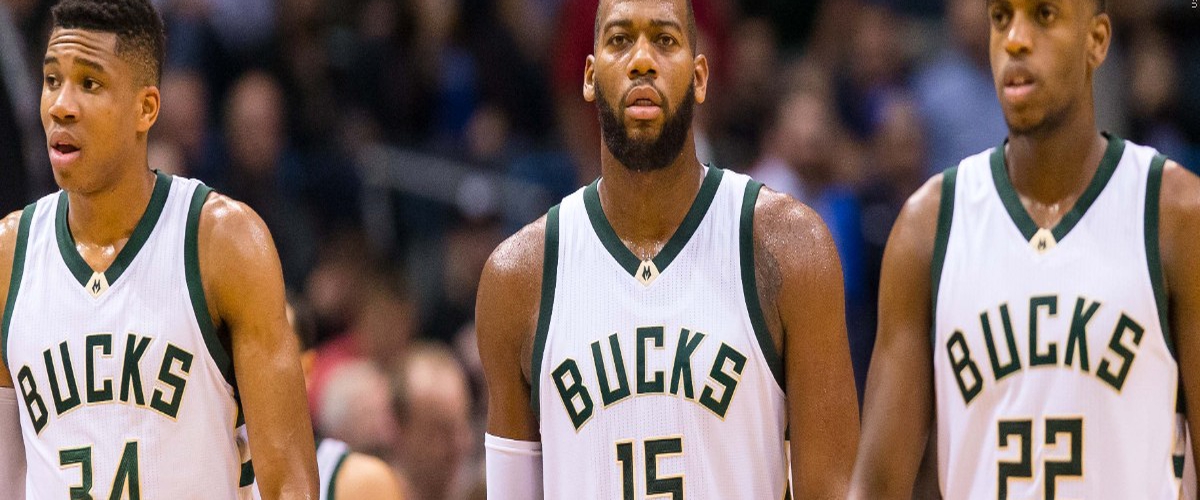 What a rough way to fall out of the postseason. The Bucks had a 2-1 series lead over Toronto, blew game four, got blown out game five, looked like it would happen again in game six prior to a 25 point comeback, only to lose in six. With that said, the Bucks looked dead in the water after Jabari Parker was lost for the season, but they went 20-10 to close out the season and make the sixth seed. Now, they need to focus on the next step, advancing in the playoffs.
DRAFT PICKS: The Bucks have both of their original picks (#18 and #48)
CAP SPACE: -$5,853,000
FREE AGENTS: Tony Snell, Jason Terry, Michael Beasley, Gary Payton
PLAYERS UNDER CONTRACT
C-John Henson, Thon Maker, Greg Monroe
PF-Spencer Hawes, Jabari Parker, Mirza Teletovic
SF-Giannis Antetokounmpo
SG-Khris Middleton, Rashad Vaughn
PG-Malcolm Brogdon, Matthew Dellavedova
EARLY PREDICTION FOR 2017
The Bucks should try and bring back Tony Snell, but not for a ton of money. They also need to draft a player who is a high-reward type, and avoid contracts like Monroe, Teletovic and Dellavedova's. Also, trying to get Jabari Parker on a less than max deal would be a good idea. I think that if things go smooth this off-season, the Bucks could become a top four team in the East.
PLAYER GRADES
-Giannis Antetokounmpo: Especially with the money he was earning last season, not a ton, Giannis definitely gets a high grade. No player has ever led his team in all five of the main statistical categories, but here is the line. 22.9-8.8-5.4-1.6-1.9. He just needs to get better at shooting and free throws. A+++
-Michael Beasley: In 56 games, Beasley put up some decent numbers for a guy trying to resurface himself in the NBA. 9.4 PPG isn't anything to look twice at, but it's a good number for a secondary bench scorer. At times, Beasley was even the go-to guy when Antetokounmpo, Parker and Middleton were out of the game. B for Beasley.
-Malcolm Brogdon: Brogdon was the best rookie this year that actually played most of the season, and he would do everything from hit a timely three to make a nice pass to even guarding Kyle Lowry in the playoffs. Malcolm Brogdon should be rookie of the year, so I'm definitely giving him a high grade. A
-Matthew Dellavedova: Dellavedova was second on the team in assists, which is basically first when Giannis is on your team, and played good defense. His three-point shooting was inconsistent, but he provided experience and defense. I'm not sure he was worth his money, but he did a good job. B-
-Spencer Hawes: Hawes didn't play much for Milwaukee, but he made the most of it when he was out there. He was part of the trade that (thankfully) got rid of Miles Plumlee, and has an option for next season. I don't really care if we pick it up or not. I'll give him a C, with a somewhat incomplete attachment.
-John Henson: Henson sort of fell out of the picture after getting hurt late in the season, but he had a pretty good season beforehand. He was second on the team in blocks, and had 7 PPG and 5 RPG. He was also the starter before Thon Maker eventually took over. I'll give Henson a C+.
-Thon Maker: Maker went from not playing much, to starting and not playing much. Eventually, Maker's total minutes went over 10 per game, and he started showing signs of a defensive presence and incredible Giannis-like abilities. I'll give him a C+ as well.
-Greg Monroe: I must say, I take back my desire to trade Monroe. He didn't start a single game, and yet played in all but the last one and was fourth on the team in scoring. He put together quality minutes off the bench, and usually was in about half the game. He improved this season, and I'll give him a B.
-Khris Middleton: Middleton wasn't quite as effective this season, but that was to be expected after suffering that injury to start the season. However, he did have some nights that showed he was still Khris Middleton, and that should be rewarded. He'll be back at full strength next season. I'll give him a B as well.
-Jabari Parker: Jabari put up 20.1 PPG in 51 games, and looked well on his way to joining Giannis in stardom, until he re-tore his ACL and will be out until about February next season. It's really unfortunate, but the Bucks were 20-10 in games without him. Weird. Still, Jabari gets an A- for putting on an early season show.
-Gary Payton: Incomplete
-Tony Snell: Snell was usually the guy to guard the other team's best scorer, and he did a pretty good job at it, especially against DeMar DeRozan in the playoffs. Snell also put up points when needed, and was a quality option as a starter. Snell gets an A.
-Mirza Teletovic: I don't know what it is, but I didn't really like Teletovic's performance. It seemed that he only shot three's, and whenever he would dribble something bad would happen. He's not worth the money they gave him. He gets a D.
-Jason Terry: Jason Terry wasn't brought in to play like he did back with Dallas, but more to be a mentor and lead this team. I'm not really sure what exactly he did in that regard, but the Bucks got back to the playoffs, and some of that credit should go to Jason Terry. I'll give him a B.
-Rashad Vaughn: Incomplete. Rashad Vaughn didn't really play enough to get a grade in my opinion.
RANKING THE GRADES: Antetokounmpo, Brogdon, Snell, Parker, Middleton, Monroe, Terry, Beasley, Dellavedova, Henson, Maker, Hawes, Teletovic, Vaughn, Payton
---