2017 Chicago Bears Preview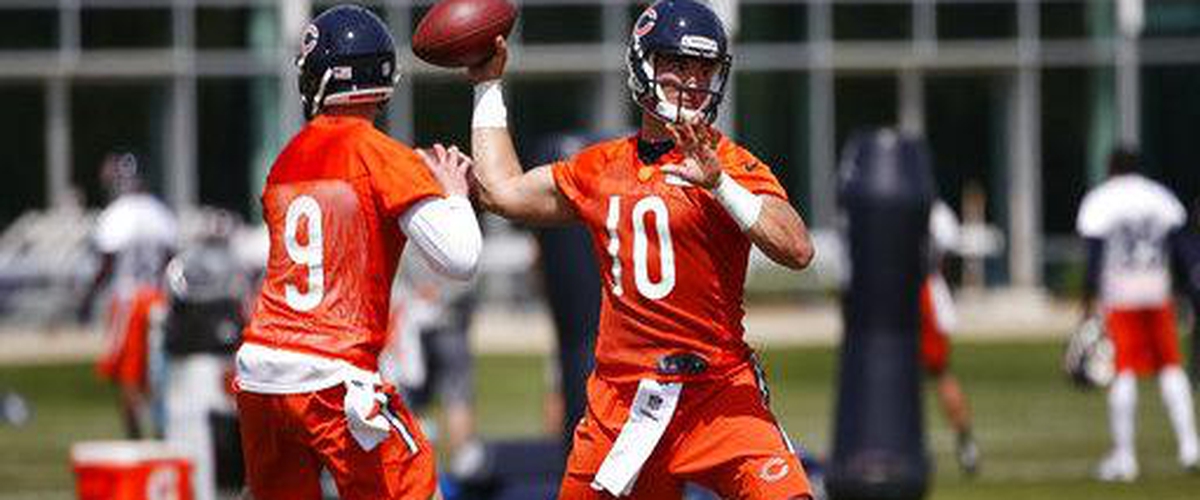 With the last team in the NFC North, I will be discussing the Chicago Bears. For how bad the Bears were last season, they only had five draft selections in the 2017 draft, and have made quite a few questionable moves this off-season. Some people are optimistic about the Bears in their first post-Cutler season, but I still think they are a ways away from contending.
DRAFT RECAP
They had only five selections, and the most notable was trading up one spot to take QB Mitchell Trubisky. It was a very questionable move, because they just signed a young quarterback to a big money deal. Plus, they gave up three picks to just go up one spot. They then took TE Adam Shaheen in round two, and he looks like he will be the third tight end on the roster to start. S Eddie Jackson was taken in round four, RB Tarik Cohen in round five and G Jordan Morgan in round six.
FREE AGENCY
QB Mike Glennon was the big catch, until they drafted Trubisky second overall. They also brought in Mark Sanchez, but he won't be starting. The Bears made a ton of moves, more than any team so far, and here are the re-signed Bears: ILB Christian Jones, DE CJ Wilson, K Connor Barth, CB Johnathan Banks, OLB Sam Acho, WR Deonte Thompson and S Chris Prosinski. Nothing too overwhelming here. The highlights of the incoming players include TE Dion Sims (MIA), CB Marcus Cooper (ARZ), CB Prince Amukamara (JAC), S Quintin Demps (HOU), WR Rueben Randle (PHI) and WR Markus Wheaton (PIT). The rest of the players acquired are: WR Kendall Wright (TEN), T Tom Compton (ATL), DT John Jenkins (SEA), RB Benny Cunningham (LA) and DT Jaye Howard (KC). Yeah, that's about 20 acquisitions and re-acquisitions.
PLAYERS LOST
As for players lost, this group is sizable too. QB Jay Cutler retired for starters. They also lost QB Brian Hoyer (SF), WR Alshon Jeffery (PHI), DE Cornelius Washington (DET), G Ted Larsen (MIA), QB Matt Barkley (SF), TE Logan Paulsen (SF), T Matt McCants (CLE), QB David Fales (MIA), CB Damontre Hurst (TEN) and DT Will Sutton (MIN). Bears that are still free agents include CB Tracy Porter, WR Eddie Royal, T Mike Adams and WR Marquess Wilson. It was a busy off-season in Chicago.
STRONGEST POSITION
With all of the roster turnover, it's hard to determine who will be starting and such for the Bears. I will say that the defense might not be in the bottom quarter of the NFL again, but I'm going to have to go with the running game. RB Jordan Howard and RB Jeremy Langford are a young, dynamic duo for the Bears, and Howard was one of the biggest finds in the 2016 draft. The offensive line could be better than people think, especially at guard.
WEAKEST POSITION
This is tough because there is so much turnover here, but the group of wide receivers isn't overwhelming at this point. They have a bunch of number three and four receivers on average teams, but no true number one threat. If Kevin White can make it past the injury bug on a regular basis, maybe they turn to him, but I'm not really sure.
FIVE MOST IMPORTANT PLAYERS TO THE BEARS' SUCCESS
Starting QB, RB Jordan Howard, WR Kevin White, OLB Leonard Floyd and OLB Willie Young
It's not easy to tell who is going to be important yet, for the same reason. Nobody has really stood out as a top tier player yet. Obviously, the winner of the Trubisky-Glennon QB battle will be important, and Kevin White needs to take a step towards being the top 10 pick he was. Howard is the focal point of the offense at this point, and both of those OLB's put up good numbers and could help jump-start a poor defense.
PREDICTION
There is a lot of uncertainty here, but on paper the Bears look as though they are better. It helps when the checks are thrown in every direction, but that doesn't always work (ask Jacksonville and Miami). With the Packers and Vikings looking good, and the Lions not looking bad, I can't pick the Bears to be much better than last year. However, 6-10 is very reasonable for you optimists.
---