2017 Minnesota Vikings Preview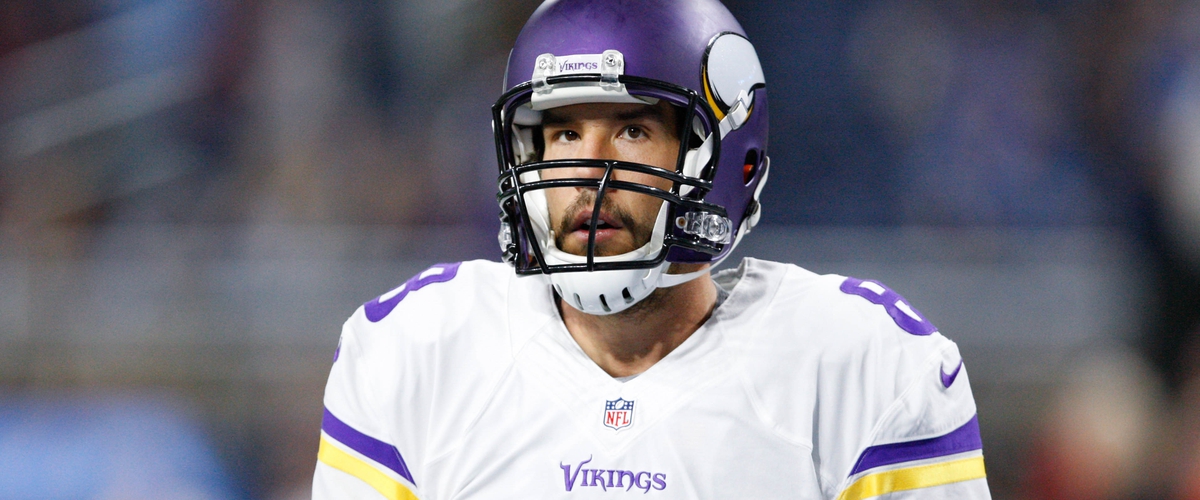 With the second team in the NFC North, I will be talking about the Minnesota Vikings, who had a tale of two seasons last year. To start off, they went 5-0. Take it like this, they finished 8-8. A lot of that was on the offensive line, but a lot of it also was on them not having a healthy Adrian Peterson or a QB who isn't nicknamed Sam "Badford". This team is the only one with a realistic chance of taking the NFC North title away from the state of Wisconsin, and I'll explain why.
DRAFT RECAP
To start, they took a RB with questionable character (surprise: Adrian Peterson) in Dalvin Cook to replace AP. Then, they helped a weak offensive line with interior lineman Pat Elflein from Ohio State. They also had nine picks on day three of the draft, headlined by ILB Ben Gedeon from Michigan and TE Bucky Hodges from Virginia Tech. Overall, the Vikings always seem to have a nice draft, according to Mel Kiper's big board at least.
FREE AGENCY
Rebuilding the line was the priority for the Vikings, and they signed tackles Riley Reiff and Mike Remmers to contracts of a combined $89 million. I hope for the taxpayers in Minnesota that they work out, especially since some of the defensive stars will hit free agency soon. Not only that, but they signed RB Latavius Murray to a big deal, which ended Peterson's tenure in Minnesota prior to the drafting of Cook. DE Datone Jones was also brought in from rival Green Bay, and backup QB Case Keenum was also signed.
PLAYERS LOST
The Vikings lost a lot of players, and unfortunately (for them) none of them were Sam Badford. G Brandon Fusco and RB Matt Asiata are still free agents, and OLB Chad Greenway retired. Those are just who are still out there. Outside of AP going to New Orleans, LT Matt Kalil and CB Captain Munnerlyn going to Carolina, TE Rhett Ellison went to the Giants, WR Cordarrelle Patterson went to Oakland and T Andre Smith went back to Cincinnati. P Jeff Locke also left for the Colts, and backup ILB Audie Cole went to Jacksonville. If that wasn't enough, WR Charles Johnson also went to Carolina.
STRONGEST POSITION
Defensive end is the strongest position in Minnesota, as the top three ends all record at least 7.5 sacks last season. Everson Griffen, Danielle (pronounced Dan-eel) Hunter and Brian Robison form a really good trio of linemen to attack opposing quarterbacks. Throw in former Packer Datone Jones and a couple of solid defensive tackles and the front four is what's good in Minnesota.
WEAKEST POSITION
Do you want me to say quarterback? I won't, because it probably belongs to wide receiver. Ever since Brett Favre (and some can argue even with Brett Favre) the passing game in Minnesota isn't good. WR Stefon Diggs had a down year while WR Adam Thielen came out of nowhere, and first round pick Laquon Treadwell was nowhere to be found. DUI-offender Michael Floyd is the fourth receiver, and after that it goes to fifth round draft picks and practice squad players.
FIVE MOST IMPORTANT PLAYERS TO THE VIKINGS' SUCCESS
RB Latavius Murray, TE Kyle Rudolph, DE Danielle Hunter, ILB Eric Kendricks, S Harrison Smith
I believe this is the first team in the NFL where the QB is not one of the five most important players on the team. With that said, the veteran RB, Latavius Murray, is if they have any hope for having an actual offense. Kyle Rudolph is the start of the passing game, while Danielle Hunter is now the focal point of the pass rush. ILB Kendricks is now the heart of the excellent defense the Vikings have, and S Harrison Smith might be the best safety this side of Seattle.
PREDICTIONS
Do I think the Vikings will win the NFC North? Well, I'm a Packer fan, so probably not regardless. But I truly don't see them feeling like they can win the division in week 15. This team definitely has playoff potential, and I suppose has an extremely outside shot at hosting a Super Bowl, but they aren't a true contender at this point.
---