2017 Oakland Raiders Preview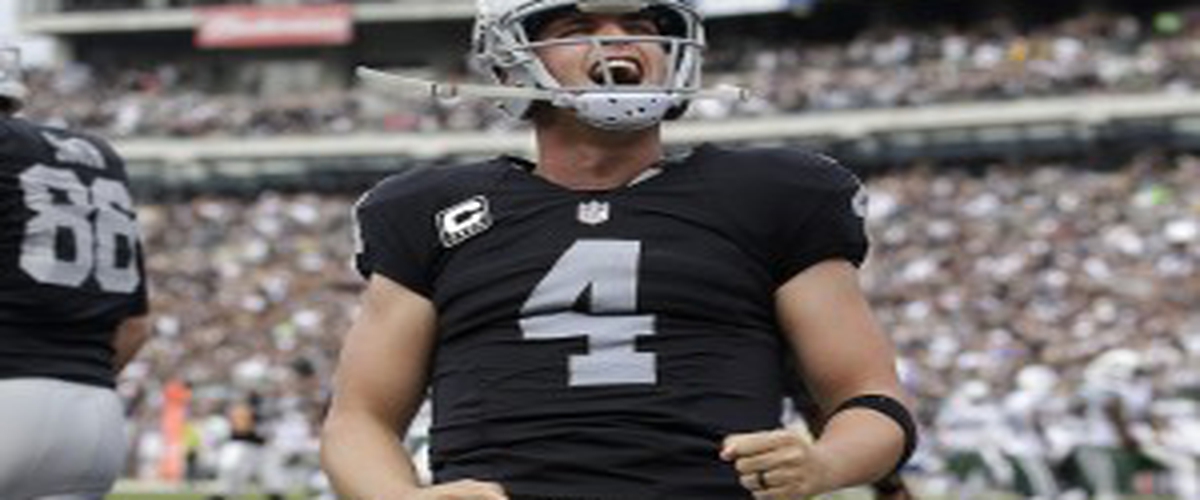 The soon-to-be Las Vegas Raiders are going to head to Sin City with a full head of steam, and most of their cards on the table. After looking like true contenders versus the to-be champion New England Patriots, Derek Carr was injured late in the season and that ended all of Oakland's hopes. Now, with a slightly retooled roster the Raiders are once again in great position for a postseason run.
DRAFT RECAP
I'm not too big on Oakland's draft, and that begins with CB Gareon Conley out of Ohio State having domestic abuse issues (surprise, Ohio State). After that, they took safety Obi something, although it isn't a huge need for the Raiders. They took DL Eddie Vanderdoes out of Vanderbilt (lol) to add much needed depth at defensive tackle. Oakland also had four selections in the seventh round, most notably RB Elijah Hood.
FREE AGENCY
The big news out of Oakland this off-season was the addition of RB Marshawn Lynch, who came out of retirement to join the Raiders. He's the face of a backfield that is quietly very good, and should have a solid season, although don't expect him to be his prime-self. TE Jared Cook was the biggest financial strain for the Raiders, who didn't spend near as much as usual. They also added KR/WR Cordarrelle Patterson, T Marshall Newhouse, and OLB Jelani Jenkins. Also, for those of you who care about EJ Manuel's whereabouts, look to the East Bay and you'll see a potential third-string QB.
PLAYERS LOST
The big one is RB Latavius Murray, as he seemed to be the answer at RB for the last few seasons. ILB Malcolm Smith also wasn't re-signed, and that leaves somewhat of a whole there as well. DT Stacy McGee and OT Menelik Watson were also paid good money to play elsewhere, and FS Nate Allen is now in South Beach. WR Andre Holmes and TE Mychal Rivera have been replaced, but they've spent their whole careers in Oakland. Virtually all of the main free agents the Raiders had have already been signed.
STRONGEST POSITION
QB Derek Carr is what makes this team go, but he couldn't do it without that offensive line. That's why they could afford to let a veteran like Watson go, and RT Austin Howard is ready to take his place full-time. Of the other four linemen, only one game combined was missed, which shows the durability as well. Should the first two draft picks turn out, the secondary is also a big strength.
WEAKEST POSITION
Defensive tackle is clearly the weakest position, because in a 4-3 I include the inside backer with the guys outside. Last season, this group had a combined 38 tackles between four players (one rookie), and don't have a lot of experience. McGee is gone and Dan Williams is a free agent still, and the guys they currently have just don't cut it on many rosters.
FIVE MOST IMPORTANT PLAYERS TO THE RAIDERS' SUCCESS
QB Derek Carr, RB Marshawn Lynch, DE Khalil Mack, ILB Cory James, S Reggie Nelson
Derek Carr is the future of this franchise, but this year expect this team to sort of be as good as Marshawn Lynch is. A lot of importance to this offense is the balanced attack, and Lynch can make that from decent to great. DE Khalil Mack is one of the best pass rushers in the NFL, and put up a whopping 73 tackles as an end. S Reggie Nelson is the de facto Charles Woodson replacement, and the heart and soul of the secondary. Most of you have never heard of ILB Cory James, and I haven't either, but he has to justify them getting rid of Malcolm Smith especially with how weak the group of defensive tackles is.
PREDICTION
I still have to do my Chiefs' and Broncos' preview, but I believe quarterbacks and offensive lines are the keys to championships (as well as a couple dominant defenders), and the Raiders have all. I think that if Lynch plays as good or better than Latavius Murray did, this team will for sure make the playoffs and potentially fight New England, among others, for a Super Bowl appearance. 12 wins is within reason here.
---