Which Team Has the Best Chance to Actually Pass LeBum and the Cavaliers, In The Next 3 Years?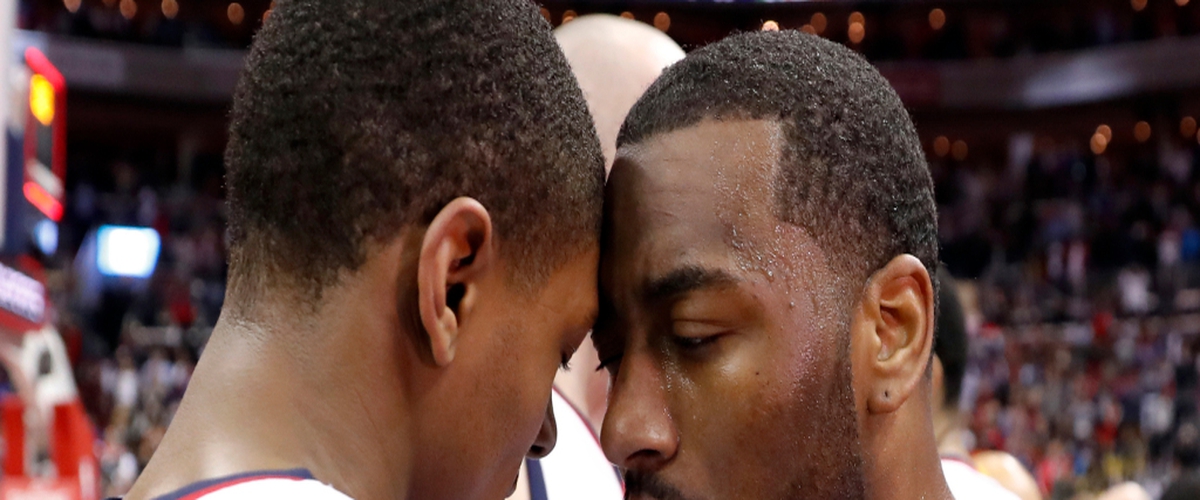 So, we probably know that, even with an addition of Gordan Hayward and Markelle Fultz, the Boston Celtics are still going to be 300 miles behind the Cavaliers. Why? Because the NBA will "forgive" some salary cap issues with the Cavs, and because LeBron is there. Oh, did I call him LeBum in the title? Yeah, that was on purpose, because he can't win without four All-Stars. So good luck, rest of the East. In 10 years, the conference can regrow from the ashes burned down five years ago. Here are my rankings on who can beat Cleveland within the next three years.
14) BROOKLYN
Not only are they the less popular New York franchise, but they don't have draft picks during this time. They have to give them to Boston. Oh, and they are the worst team in the NBA, and likely will be so the next two years. Who cares if they have Brook Lopez or not, this team won't win more than 30 games in the next three years, and might even struggle to win 30 combined in three years.
13) NEW YORK
Hmm, maybe Porzingis will be around for all three years, but Carmelo is on his way out, and that takes the Knicks out of contention. Although, the Knicks already were out of it, even with him. This team is a dumpster fire, but is a more popular destination than their in-state dumpster fire.
12) ORLANDO
Even if Orlando somehow finds a young nucleus to play good basketball, can you imagine them in an Eastern Conference Finals against a Lebron-Kyrie-Kevin Love led playoff team with experience? This team will have more talent than the Knicks, but c'mon, LeBron would have to be 60.
11) INDIANA
Paul George won't be around, so the Pacers won't be. But at least the Pacers will stay competitive, or try to.
10) DETROIT
I really have no clue what is going on with this franchise, but Andre Drummond and Reggie Jackson are less than Tristan Thompson and Kyrie Irving. So then what, Tobias Harris? Detroit has no chance.
9) PHILADELPHIA
A healthy Joel Embiid, Ben Simmons, and #3 pick might make the 76ers a good team, but when the playoffs come around, they won't have a chance. Embiid might be difficult to guard for Thompson, but the Cavs will stop everybody else.
8) ATLANTA
Atlanta had a 60+ win team, and got swept by the Cavs without Kevin Love. They can have a 70 win team, and I'd still not believe in them.
7) CHARLOTTE
Kemba Walker can win a game by himself, and LeBum James hasn't gone up against Batum and Kidd-Gilchrist in the playoffs before. Charlotte can win one because of that, which is why they are up in the top half.
6) MIAMI
If they get a healthy Chris Bosh and Dwyane Wade returns, this might go up to number two. That won't happen, but Pat Riley knows LeBron pretty well. Unfortunately, he doesn't know the rest of his handpicked team.
5) CHICAGO
This is with Jimmy Butler and Dwyane Wade. Without them, they go down to 12th.
4) TORONTO
Even without Kyle Lowry and Serge Ibaka, Toronto has come the closest to knocking LeBron off since he returned to Cleveland. DeRozan and Valanciunas aren't a bad duo, assuming they have some help to stop the Cavaliers.
3) MILWAUKEE
In three years, Giannis Antetokounmpo will be the best player in the Eastern Conference. Add a scoring Jabari Parker, a two way player in Khris Middleton, and a Giannis 2.0 in Thon Maker, and you have a lengthy, tough team to beat. If everything goes perfectly in Milwaukee, this team can actually stop the Cavs.
2) WASHINGTON
The duo of Bradley Beal and John Wall has a small chance of becoming Curry-Thompson esque, but they need more of a complete team. Just having Beal and Wall makes them second in the East.
1) BOSTON
Despite how atrocious they have looked (at home) in these conference finals, this is their first adventure this far. They have an opportunity to add a max contract and a number one pick this year, and even next year too. Boston has the most assets and talent already to compete with the Cavs the most.
Ultimately, though, the addition of Hayward/Butler/George and Fultz/Ball might give Boston one game in a seven game series against the Cavs. A lot needs to improve league-wide for things to seriously change. The league doesn't exist until James retires.
---