2017 Philadelphia Eagles Preview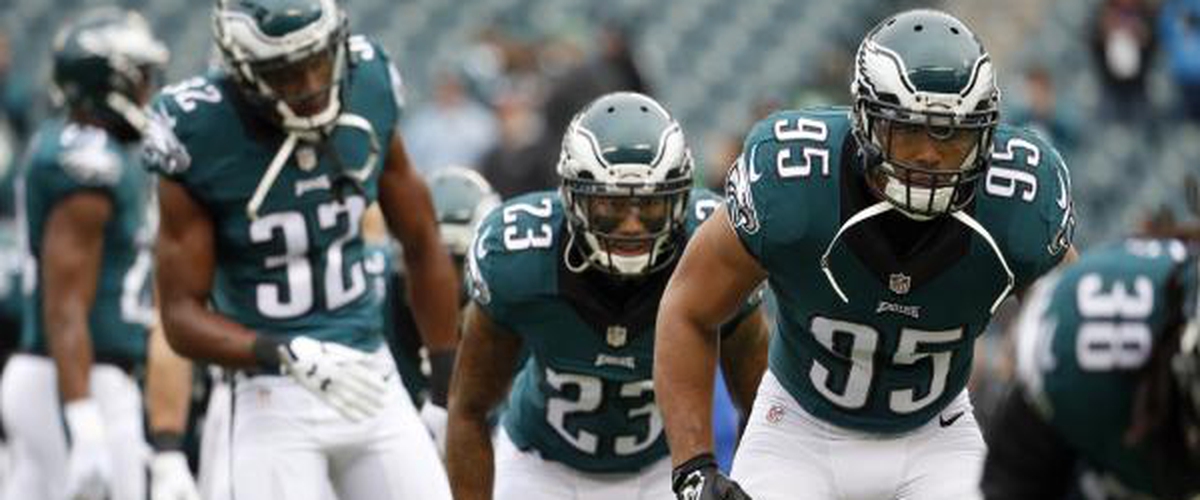 On to the first team in the last division in the NFL, the annoying NFC East. Not because these teams are so good that they are annoying, but because they aren't and are talked about too much. This team is probably the best of the bunch (as far as least annoying nationally), the Philadelphia Eagles. The Eagles are building around Carson Wentz, a QB that they gave up the world to draft second overall last season. The Eagles didn't exactly live up to those expectations yet, but they are well on their way.
DRAFT RECAP
The Eagles still had quite a bit of draft capital left after the Wentz trade, and started out by drafting DE Derek Barnett with their first selection. After that, they went on to take CB Sidney Jones out of Washington, who had first round potential but was injured before the draft. CB Rasual Douglas was taken third to help solidify the CB position, and two wide receivers, Mack Hollins and Shelton Gibson, were taken as well. RB Donnel Pumphrey was taken in round four, and S Nate Gerry was a fifth round selection.
FREE AGENCY
I don't know what it is about running backs in Philly, but despite having three good backs and drafting Pumphrey, the Eagles brought in RB LeGarrette Blount from New England. They also brought in DE Chris Long from the champs, and signed former Eagle QB Nick Foles to a backup deal of $11 million over two seasons. QB Matt McGloin was brought in to be third string as well. They also added huge pieces to the receiving corp, in star WR Alshon Jeffery along with WR Torrey Smith. Finally, they brought in CB Patrick Robinson from Indianapolis.
PLAYERS LOST
Like usual with the NFC East, they gain more than they lose. CB Leodis McKelvin and ILB Stephen Tulloch are both aging free agents. CB Nolan Carroll went to Dallas, DL Bennie Logan went to Kansas City and QB Chase Daniel went to New Orleans. They also had three players go to Los Angeles, LB Connor Barwin and QB Aaron Murray (Rams) and RB Kenjon Barner (Chargers). Not a ton lost.
STRONGEST POSITION
How can you not go with running back? LeGarrette Blount led the NFL in rushing touchdowns, Donnel Pumphrey broke records at the collegiate level, and Darren Sproles is capable of doing it all. That's without mentioning last year's starter in Ryan Mathews, or last year's third round pick in Wendell Smallwood. If that's not enough, how about un-drafted running back Corey Clement out of Wisconsin? They have a wealth of riches.
WEAKEST POSITION
Cornerback. When you have a former Colts' cornerback listed as a starter on the depth chart, you have a problem. Rookies Sidney Jones and Rasual Douglas should bolster the group eventually, but you can't count on that now. Ron Brooks barely played last season and it's unclear what he will be, and Jalen Mills failed to record a sack, interception or fumble as a rookie last year.
FIVE MOST IMPORTANT PLAYERS TO THE EAGLES' SUCCESS
QB Carson Wentz, WR Alshon Jeffery, LT Jason Peters, DE Brandon Graham, CB Jalen Mills
This team will likely live and die with Carson Wentz this season, and bringing in receiver Alshon Jeffery to go along with that talented group of receivers is helpful. Jason Peters has been the left tackle here for what seems like 20 seasons, and is a leader on this team. Brandon Graham has provided consistency defensively, and Jalen Mills needs to step up and become the top corner they need him to be.
PREDICTIONS
This defense looks overrated to me, but that offense has so many weapons that it would be hard for them to struggle offensively again. Teams in the NFC East tend to finish between 6-10 and 9-7, and I think the Eagles look like one of those teams. I'm going with 7-9, with a three game winning streak to end the season and put momentum towards next year.
---