Grading the Brewers: Pitcher's Edition at the Deadline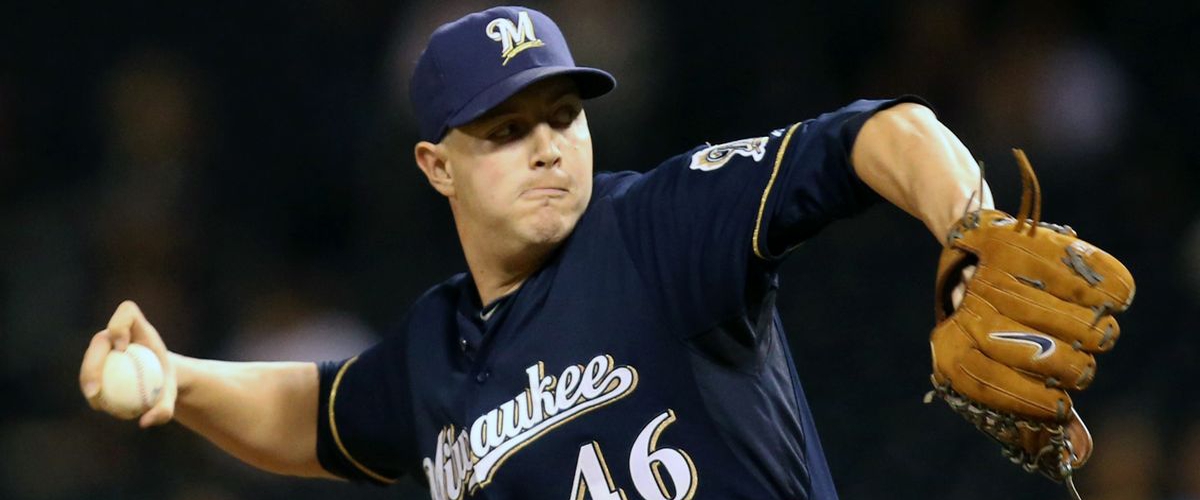 Some of these pitchers might not be around much longer, and while some think that the pitching staff is the problem, it surely wasn't during the Cubs' series over the weekend. Yes, it has been known that the staff gives up huge innings, especially the majority of the bullpen, but overall they haven't been that awful, right? Take out Michael Blazek, Wily Peralta, Tyler Webb and Tommy Milone, Neftali Feliz and Jhan Marinez and there is only one guy who has an ERA over 6.00. That is Paolo Espino. Just saying. Anyways, here is my pitchers' grades 2/3 of the way through the season.
STARTERS
Chase Anderson: B+
I can't give Anderson an A grade, because he hasn't been out the entire season on the mound. He's spent the past month or so on the disabled list, but he was certainly pitching like the "ace" of the rotation prior to his injury. Hopefully that won't kill his momentum as he is due to return for most of the remaining schedule.
Zach Davies: B+
I must not be sucked into what Zach Davies has done over his last three appearances (just three earned runs in over 21 innings). He's been lights out lately, and I did predict that his ERA would drop quickly to make up for the terrible start to the season that he had.
Paolo Espino: C
There's a lot of guys who will be in the bullpen category, so I'm putting Espino here. He's been pretty solid except for a couple of innings, and there is definitely potential to be capable of successfully having a spot start.
Matt Garza: B-
I really can't believe that I'm missing Matt Garza right now. With Guerra sent down and Anderson hurt, the Brewers really only have three reliable starters. Garza has a 3.83 ERA, and is basically pitching like the league average pitcher when he's on the mound.
Junior Guerra: D
We've lost our ace again, but this time it is not due to injury. Guerra just doesn't have what he did last year this season, and he really has struggled the entire season. He has the highest ERA among the starters, and his command has been off. I'm starting to think he was a flash in the pan last season.
Jimmy Nelson: A
Nelson has been good all year, and hasn't missed a start at this point. He leads the team in strikeouts (Corey Knebel is second!!) with 142, and he really has found a new life in his arm. He hasn't been quite at All-Star level, but should he improve next season too, look at that as a real possibility.
Brent Suter: A
Suter has really just come up from the minors and has not given GM David Stearns any reason whatsoever to send him down when the returns of Garza, Anderson and possibly Guerra happen. In 13 games (6 starts), Suter has a 2.40 ERA and has only allowed 12 earned runs all season.
BULLPEN
Jacob Barnes: C+
Barnes isn't ready to be a setup man, but he has done a good job about every other outing. He needs to find his consistency if he wants to have a chance at maintaining his role as a late inning reliever. As a non-closer, he has four blown saves, meaning he's caused a lead to become a tie game or fall behind.
Michael Blazek: B-
Hear me out please! Blazek made a last second start against the best offense in the National League. In his four appearances consisting of six innings, he had thrown shutout baseball. Of course you have to be sent back down after that kind of outing, but he had been solid prior. He'll be back.
Oliver Drake: C+
Drake's just decent. He is what I call a "filler" reliever, as in he will go pitch where he is needed. He doesn't quite have a specific role, but usually when he pitches there is either a huge lead for the Brewers or he is pitching when they are behind.
Josh Hader: A
Josh Hader would be a serious candidate to be a closer had Knebel not been one of the best relievers in baseball. And then they brought in outside help in Anthony Swarzak, so he'll have to settle for other opportunities. He has 24 strikeouts in 20 innings, a 0.94 ERA, and an opponent batting average of .123. He's been unbelievable.
Jared Hughes: B+
Hughes had a scoreless innings streak going for a while, but that ended recently. His ERA dropped into the 3's, and he has probably been our third best reliever behind Knebel and Hader this season. I don't have a fear of a blown save when he goes to the mound unlike most of these guys.
Corey Knebel: A
Knebel is on the cover for a reason, and that's because he's the team's All-Star. However, he most definitely earned his appearance despite only having 18 saves in 23 opportunities. How about 85 strikeouts as a reliever? Only 9 earned runs all season? An opponents batting average under .200?
Wily Peralta: F
I feel bad for Peralta, but only because I have some empathy. Getting designated for assignment just a season and a half after being declared an Opening Day starter is unusual, but he just has not had any command this season. It's unlikely someone else will pick him up.
Rob Scahill: C+
Scahill has spent time coming back and forth from the big leagues and triple-A, and on many of his outings he's been really good. It's just those 2-3 outings that have killed him.
Carlos Torres: C
Torres was our best reliever last season, and while he hasn't been "awful" this season, he definitely has taken a step back to mediocrity. If Torres wakes up from this version of himself, our bullpen will improve a lot.
OTHERS WHO HAVE PLAYED FOR THE BREWERS BUT HAVEN'T DONE ENOUGH
Anthony Swarzak*, Tyler Webb, Jhan Marinez, Tommy Milone, David Goforth, Taylor Jungmann, Jorge Lopez, Wei-Chung Wang*, Neftali Feliz
*=on active roster, with less than 3 total appearances
---