Grading the Brewers: Positional Players at the Deadline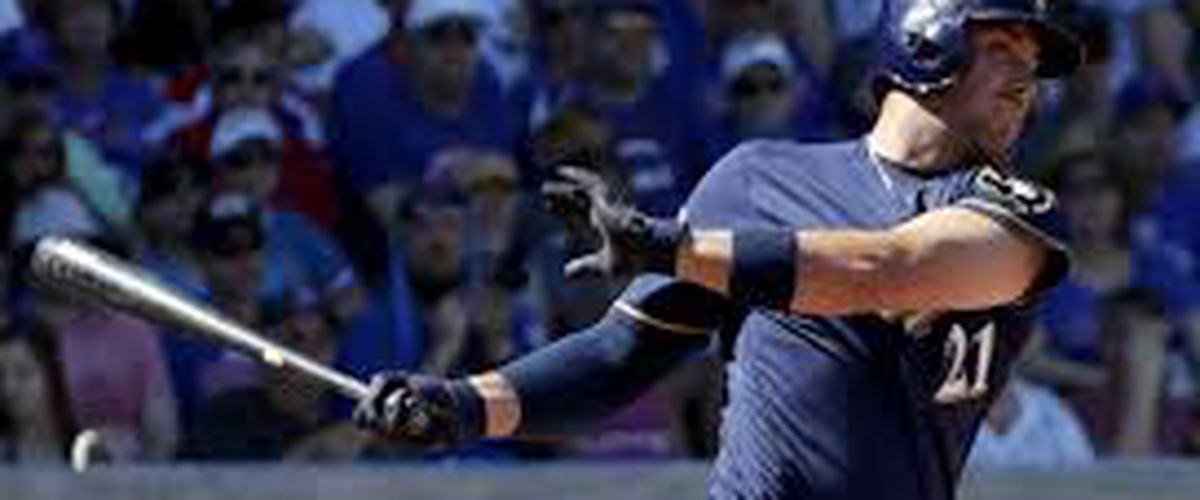 These players have had a core group so far this season that has kept this team above the .500 mark, but the "others" slumping lately is a big reason why we have fallen 2.5 games back of the Cubs. Players like Keon Broxton, Jonathan Villar, Eric Sogard and Eric Thames have slumped, and they need to right the ship to fix the team. Basically center field and second base have been problematic so far, and that needs to be fixed in the third and final portion of the season. Here are the grades for the position players.
CATCHERS
Jett Bandy: C
Bandy has spent quite a bit of time in Triple-A since the Brewers acquired Stephen Vogt off waivers, and has only recently resurfaced when Vogt was injured. Bandy is still basically hitting about where he was before he left, six home runs, 18 driven in with a .218 average. He's a nice backup or third catcher, but he isn't starter-ready.
Manny Pina: A
I think this grade is more relative based on expectations than performance, but he is the only Brewer going into August (eligible or not) with an average at .300 or higher. Seven homers and 31 RBI's is okay, but isn't really ideal for the sixth hitter in a lineup at this point. With that said, Pina has exceeded expectations and might have cemented himself as the future starter until further notice.
Stephen Vogt: B
Vogt only had 28 at-bats in his time with the Brewers, but he did single-handedly win a game in June with two homers, and he has four in total. He's also hitting .250, which isn't great, but it is better than what he was doing in Oakland previously.
INFIELDERS
1B Jesus Aguilar: B+
When you combine Aguilar along with fellow first baseman Eric Thames, you have a line of about a .262 average, 33 home runs and 80 runs batted in. For a comparison, that's equal to approximately a full season of Cody Bellinger. Aguilar has been the better half in my opinion, despite Thames' power numbers, but his limited use elsewhere really hurts his overall value.
SS Orlando Arcia: B
Arcia had that hot streak where he almost made it up to a .300 batting average, but he's cooled off lately and is now hitting .276. He's one home run away from 10, and he has been the best defensive player on the team so far. If he could have kept his average above .285 this long, I'd probably have put him down for an A.
UT Hernan Perez: B+
Perez has started at six of the seven fielding positions, and is also hitting at a decent clip. He's on pace for about 50 RBI's and 15 homers, which is a pretty good season for somebody who isn't a "starter". He's an important piece of this team, and has kept it up from last season.
3B Travis Shaw: A
Shaw is on the cover for a reason, and he leads the team in home runs and RBI's at this point, and has really had a breakout season. He's made the Tyler Thornburg trade look like highway robbery, and he is the only Brewer who should have made the All-Star team that didn't, especially considering the rest of the league. Granted, third base is loaded (last year's MVP Kris Bryant didn't make it) but Shaw is deserving.
2B Eric Sogard: B+
Sogard would be an A if he was still on the disabled list. I think he only has one hit since returning about a week and a half ago, and his average is now under .300. I hope he's not a one-hit wonder at this point, but so far he's had his value.
1B Eric Thames: C+
Thames has kind of settled his average in around .250, but his power numbers have dropped significantly. 24 home runs is tied with Shaw for the team lead, but the fact that Shaw caught him after that monster April really says more about Thames' season.
2B Jonathan Villar: D
Villar is really starting to make letting Scooter Gennett go for nothing look like a mistake. If we had last year's version of Villar, I would stand by David Stearns making that move. But Villar is a flash in the pan, and I hope that the Brewers don't intend on him being the long-term second baseman. He should have taken the 4 year, $20 million offer in the off-season.
OUTFIELDERS
Ryan Braun: B
Braun has been good, not great, and has only played about half of the season. If he had played the whole season, his numbers would probably be somewhere between Shaw and Domingo Santana, but this might just be the Braun we have to get used to.
Lewis Brinson: C-
I almost gave him a "D", but then I decided to grade him higher because his second trip to the major leagues was much more productive. He's made some great defensive plays, and has a pair of home runs as well this time around. He needs to build his consistency at the plate.
Keon Broxton: D-
I'm glad Broxton got sent down to make room for Brinson/Phillips, because his inconsistency is definitely not what we need for our future. His average has dropped all the way to below Jonathan Villar's, which is really saying something. However, he is currently tearing it up in Colorado Springs, where he is hitting .385.
Brett Phillips: C
Phillips hasn't been good, but he hasn't been bad enough to warrant being sent down for Kirk Nieuwenhuis of all people. His average is higher than Brinson's, but his overall numbers are quite similar.
Domingo Santana: A-
Santana has probably been the second best hitter on this team behind Travis Shaw, and he is two home runs away from 20 on the year. He has sometimes even hit lead-off as Craig Counsell has been searching for a player to hit there.
INCOMPLETE
UT Nick Franklin, OF Kirk Nieuwenhuis, INF Yadiel Rivera
---