Three Wild Pitches (Astros, Luck, Free Agents)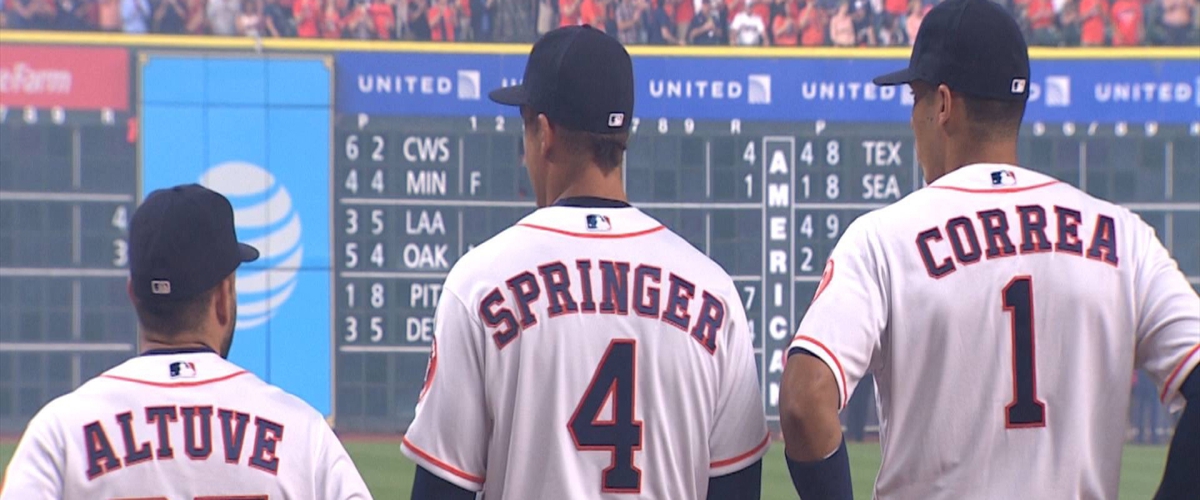 1) SO WHY DID HOUSTON "HAVE" TO MAKE A MOVE?
I'm serious. They are 32 games above .500, 15 games ahead of the Seattle Mariners in their division, and the playoffs are all but guaranteed. They are one of the three division leaders that are so far ahead of everybody, that it almost makes it not exciting. So tell me, are these "weaknesses" they have really that big of a deal?
Houston survived about half of the first half of the season without ace Dallas Keuchel and number two starter Colin McHugh, but when they return they still need another starter? That bullpen trio of Giles-Harris-Devenski is really good too, but I'll admit adding bullpen arms is never bad. Obviously they don't need any bats, because even without George Springer and Carlos Correa, they have nine other players with 10+ homers, all hitting at least .243, with 35+ RBI's. Oh, and rookie Derek Fisher came up when Springer was hurt, and in 44 at-bats is hitting .295 with 3 homers and 8 RBI's. Granted, the injuries are slowly piling up, but that happens. Plus, they can make a move in August. Houston has enough offense to overcome its' lack of pitching too, if that's even a plausible statement to make. They didn't need to do anything, and they didn't want to blow up the 7th best farm in baseball.
2) COLTS CAN'T WIN WITHOUT ANDREW LUCK
Or with him. But more so without him. I know that in my Colts' preview about two months ago that I said they were improved on defense, and are starting to build a team that doesn't solely rely upon a stud quarterback, but let's face it, one year won't change that. If I was a Colts' fan, I would be nervous about this season. This year is anybody's year to take the division (although Houston probably disagrees), even Jacksonville.
The AFC South is still the weakest division in football, although assuming Jacksonville proves me wrong and actually did improve, they don't have a "bad" team. They just don't have any great teams. But if the Colts don't have Andrew Luck for six weeks or more, the Colts can feasibly go 0-6 in that time. 0-4 is a playoff death sentence, but 0-6 is a season death sentence. It all but guarantees you a last place finish in your division, and you certainly won't go .500.
The only real benefit the Colts have is their schedule, as they do have home games with Cleveland and San Francisco in those first six. So they kind of Lucked out. But the other four games (at LA Rams/Seattle/Tennessee and at home vs Arizona) are all loseable with Luck. And are the Colts really that much better than the 49ers or Browns without Luck to guarantee a win?
3) FREE AGENTS STILL EXIST IN THE NBA, BUT THE TEAMS ARE BASICALLY SET NOW
It's that time of year in the NBA where random trade talks and Ian Clark signings are the headlines of the day. Most teams are either cap-strung or finished spending, although there are a few quality free agents left. The point guard market is basically just Deron Williams left, and shooting guards are just Monta Ellis and Tony Allen. Small forward is the worst, with Shabazz Muhammed leading the way followed by Matt Barnes.
The four's and five's of the league are finding themselves out of work due to small-ball however, as they have the biggest names available. Nikola Mirotic, Nerlens Noel, JaMychal Green, Boris Diaw and Mason Plumlee are all still without a home, among others like Festus Ezeli, David Lee, Tyler Zeller and Dante Cunningham. And most of these guys won't get signed. Restricted free agents like Green, Noel and Muhammed all can accept the qualifying offer from their teams and go back and play for them, but the others are running out of time, and places to go.
---