NBA Previews: Golden State Warriors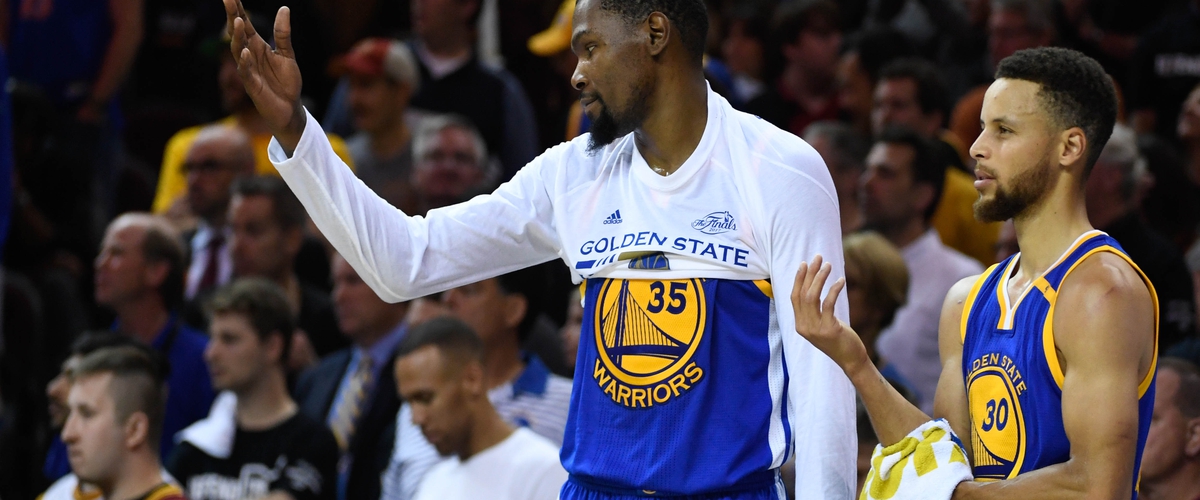 The first team in the NBA that I will be previewing for the 2017-18 season is probably one of the easiest, the Golden State Warriors. Last season, they did almost exactly what was expected of them, going 67-15 and winning the NBA title after the monster addition of Kevin Durant. The Warriors had another busy off-season, and in many ways some can argue that they actually got better. We'll see, because the only way that's possible is if they don't lose.
DRAFT RECAP
The Warriors did not have any selections to start with in the draft, but they did buy their way in and took F Jordan Bell from Oregon with the 38th pick. Bell was an outstanding rim-protector for the Ducks, and could see some time at center for the Warriors. He was a borderline first round pick.
FREE AGENCY
They kept Kevin Durant, Stephen Curry, Andre Iguodala, Shaun Livingston, David West, Zaza Pachulia, and JaVale McGee. If you're wondering who was still left on the team besides those players, it basically is Draymond Green, Klay Thompson and Patrick McCaw. If that's not enough to scare you, they added Nick Young as a backup swingman and Omri Casspi as a role playing sharpshooter. They also have brought in undrafted free agent Chris Boucher from Oregon, and he's one to watch down the road.
PLAYERS LOST
They lost Ian Clark to the New Orleans Pelicans. In other words, Young and Casspi are greater than Clark. Also, Matt Barnes and James Michael McAdoo are still free agents, but they really don't need those players whatsoever.
DEPTH CHART
C-Zaza Pachulia, JaVale McGee, Damian Jones
PF-Draymond Green, David West, Jordan Bell, Kevon Looney
SF-Kevin Durant, Andre Iguodala, Omri Casspi
SG-Klay Thompson, Nick Young, Patrick McCaw
PG-Stephen Curry, Shaun Livingston
ANALYSIS
I like that they have enough star power on the bench that they could have a dangerous lineup without only one of the big four in the game. Also, look for Jordan Bell to eventually start taking away minutes from somebody in the group of Pachulia, McGee and West. Patrick McCaw is another young player who will be starving for minutes, and is worth watching due to his solid play in the playoffs. But it's all about the starting lineup here.
PREDICTIONS
Golden State should win the NBA Championship for the third time in four years. The bench is better than some starting lineups in the NBA, and they legitimately go 13 deep. I'm thinking 70 wins is likely, and a longest winning streak ever is possible.
---