Packers' Positional Previews: Wide Receivers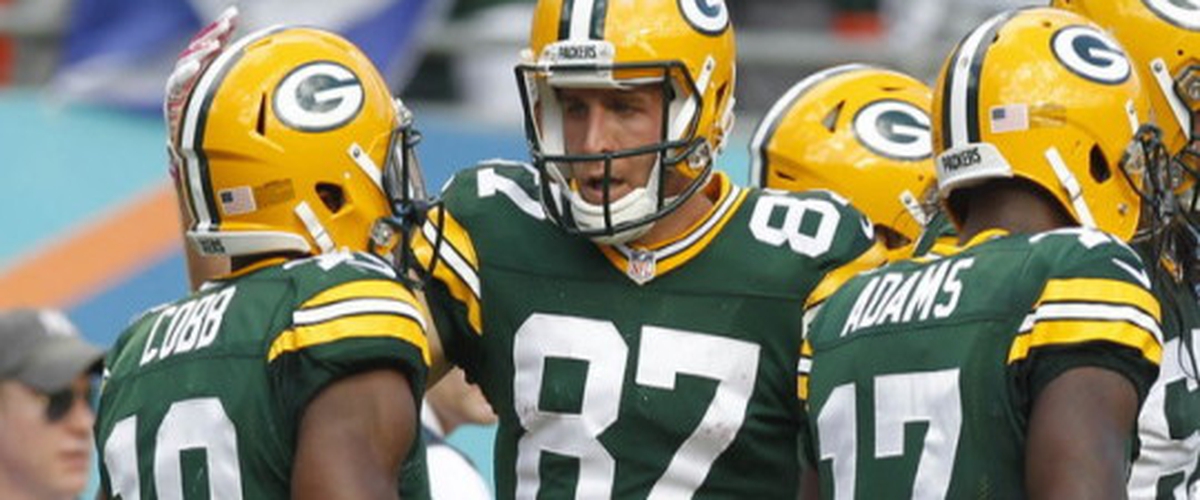 This is the group of players that is the deepest, as well as the most varying as far as talent goes. From superstars like Jordy Nelson to undrafted surprises like Geronimo Allison to rookies DeAngelo Yancey and Malachi Dupre, the Packers have receivers from all walks of (football) life. And the best part is, they are usually able to come through when number 12 throws the ball their way.
PLAYERS
#87 Jordy Nelson; 10th season out of Kansas State
Stats: 97 receptions (long of 60) 1257 yards, 14TD
Nelson is the biggest name at the receiver position in Green Bay, and that's because he is still the best. After missing all of the 2015 season with an ACL tear, Nelson came back on a tear and led the team in yards, touchdowns and receptions. And in many categories, he led them by a long shot. He was also just one reception short of his career high.
#18 Randall Cobb; 7th season out of Kentucky
Stats: 60 receptions (long of 47) 610 yards, 4 TD; 33 rushing yards
It's incredible that Cobb has been in the NFL seven seasons now, and that also means that it has been that long since we won the Lombardi Trophy. Cobb was selected 64th overall (meaning the 32nd pick, or the defending champs pick, in the second round) and so far has been a pretty good receiver. Those numbers aren't close to what he is capable of, and hopefully the emergence of Davante Adams and the addition of Martellus Bennett can open him up for more yards.
#17 Davante Adams; 4th season out of Fresno State
Stats: 75 receptions (long of 66) 957 yards, 12 TD
I had given up on Adams heading into last season, kind of how I have given up on our corners (but they don't have Aaron Rodgers on that side of the ball), and he made me look like a fool. Adams is now a key part of the offense, and helps make this team have a big three at the receiver position. He'd be a number one guy in half of the NFL.
#81 Geronimo Allison; 2nd season out of Illinois *undrafted
Stats: 12 receptions (long of 22) 202 yards, 2 TD
Allison didn't really start playing a lot until that six game winning streak to end the season, so his numbers inflated over a full season are closer to 500 yards or so, and 4-5 touchdowns. In other words, a typical #3 receiver for an average team. I think he's a lock to make the roster, but with all of the depth I wouldn't be completely surprised if he missed the team. He's the best of the rest at the moment, though.
#11 Trevor Davis; 2nd season out of California
Stats: 3 receptions, 24 yards, 1 TD
Davis started off as a returner and a speedster, and now he is being reported as one of the top performers in mini-camp. I think Davis could be cut if we keep six receivers, and he needs to show he can do more than return kicks, since we have other options there.
#83 Jeff Janis; 4th season out of Saginaw Valley State
Stats: 19 receptions (long of 31), 131 yards, 2 TD
Janis or Davis will be cut, with or without seven receivers, and at this point I'm leaning towards keeping Davis due to youth. The advantages for keeping Janis, however, are more than just Hail Mary capabilities. He is a special teams gunner, and one of the best in the NFL at that, and he is also capable of returning kicks. He clashes with Rodgers, but Davis isn't an outstanding special teams player yet.
#13 Max McCaffrey; 1st season out of Duke *undrafted
Stats: Didn't play enough to have meaningful stats
McCaffrey was one of those guys like Joe Kerridge as in "where did he come from again?" as the season waned. I think he's ninth on my depth chart as far as receivers go, due to the lack of in game experience, draft capital, and he's not a rookie.
#16 DeAngelo Yancey; Rookie out of Purdue
Stats: 48 receptions, 700 yards and 5 TD
Yancey was tough for the Badgers' corners to cover in the game they had with Purdue this season, and that's really my book on Yancey. It's a nice pickup, and he has a spot to lose on the 53 man vs a spot to gain.
#19 Malachi Dupre; Rookie out of LSU
Stats: 43 receptions, 698 yards and 6 TD
Dupre has been outstanding so far in camp, and has earned Rodgers' liking him so far. Due to him being drafted after Yancey, his spot is less certain, but he's definitely in the process of earning it.
#89 Michael Clark; Rookie out of Marshall *undrafted
#19 Montay Crockett; Rookie out of Georgia Southern *undrafed
#1 Colby Pearson; Rookie out of BYU *undrafted
The practice squad could be an option for these players, but unless Janis is cut and they keep 8 receivers that might be hard. Or, whoever the Packers cut in the group of nine would have to choose the Packers' practice squad over others, assuming they don't get signed elsewhere. Basically, they are just camp bodies right now.
WHO TO KEEP?
Nelson, Adams, Cobb, Allison, Yancey, Davis, *Dupre
Dupre is starred because if the Packers keep seven receivers, he'd be the seventh guy, whereas if they kept six, he'd be cut and likely head to the practice squad. The top four are pretty self-explanatory, and Yancey is a fifth round selection. I chose Davis over Dupre, Janis and McCaffrey (to a lesser extent) due to his draft capital and his improvement during mini-camp. Janis is cut due to age, McCaffrey is tied down the least, and Dupre was drafted in the seventh round and is more likely to be able to find the practice squad.
Just another quick note about how many receivers to keep. It is redundant to keep six, not to mention seven. You can't have all six (or seven) receivers on the field at the same time unless it's hands team on special teams, and since we are likely to have more offensive linemen and backs, keeping seven is ridiculous. Just saying.
---