Please Don't Sign Derrick Rose
I've seen a couple of sources stating now that the Milwaukee Bucks have a meeting with PG Derrick Rose today. I know that this probably has Jason Kidd all over it, and from what I have discerned so far the players Jason Kidd has pushed for haven't been the better ones. He should stay out of the GM role, and focus on coaching (which I don't think he's good at either, but that's a different story).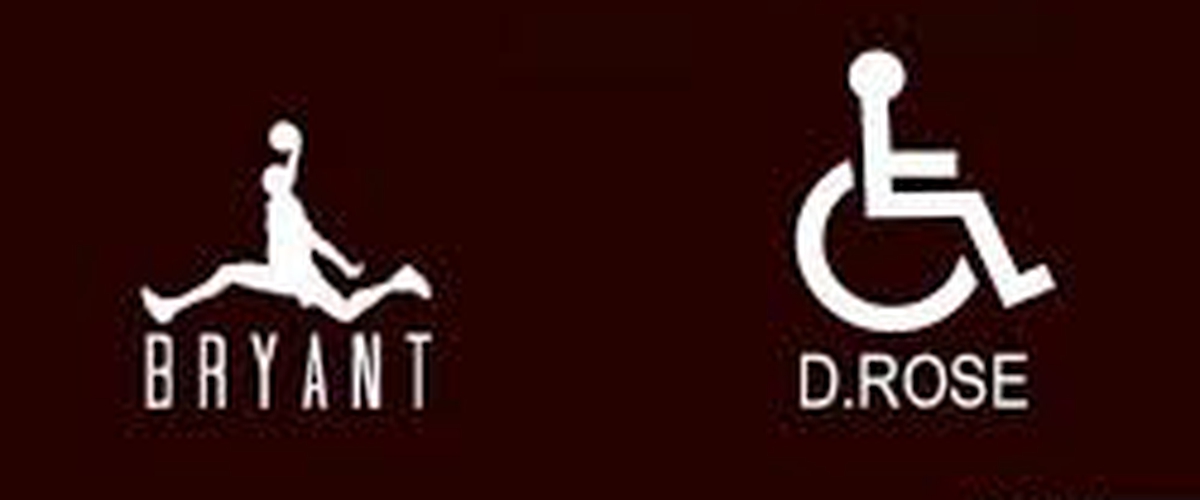 That's how I feel about Derrick Rose. Since this stupidly low-tech website can't get pictures in from any other size format than the one above, I'm forced to cut out the Jordan and LeBron symbols above. If you want to see it, go to Google Images and type "Rose handicap meme".
Derrick Rose hasn't played in more than 70 games since his third season when he was the NBA MVP, and played in 39, 0, 10, 51, 64 and 66 games since. He only had three seasons prior to this, and is now going to be about 28. He's still at the age to be "in his prime", but his knees say otherwise, and we don't need another two-time ACL tear victim (Jabari Parker) on the roster, who struggles defensively also. Rose struggles defensively, fails to get teammates involved and can't shoot three's at a good enough clip. I'd rather take George Hill and I almost typed in Matthew Dellavedova, but I changed my mind. But I was close.
The Bucks can feasibly sign-and-trade Rose to the Knicks financially, but they wouldn't really be getting a ton of players they would actually want. If they bring Rose in for about $20 million, they can trade him and Kyle O'Quinn to Milwaukee for Spencer Hawes, Matthew Dellavedova and Mirza Teletovic. That would be ideal for me if we had to bring in Rose, but it won't happen. Rashad Vaughn, DJ Wilson and even Jabari Parker make sense too, but I'm not sure that Rose is worth Parker straight up. Wilson and Vaughn could make a young tandem to send to the Knicks, and we would have to give up some combo of John Henson, Hawes, Dellavedova and Teletovic to make it work financially.
Then there is Greg Monroe, but the problem with that is, the Knicks already have a way-too-overpaid center in Joakim Noah that they want to get rid of. Noah makes more than any two Knicks combined (besides Carmelo Anthony). Also, having the Bucks take on Noah to get rid of Monroe only works from the money side, but that means we are tied up three more years in a player of Monroe's caliber (not skill-set, just player rating) instead of one.
This just doesn't make sense unless Rose signs for the veteran minimum, because the Bucks don't have enough good assets to trade New York.
By the way, here is how much all the Bucks are making.
Giannis-$22,477,000
Monroe-$17,884,000
Middleton-$14,100,000
Snell-$12,000,000
Henson-$11,422,000
Teletovic-$10,500,000
Dellavedova-$9,607,000
Parker-$6,782,000
Hawes-$6,081,000
Maker-$2,684,000
Vaughn-$1,889,000
Payton-$1,312,000
Brogdon-$1,312,000
*Rookies DJ Wilson and Sterling Brown don't have cap numbers yet
Rose probably believes he is worth at least $15 million, so straight up that means Hawes and Dellavedova (which is fine with me). Maybe he's worth $20, so we can get rid of Teletovic AND Dellavedova, and do-over the three terrible signings from last off-season (Miles Plumlee was the third). It won't happen, and then we'll have Derrick Rose's knees on the team. But, perhaps the Knicks won't be the smartest franchise for a change. I'm just saying.
---