RIP 2017 Toronto Raptors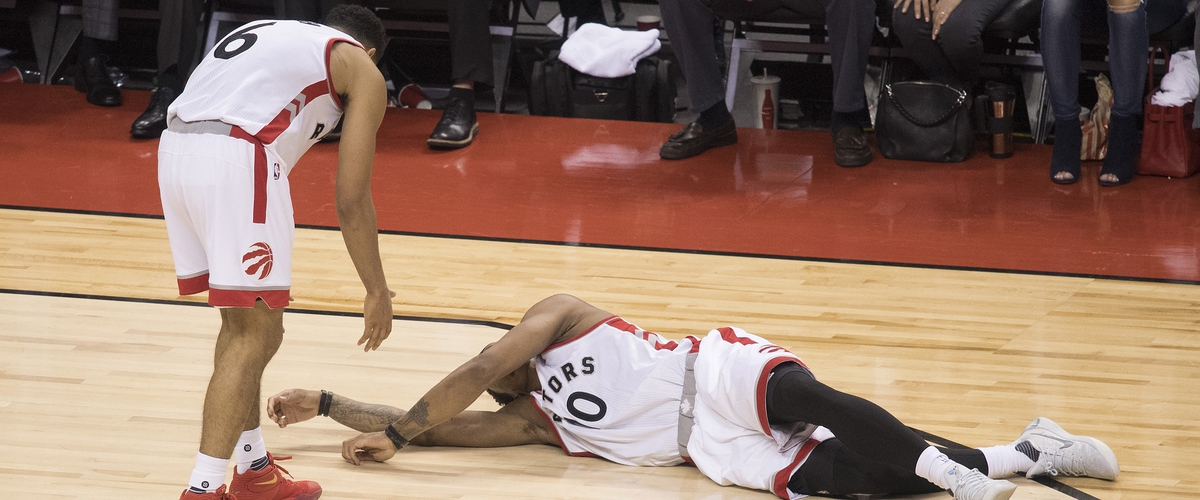 That picture pretty much sums up what happened when they got their rematch with the Cleveland Cavaliers. After taking them to six games in last year's Eastern Conference Finals, the Toronto Raptors got swept by the Cavs. They managed to escape the pesky Bucks in the first round, but a 51-31 season was not enough once again.
DRAFT PICKS: They only have the Clippers first rounder.
CAP SPACE: $21,466,000
FREE AGENTS: Kyle Lowry (opt out), Serge Ibaka, Patrick Patterson, PJ Tucker
PLAYERS UNDER CONTRACT
C: Lucas Nogeuira, Jakob Poeltl, Jonas Valanciunas
PF: Pascal Siakam
SF: Bruno Caboclo, DeMarre Carroll
SG: DeMar DeRozan, Norman Powell
PG: Cory Joseph, Fred VanVleet, Delon Wright
WHAT TO EXPECT THIS OFF-SEASON
Obviously, they can't let Kyle Lowry go. He probably will, as he is frustrated being in the same conference as LeBron James, but Toronto needs to get him back to try to contend. If not him, then they need to get Ibaka back. What likely will happen is they both will move on and Toronto will bring back Patterson and a few other free agents to build around DeRozan and Valanciunas.
EARLY PREDICTION FOR 2017-18
This depends on Lowry, but either way this team won't win a championship. With Lowry, expect another season like this. Without him, they will risk missing the playoffs. I'm going to say they will end up somewhere around the eight seed.
---